About this Event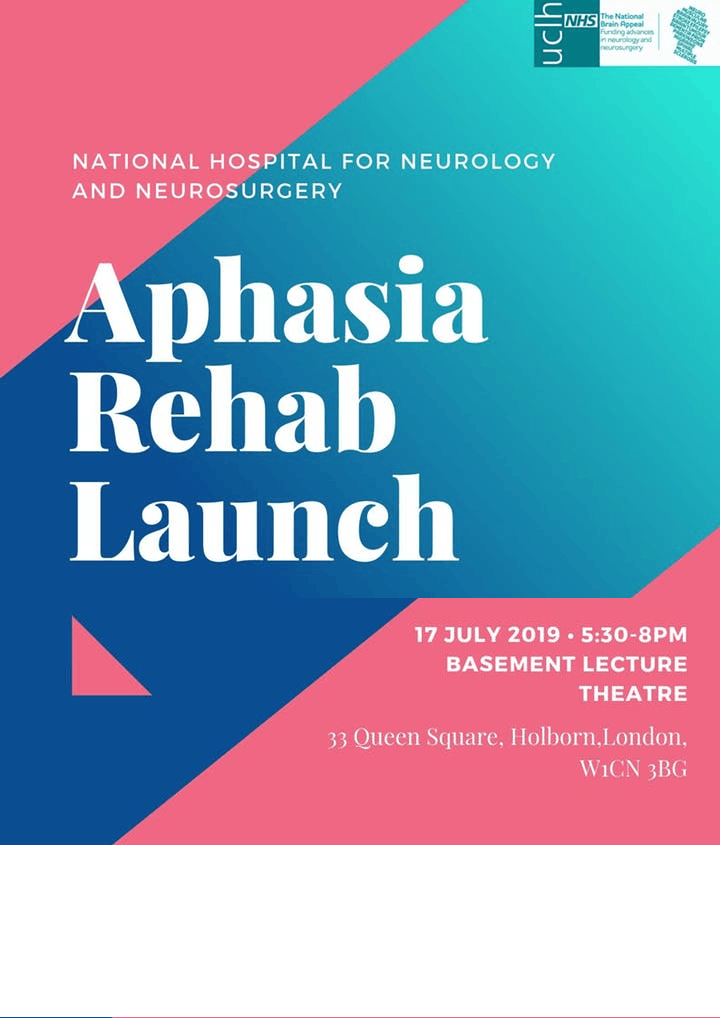 You are invited to join us on 17th July to learn about our new NHS rehabilitation service and expert advice available for people with aphasia and their family/friends at the National Hospital of Neurology and Neurosurgery (NHNN), London.
In May 2019 we started a new dedicated and free High- Dose Aphasia Rehabilitation Service. This is generously funded by The National Brain Appeal and supported by The National Hospital of Neurology and Neurosurgery (NHNN), University College London Hospitals (until May 2021).
Our aim is to deliver a new gold standard aphasia rehabilitation service . We offer a dedicated high-dose, day-case aphasia neurorehabilitation service at NHNN, UCLH. Currently we offer people with aphasia 7 hours of therapy per day (a mixture of one-to-one therapy, group therapy, eTherapy, and psychological intervention), five days a week for three weeks (100 hours in total). They are then followed-up by the team for one year to ensure they consolidate their learning from the intervention and support them as they continue to work towards their goals.
There will be presentations explaining the service from the Clinical Team – Cognitive Neurologist, Speech and Language Therapists and Psychologists plus insights from people with aphasia who have recently completed their intensive 3-week aphasia intervention package.
Tickets are free, but if you are able please consider donating £10 to The National Brain Appeal: Aphasia https://www.nationalbrainappeal.org/what-we-do/current-appeals/aphasia/ Registered Charity No. 290173.
Event Details
5.40pm – 5.55pm = Registration
6pm- 7pm = Introduction and welcome to the new High-Dose Aphasia Service
7pm-8pm = Drinks and networking
A chance for people across the sector to carry on the conversations from the session, maybe even meet some new people and join us in thanking our collaborators.
Our speakers include:
Alex Leff, Professor of Cognitive Neurology at the Institute of Neurology, UCL; Honorary Consultant Neurologist at The National Hospital for Neurology and Neurosurgery funded on an NIHR research professorship.
Claire Farrington-Douglas, Consultant Speech and Language therapist (Neurorehab & Outpatients), UCLH.
Camille Julien, Clinical Psychologist at The National Hospital for Neurology and Neurosurgery.
Jenny Crinion, Professor of Cognitive Neuroscience at the Institute of Cognitive Neuroscience, UCL ; Honorary Consultant Speech and Language Therapist at The National Hospital for Neurology and Neurosurgery funded on Wellcome Senior Clinical Fellowship.
Our supporters:
The National Brain Appeal
The National Hospital for Neurology and Neurosurgery
University College London Hospitals
National Institute for Health Research
Wellcome Trust