Description
APMP Practitioner "Completion" Workshop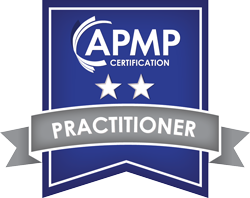 This intense full-day workshop is for members who would like to complete the Proposal Practitioner Assessment Questionnaire (PPAQ) at the UK Conference. Participants should register for this workshop and begin prerequisite activities at least 1 month in advance.
Participation in his workshop will require:
• Foundation level Certification

• Pre-registration for the Practitioner Assessment (http://online.apmg-exams.com/index.aspx?subid=58&masterid=15)
• Advance preparation of 12+ competency evidence responses
The APMP Practitioner Completion Tutorial Workshop includes access to the APMP Practitioner "Completion" Tutorial. Participants complete the one-hour, on-line tutorial prior to attending the "Completion" workshop.

The tutorial provides:
• Introduction to the PPAQ requirements
• Instructions to perform a self-assessment against the Practitioner competencies
• Demonstration of how to use the PPAQ Standards and Guidelines to build your competency evidence responses
• Examples of completed evidence responses
• Explanation of how to handle some of the more challenging competency areas.
This workshop is a full day dedicated to completing the 35 competency evidence responses with support from the APMP UK Certification Director and mentors.
At the end of this workshop members will be able to complete their Practitioner Certification
The Practitioner Assessment fee should be paid separately to the APM Group.
Provide the contact information below for a reference that will be contacted to verify your 3 years experience in a proposal /bid environment and verify evidence about your experience. You will also be asked to provide this information when you register for the Practitioner level Assessment with the APM Group.
Reference Name:
Reference Email:
Reference Phone:
Reminder: To participate in the Practitioner Completion Workshop you must register for this workshop and register and pay your fees for the Practitioner assessment. Register for Practitioner Assessment here.
Places are limited on this course so early booking is recommended.
Please refer the APMP UK Conference website for venue, accommodation and further details.