Description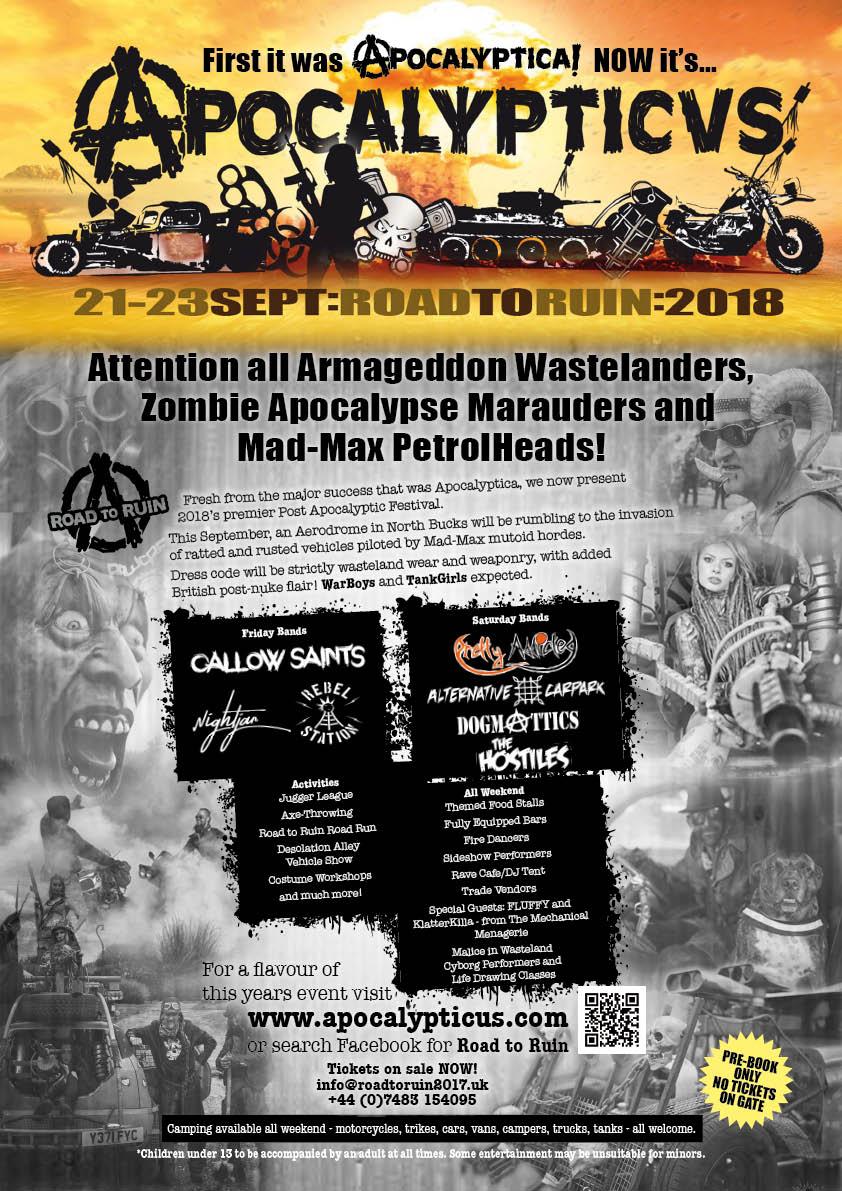 Notice: Advance ticket sales end on 20th September. Tickets will be available on the gate for CASH ONLY.
Attention WarBoys, TankGirls, Wasteland Warriors and Armageddonists!
This is the event you've been waiting for. Set on a deserted WW2 airbase, there will be bands, performers, sideshows, weirdos, beer, food stalls, dancers, DJs, noise, fuel, fire, a dance area and a Road Run - The Road to Ruin. The whole event will be set inside a compound of trade stalls, a speciality-built stage, distressing-stations, and workshops...for all of your post-apocalyptic needs!

Check out the Rat Rods, Survival Bikes, RatBikes and Tanks at the Desolation Alley Vehicle Show.
Event Dress Code: Post-Apocalyptic/Mad Max style Armageddonist Ravager Gear and Accessories are a Must!! Pillories, Stocks and/or encarceration for non-compliance!
Dont miss it!
FAQs
Are there ID or minimum age requirements to enter the event?
Bring the Purchasers I.D. with your e-ticket or print-out. Severed hands will not be admissible. Minors (under 13) are required to be escorted by an adult at all times. There will be adult-themed entertainment throughout the event. Parental guidance is advised.
What times are the gates open?

Friday - gates open at 12pm and close at midnight
Saturday - gates open at 8am and close at mightnight
Sunday - gates open at 8am and will remain open for exiting the site
All vehicles can be re-admitted to the festival as long as your wristband is shown.

What are my transport/parking options for getting to and from the event?
Full free on-site parking for all vehicles - please note: Rat/Survival and suitable show vehicles will be directed to the "Desolation Alley" vehcile show area. All others will be directed to an adjacent on-site car park near the campsite. There is a shuttle bus that will run to and from the nearest train station, so please keep an eye on Facebook FAQ group for more information.

What can I bring into the event?
You may bring replica/non-harmful weaponry onto the site - all items will be subject to a safety check. No blades will be allowed. All airsoft guns will need to be emptied of ammunition before being allowed on site. If deemed a safety hazard weapons will be secured in a locker and returned at the end of the event. Temporary allowances may be made for photoshoots during the Saturday Desolation Alley Vehicle Show. All items to be returned to the locker before evening entertainment begins. The organisers decision is final.
I heard there are going to be activities on site!

You heard correct! There will be a "Battle Arena" with a Jugger league, Thunderdrome arena and axe-throwing. If you wish to participate in these activities, you will need to a sign a standard waiver on the registration desk, then you will be issued with a special wristband. This way the arena marshalls can identify you as a participant.
How can I contact the organiser with any questions?
By Email - louise@roadtoruin2017.uk or via the FaceBook page: http://facebook.com/roadtoruin2017/
Is there Camping on-site?
There is FREE camping on-site, cold water and toilets, tents, vans, campervans, caravans, trucks, teepees, bivouacs - all welcome. There are no electrical hook-ups available. Fires and BBQs are welcome.
What about drugs?

Our policy on drugs is based on three core messages:
Prevention
Drug dealers and abusers
Welfare and treatment
Prevention
As organisers of Apocalypticus we do not condone the dealing in or use of illegal drugs on site. Drug enforcement laws are as applicable on site as any where else in the country.
All those attending the site will be asked to submit to a search and if found in possession will be refused entry. An amnesty bin will be available at the entrance.
Those found in possession on site will have their drugs confiscated by Security and ejected from the site, if found to have large amounts they will be detained and reported to the police. Experimenting with drugs can lead to adverse reactions. The crowds at a festival can become very frightening and disorientating. If you do take drugs and you become ill, depressed or frightened please ask a steward to direct you to one of the first aid posts or a security guard on site where you can receive help.
Drug Dealers and Abusers
Apocalypticus security and stewards will take an active role monitoring for drug dealing and will work in full co-operation with the Constabulary. When there is a strong suspicion of drug dealing, security will inform and assist the constabulary in every way possible. Security will evict and hold these persons strongly suspected of drug dealing and channel these evictions via the police for searching prior to eviction.
...and alcohol?

Those people too inebriated will be refused more alcohol.
Those causing trouble because of drunkenness will be ejected.
Those arriving too drunk will be refused entry.
An over 18 ID policy will be implemented. Only photo ID will be accepted : Passport, Photo driving licence. No ID No sale!
We have a fully stocked bar on site and alcohol will be allowed in the campsite. Please don't bring alcohol into he arena, please resect our traders.
Welfare and First Aid
Festival security are trained in emergency first aid and are fully informed about the welfare facilities on site. There is a welfare tent on site.
Can I bring my dog?
Dogs are permitted but must be kept on a lead at all time, no exceptions. This is to ensure everyone else's safety, protect people/other dogs/children and also keep the area clean. If you do not clear up after your dog, you will be evicted from the site.