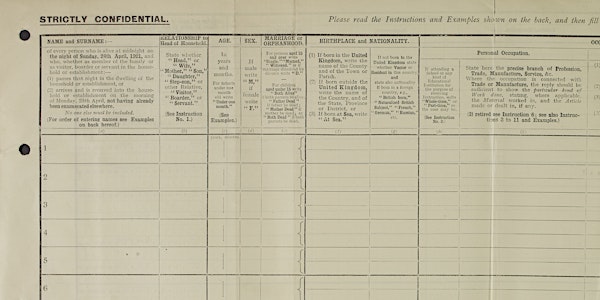 Applying Computational Methods to census data from I-CeM
Join us for this workshop which provides an in-depth look at how researchers can begin using I-CeM for their census research.
About this event
The census is one of the most popular collections held by The National Archives, used by genealogists, historians and researchers to find information about individuals across multiple decades. What is less well known and used is the Integrated Census Microdata (I-CeM) database held by the UK Data Service. I-CeM contains anonymised and standardised versions of censuses from 1851 to 1911. These are designed for analysis of population statistics at the parish, county, and national levels.
This workshop will take place across two sessions: introductory and advanced.
The introductory session will begin with an overview of the I-CeM site, the data it contains and the kind of research questions it can help us answer. We'll run through the basics of accessing I-CeM, using their Nesstar interface for data exploration and statistical analysis, and downloading data for further computational analysis. With downloaded data at hand, we will do some data exploration, and visualisation.
In the advanced session, we will look at ways to improve the structure of the data for analysis, and how data can be linked across different census years.
Although we will be using computational methods, there are no pre-requisites for attendees in terms of programming skills. The full day workshop will cover both basic and advanced methods for working with I-CeM data.
Registered participants will receive a link for the full day event. Participants are welcome to attend only the morning session if they are most interested in a basic introduction.
Participants will be required to undertake a small amount of preparatory work (no more than 30 minutes) prior to attending the workshop. Details will be sent to registered attendees at least one week before the event.
Provisional programme
10:00 – 10:20 Introduction to I-CeM
10:20 – 10:40 Accessing I-CeM data
10:40 – 10:50 Q&A
10:50 – 11:00 Break
11:00 – 11:45 Computational methods: the basics
11:45 – 12:00 Q&A
12:00 - 14:00 Break
14:00 – 14:45 Computational methods: advanced topics
14:45 – 15:00 Break
15:00 – 15:20 Computational methods: advanced topics continued
15:20 – 15:30 Q&A