DON'T MISS OUT ON THIS LIVE ONLINE TRAINING. PLEASE CLICK TICKETS TO RESERVE YOUR PLACE.
About this event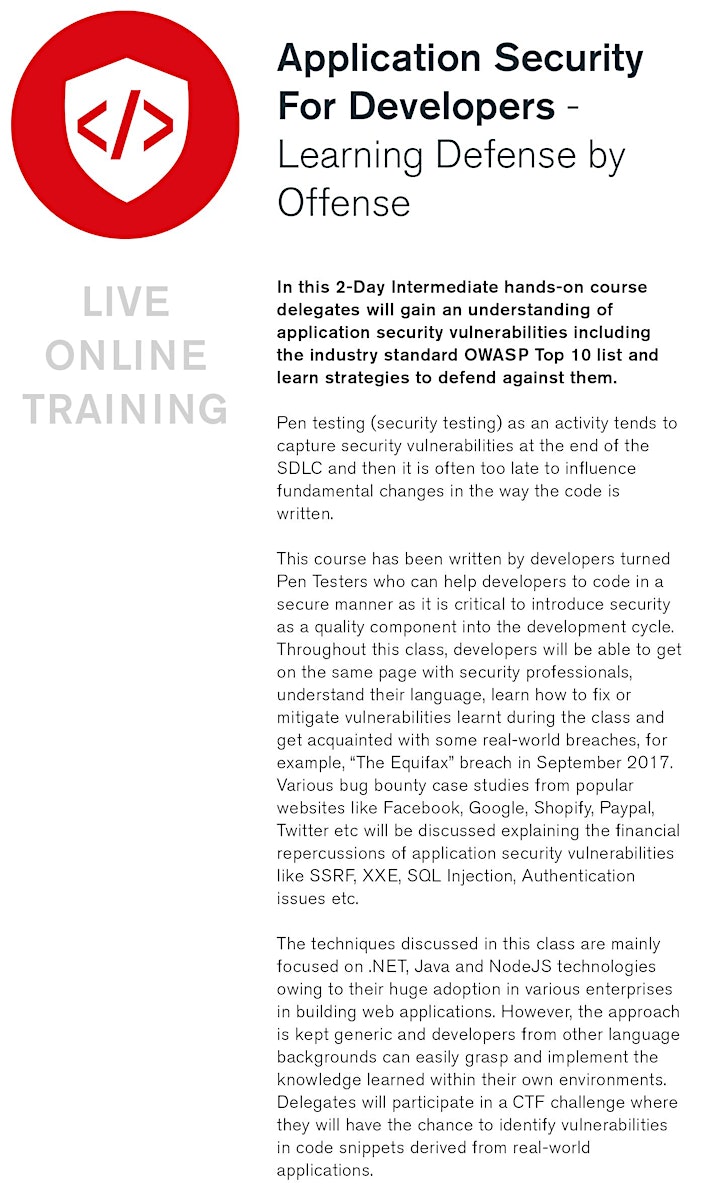 Course Objectives
Covers industry standards such as OWASP top 10 2017 with a practical demonstration of vulnerabilities complemented with hands-on lab practice.
Provides insights into the latest security vulnerabilities (such as host header injection, XML external entity injection, attacks on JWT tokens, deserialization vulnerabilities).
Offers thorough guidance on best security practices (Introduction to various security frameworks and tools and techniques for secure application development).
Makes real-world analogies for each vulnerability explained (Understand and appreciate why Facebook would pay $33,000 for XML Entity Injection vulnerability?).
Provides online labs for hands-on practice during and after the course (2 Days).
Key Takeaways
Understand OWASP Top 10 2017 with practical demonstrations and deeper insight.
Understand the financial repercussions of different vulnerabilities.
Get on the same page with the security team while discussing vulnerabilities.
Identify and Fix security vulnerabilities much earlier in the SDLC process saving time and effort.
Who Should Attend
This course is ideal for Web/API developers who work day-in-day out building full-stack web applications or web APIs. Anyone who is looking to develop a skill-set into web application security and identify web application flaws can also benefit from this course.
For more information click here
Refunds
Refunds available if notice is given before at least 7 days before the event date