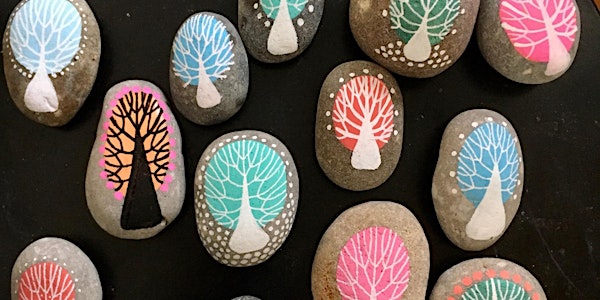 April 17th Paint your own Stone Event for Florence Park Naturescape!
Location
Flo's - the place in the Park
Rymers Lane
Oxford
OX4 3JZ
United Kingdom
Sponsor a stone and help us raise the money we need for a sensory path at Naturescape!
About this event
Good News!
We are very pleased that, thanks to support from Trust for Oxfordshire Environment, The Nature Effect CIC and Oxford City Council, we have now secured enough money to launch 'stage one' of The Nature Escape's development - with on site work starting at the end of this month!
We are now ready to start fundraising for stage 2.... and we need your help!
We need to raise £1650 to build a fantastic sensory path, that will wind its way through the Naturescape, taking people on a journey around the elemental 'garden rooms' that we are building on site.
Sponsor a Stone:
There are two great ways to get involved with Crowd-fundraising for the sensory path:
1. Sponsor a £30 stone to be painted by our stone artist in residence - the wonderful Jane Gallagher (who also does the chalking in the park!) There are 20 of these available in total. You could choose to have a name painted on the stone or an animal of your choice.
2. Sponsor a paint-your-own stone which you can paint yourself at our interactive stone painting event on Saturday 17th April from 1-4.30pm, which will be held in the covered outdoor area at Flo's Nature Nursery, facilitated by our stone painter in residence- Jane Gallagher :)
To book a slot to paint your own stone, please book a ticket for a specific half an hour time slot (this is shown in the name of the ticket). Please do book a ticket per person (including children!), so we can ensure this event happens safely! We will have a donations pot available for any stone sponsorship donations at the event.
A few notes:
- Please make sure you come on time for your selected time slot listed on your ticket name - this will allow the event to run safely and smoothly.
- We will be using hard wearing varnish to make your lovely painted stones last for as long as possible. Although we would love to preserve the designs forever, it is likely they will fade as time passes!
About Naturescape in Florence Park:
Naturescape is a new project, which is transforming the old mini golf course into a interactive nature space for the whole community. For more information visit www.naturescapeoxford.co.uk​