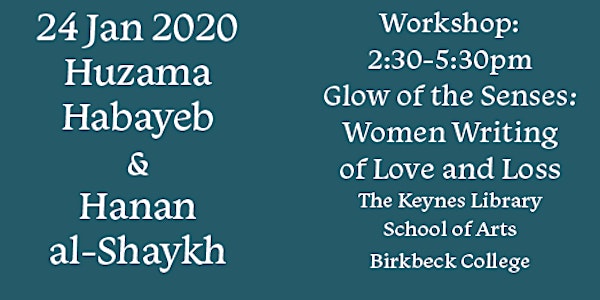 Arabic Stories and Poetry in Translation Workshop: Glow of the Senses
Location
The Keynes Library
43 Gordon Square
School of Arts, Birkbeck College, University of London
London
WC1H 0PD
United Kingdom
'Arabic Stories and Poetry in Translation', is a series of four workshops, funded by CHASE training programme.
About this event
In the third workshop of this 2019-2020 series, the prize-winning writer Huzama Habayeb, author of Before the Queen Falls Asleep and Velvet (2016, translated Kay Heikkinen, 2019), will be discussing her fiction with Hanan al-Shaykh, acclaimed novelist, memoirist and short story writer, author of Women of Sand and Myrrh (trans. 1992) and The Story of Zahra (Trans 1994). Themes to explore will include: the depiction of women's passions, the experience of war and the camps, and approaches to dislocation, disempowerment and loss.
The workshops proposed are targeted at PhD students, other interested students, independent translators and scholars from different academic fields. The group sessions will provide the scope to be innovative about participation and collaboration for literary creativity.
Knowledge of the Arabic language is preferable but not necessary.
The workshops are free to attend, but registration is required.
More details available at: https://arabicstories.poetry.blog/
For queries, email the organizers at: arabictranslationworkshops@bbk.ac.uk