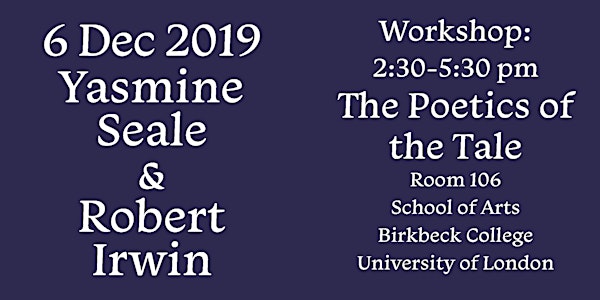 Arabic Stories and Poetry in Translation Workshop: The Poetics of the Tale
Location
WC1H 0PD
43, Gordon Square
Room 106 , School of Arts, Birkbeck College
London
WC1H 0PD
United Kingdom
'Arabic Stories and Poetry in Translation', is a series of four workshops, funded by CHASE training programme.
About this event
The workshop "Poetics of the Tales", with Yasmine Seale and Robert Irwin will be divided into three parts: (1) Yasmine Seale will be introducing her work on the Nights and Robert Irwin responding within the context of the long history of the Arabian Nights translations; (2) participants will be looking closely at Yasmine Seale's translations; and finally (3) participants will be involved with translating excerpts chosen by Yasmine Seale which will be performed in groups under her guidance.
The workshops proposed are targeted at PhD students, other interested students, independent translators and scholars from different academic fields. The group sessions will provide the scope to be innovative about participation and collaboration for literary creativity.
Knowledge of the Arabic language is preferable but not necessary.
The workshops are free to attend, but registration is required.
https://arabicstories.poetry.blog/