ARANYA AMRITA presented by Dancers' Guild, Kolkata

Monday, 24 October 2016 from 19:00 to 21:00 (BST)
Event Details
ARANYA AMRITA presented by Dancers' Guild, Kolkata
Performance of their dance drama, 'Aranya Amrita', followed by a discussion with the audience.
This is a free event for one night only.
Monday 24th October 2016 7pm - 9pm.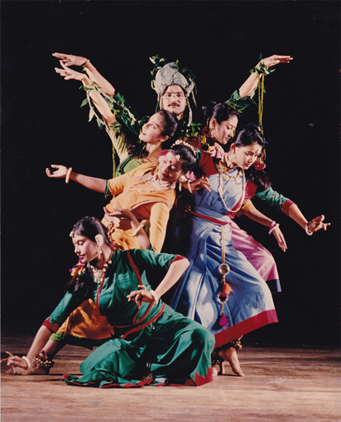 As the name suggests, 'Aranya Amrita' is the immortalization and continuum of nature, aranya meaning forest. The dance drama is based on legend of the Bishnoi Community of Rajasthan that dates back to 1740.

Amrita was a woman of the Bishnoi Community who lived in perfect harmony with nature until the woodcutters (commanded by the Rajah of Jodhpur) came to disrupt their sanctity of peace. Led by Amrita, the Bishnoi plead with the woodcutters to spare their spot of green amidst the arid land of Rajasthan. A confrontation takes place, but the Bishnoi sacrifice their lives to the merciless axe of the woodcutters which devastates the forest. This dance drama is based on the Chipko Movement of environmental consciousness that started in India in 1973, which takes its inspiration from the experience of the leadership given by Amrita to the women of Khejarli village in Rajasthan, which has inspired sustainability campaigns to save the planet round the world.

This magnificent dance drama presented by Dancers' Guild piece ends with the promise signified by the sloka , "let the earth we dig become greener and greener everyday".
Dance concept & choreography:  Late Dr. Manjusri Chaki Sircar and Late Ranjabati Sircar
Dance direction:  Jonaki Sarkar
Music direction:  Swapan Pakrashi
Vocal:  Arun Bhaduri
Instrument:  Pandit Tejendra Narayan Majumdar
                    Bikram Ghosh
                    Biplob Mondol
Dancers:  Rabi Shankar Roy
                 Prabir Mandal
                 Mithun Banerjee
                 Arindam Dey
                 Sadhana Hazra
                 Arpita Dutta
                 Tanwi Misra
                 Monalisa Chakraborty
                 Mrittika Sarkar
                 Jonaki Sarkar
Management:  Parbati Gupta
When & Where

Edinburgh Napier University Morningside Church
Morningside Road
EH10 4BY Edinburgh
United Kingdom


Monday, 24 October 2016 from 19:00 to 21:00 (BST)
Add to my calendar
Organiser
Edinburgh Napier Univerity

At Edinburgh Napier we nurture talent and create knowledge that shapes communities all around the world.

Our innovative research provides solutions to society's challenges, our graduates leave ready for the workplace, and we have wide-ranging links with employers and business.
ARANYA AMRITA presented by Dancers' Guild, Kolkata