Benacerraf's film portrays a day in the life of three families living in one of the harsh- est places on earth
About this event
On this page you can make reservation to watch this presentation in person at the studio.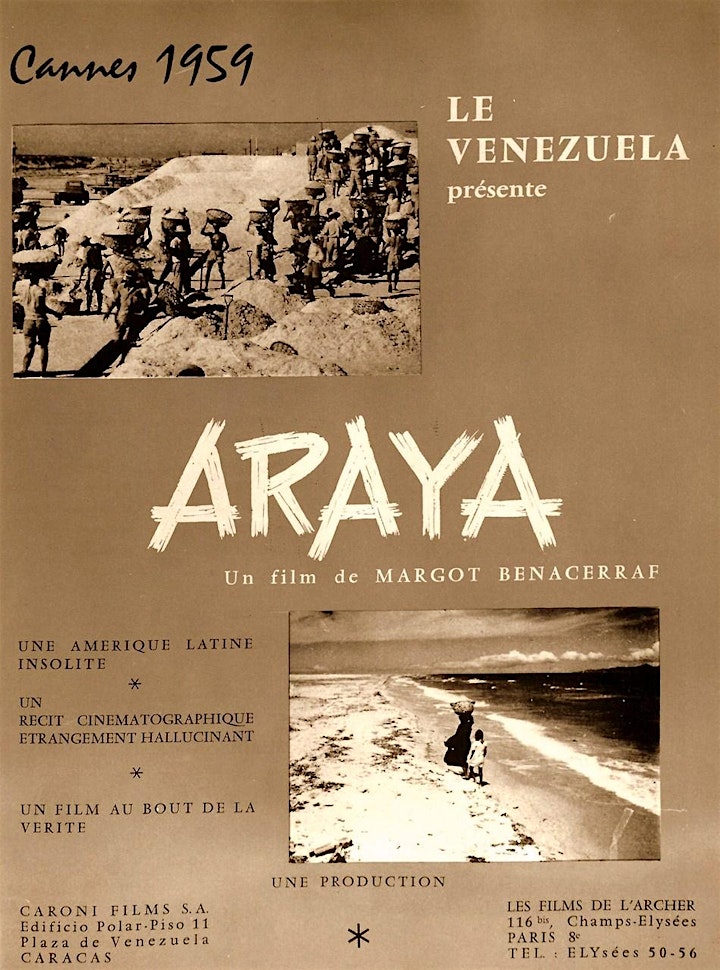 Join us for a presentation of ARAYA:
"Stunningly shot and brilliantly crafted, this is a singular work from an incredibly distinct filmmaker... We should all feel lucky to have this almost-forgotten gem unearthed and restored in all its beauty." – Barbara Kopple-
Made in 1958/59 this film has almost been forgotten. Margot Benacerraf's brilliant film portrays a day in the life of three families living in one of the harsh- est places on earth — Araya, an arid peninsula in northeastern Venezuela. For 450 years, since its discovery by the Spanish, the region's salt was manually collected and stacked into glowing white pyramids. Overlooking the area, a 17th-century fortress built to protect against pirate raids stood as a reminder of the days when the mineral was worth as much as gold and great fortunes were made in the salt trade.
Benacerraf captures the grueling work of these salineros in breathtaking high-contrast black-and- white images. Her camera gracefully pans and glides to reveal the landscape and the people of the peninsula.
Araya is a film of such lasting beauty that Jean Renoir told Benacerraf, "Above all ... don't cut a single image!" An acclaimed pioneer feminist filmmaker, Benacerraf has been an inspiration and mentor to Latin-American artists, writers and filmmakers.
Organiser of ARAYA (In person admission)