Description
Anglo Russian Culture Club presents...

Brother (1997)
Aleksey Balabanov
99 mins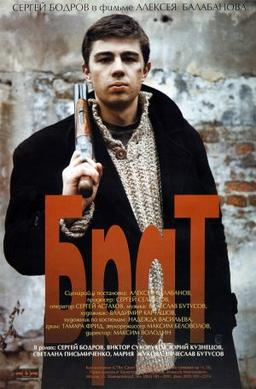 After finishing his military service, young Danila Bagrov (Sergey Bodrov ml.) seeks help from his older brother (Viktor Sukhorukov), a gangster in St. Petersburg, who puts him to work as a hired gun. Danila kills a Chechen crime boss and is wounded in the attack. He is pursued by the man's cohorts and goes on the run, but finds time to enjoy the city's nightlife and have some romantic adventures. However, as his new identity solidifies, Danila begins to question who he has become.
---
RUSSIAN FILM STUDIES 2019
ARCC introduces a series of Russian-speaking films rarely or never seen in the UK. These films will be introduced from a transcultural perspective. We encourage our members and audiences to move away from revivalist narratives of origin, nation, and belonging and to reflect critically on vicissitudes of history and art in Russian-speaking space - both inside and outside Russia. We emphasise interconnectedness and complexity of experiences that shape individual and collective imaginaries and the importance of a continuous scholarly and artistic dialogue.
---
The screening will be preceded by a presentation starting at 6.00 PM and may last up to 45 minutes. Please do not eat in the cinema, please do not use your mobile devises during the talk nor the screening.
Upon leaving the cinema, if you have not done so online, please make a donation towards our running costs and support your club. Thank you!