Architect Leader® Conference for School Heads 2019
About this Event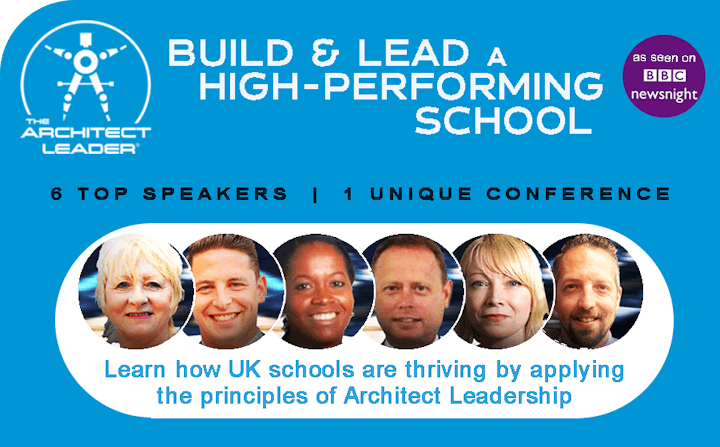 Architect Leader® Annual Conference - Building Outstanding Schools
30th November 2019 - 09:00am-17:00pm
Groundbreaking research identified that UK school heads default to one of five distinct leadership styles during their tenure. Only one of these (the Architect Leader®) has a long-term positive impact on the school, students and community.
Attend this conference at the University of East London, and learn how governors, multi academy trusts and senior leadership teams are applying Architect Leader® principles to help their schools excel.
Who is the conference for?
Headteachers, governors, senior leadership team members and future leaders.
Why should you attend?
Leadership development is important at all levels in a school. The research-based Architect Leader® model offers an holistic approach to ensure that schools become outstanding learning spaces. Come rub shoulders and learn from some of the UK's most progressive school leadership practitioners and "join the revolution"!
As a gift for attending, you'll receive a FREE copy of Mandy Coalter's bestselling book "Talent Architects".
Where
University of East London, University Square, 1 Salway Road, London E15 1NF
Dietary Requirements
Please confirm with the organisers if you have any special dietary requirements needs or allergies you'd like us to cater for.
"If half of all school principals were Architects this would translate into an additional $45.4bn to the U.S. economy. In the U.K., where the initial research was carried out, it would be an extra £7.6bn." - Forbes
"We will need the qualities, capabilities and characteristics of Architect Leaders® who can go beyond school turnaround and take on fundamental school redesign." - Innovation Unit