Architects Love Media & Media Loves Architects – But Do They Get Along?
This panel talk will question how we can define "media" in architecture. Is media only a tool, or is it a space dialogue and debate?
About this event
Speakers will present their idea of media and demonstrate how media can explore the connections between architecture and its representation. Discussing with technology, distance, platforms, and interfaces; the talks will feature not only architects but also architectural photographers, editors, architecture critics, designers, and curators.
Speakers:
Dara Huang / Architect, Founder of DH Liberty, Co-founder of Vivahouse
Sam Jacob / Principal of Sam Jacob Studio for architecture and design, Professor of Architecture at UIC and Visiting Professor at Yale School of Architecture
Tom Wilkinson / History Editor The Architectural Review, Author of Bricks and Mortals:Ten Great Buildings and the People They Made
Manijeh Verghese / Founding Director at Unscene Architecture, AA Head of Public Programmes
Jim Stephenson / Photographer, Film-maker, Founder of Clickclickjim
Bobby Jewell / Press and Comms. Consultant, Coordinator at ACAN, Co-organiser of the Negroni Talks
Shukri Sultan / Co-founder of Afterparti, inaugural member of the New Architectural Writers program
Nurgul Yardim / Architect, Podcast Host, Founder of Anylab (Chair)
Digital doors open at 17:55 and the talk starts at 18:00.
Please note you will need a Zoom account to view this event https://zoom.us/freesignup/
Zoom link will be sent to ticket holders via email.
Any questions, please email nurgul@anylab.co
NOTE:
The tickets will be available until 17:00
If you couldn't register please watch us on youtube live: https://youtu.be/J-e2qZgZQTs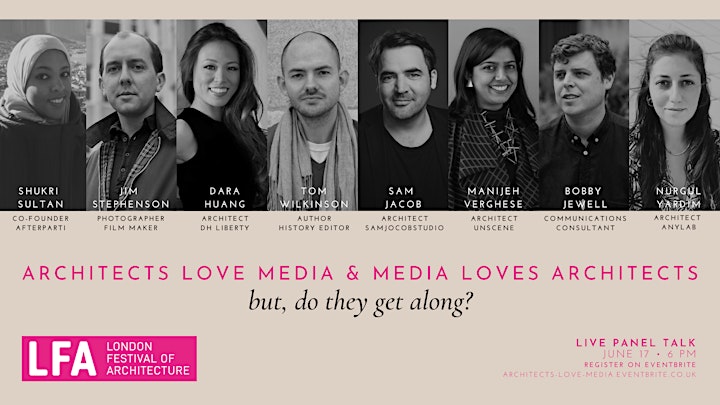 Organiser of Architects Love Media & Media Loves Architects – But Do They Get Along?