Architects of Tomorrow - Edinburgh
Sat 3 December 2016, 12:30 – 17:30 GMT
Description
At this exclusive rebroadcast of Leadercast Live 2016, we'll explore what it means to be a visionary leader by looking at three unique perspectives that an "Architect of Tomorrow" must explore. Leadercast Live is the largest one-day leadership event in the world. Broadcast live each year from Atlanta to 100,00+ people in hundreds of locations around the world, Leadercast Live Brings together many of the world's most recognized and respected global leaders to create a leadership experience unlike any other.
Join us in this exciting, inspirational and interactive seminar
In its simplest form, leadership is casting a compelling vision and mobilizing those around you to help you fulfill that vision. That is the role of Vision Architects… they design the path, they clarify the direction, and they lead their team toward that preferred future with little deviation.
Today is better because of the visionary leaders of yesterday, and the future will be brighter because of the Architects of Tomorrow.
This seminar presents a unique opportunity to support the social enterprise activities of Aberdeen Foyer. Every  ticket purchased, provides support for the work done by The Foyer in Scotland. Be a part of this great cause and help in transforming and supporting individuals to make positive changes in their lives. Register today and become an Architect of Tomorrow.
All tickets include; Refreshments, certificate of leadership development, brochure and speaker videos.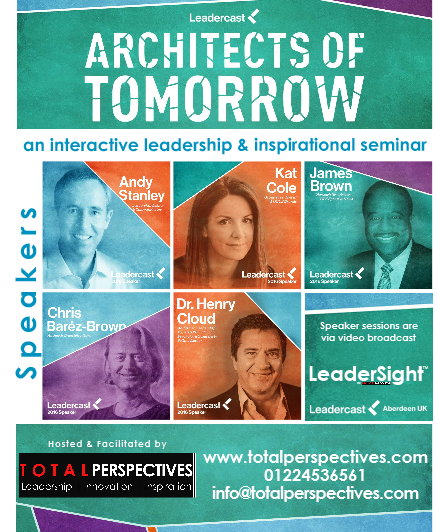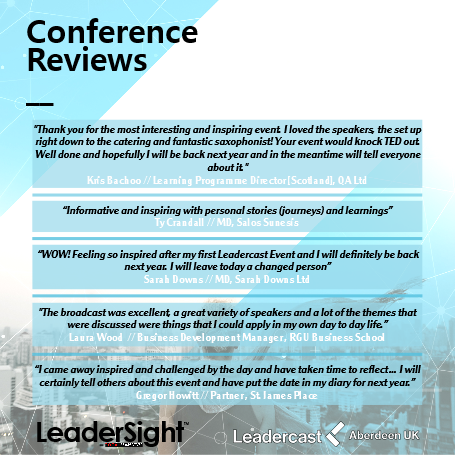 ---
FAQs
Can seats be reserved while purchasing tickets?
There is no seat reservation during the registration/ticket purchase online. 
Where can I contact the organiser with any questions?
You can contact Total Perspectives on 01224536561 or by email info@totalperspectives.com 
Is my registration/ticket transferrable?
Yes – if you would like to change the name on your ticket please log in to your Eventbrite order and this can be done manually.
What is the refund policy?
Unfortunately, we do not offer refunds. But you can transfer your registration to some one else.
Can I update my registration information?
Yes – if you would like to update any of your registration information please log in to your Eventbrite order and this can be done manually.