Description


Meet Lord Leicester and spend a full day at Holkham Hall: conservation, architecture, landscaping and materials
---
Aimed at Conservation Architects and other professionals interested in conservation, this day is packed with guided tours and talks delivered by experts.
Places are limited, early booking is recommended to avoid disappointment.
Your ticket includes entry to Holkham Estate, talks and guided tours, refreshments and lunch.
Main flyer picture of Holkham Hall (c) Bob Farndon
Schedule of the day
09.30-09.55 Delegates arrival, registration and refreshments
09.55-10.00 Prompt start with introductions, guidelines and schedule of the day
10.00-10.15 Welcome by Lord Leicester
10.15-11.15 Linseed oil products presentation: Sonja and Hans Allback, Allback Paint
11.15-12.30 Walk and tour of Lady Elizabeth Wing and Courtyard: Jack Gregory, Hopkins Architects
12.30-13.30 Sit down lunch in the Courtyard Café
13.45-14.45 Overview of the Hall and Tour of the Game Larder: Holkham Hall team and David Watt, Hutton + Rostron
Short break

15.00-16.15 Longlands Office Development and Joinery Workshop: James Bracey and Steve Twyford, Holkham Hall
16.30-17.30 The Lookout, Nature Reserve Visitor Centre / Q&A: John Western, Lucas Western Architects
17.30 End and departure
This event counts as CPD.
---
Booking deadline: 14 June 2019, 4pm
---
Detailed programme for delegates

Introduction by Lord Leicester

The family, who has lived in this house continuously since the 1750s, takes great pride and joy in sharing the house and its treasures, the deer park and Holkham beach, with its visitors. Holkham is still privately owned and is the centre of a thriving 25,000 acre agricultural estate which provides resources both to maintain the house, and to ensure that the social fabric of rural life remains intact. Read here for a full summary.
Linseed oil paint: history, technical performance and benefits

Sonja and Hans Allback of Allback Paints will cover the history of the linseed paints and products developed in terms of technical performance, eco-friendliness and cost-effectiveness and how the catalyst for using linseed paints came about through side effects of constantly using solvent based paints. They will explain the "Windowcraft" process in repairing, preparing and treating timber joinery with Allback linseed products and the connection with Lord Leicester who wished, and had the foresight, to use linseed paints on the Estate, in particular during the 10-year renovation of the windows at Holkham Hall.
Tour of Lady Elizabeth Wing and Courtyards
Jack Gregory of Hopkins Architects will be guiding a tour of two separate buildings at Holkham Hall which won him a RIBA East Award and RIBA East Conservation Award in 2017. The stables building has been rearranged and improved to provide an exhibition space, new shop and expanded cafeteria. Meanwhile, the most significant interventions have been made on the pottery building where various disjointed spaces have cleverly been brought together to form one large light filled venue space for weddings, banquets and conferences.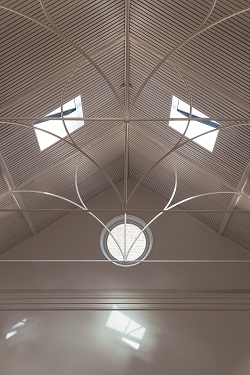 Picture of Holkham Hall Stables (c) Martine Hamilton Knight
Holkham Hall
A short walk to the Hall where guides will give an overview of the Hall's history together with some interesting facts about the construction and materials used to build the Hall.
The Game Larder
A visit to the nearby alabaster lined Game Larder, converted by Samuel Wyatt in around 1800 from its previous 18th century origins as an engine house for provision of water. The tour will be led by listed building specialists Hutton + Rostron who will explain the current environmental surveys being carried out to help determine a conservation scheme for the buildings repair.
Longlands Complex
General Manager James Bracey and Building Manager Steve Twyford at Holkham Hall will take you on a tour of the Longlands where traditional barns have been converted into smart, modern offices and where you can visit the Holkham Estate joinery workshop which uses the Allback's linseed oil and paint. More details regarding this project at Holkham can be found here.
The Lookout
A visit to the most recent visitor facility located on the Nature Reserve. John Western from Lucas Western Architects will explain the design and build process involved with the very popular facility.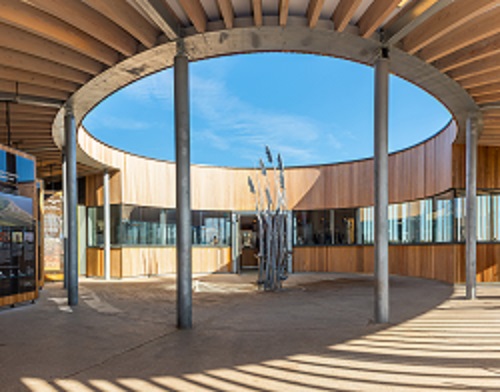 Picture The Lookout, Holkham Estate (c) RIBA East


Flax field @Allback Paint
---
Would you like to hear about more events like this one? Make sure you're signed up to our newsletters.
Terms and Conditions
The RIBA team will take photographs of the event and the images may be used to publicise future RIBA events.
By accepting an invitation or purchasing a ticket you consent to being photographed, filmed or recorded as a visitor attending the event.
Cancellations must be made in writing to riba.southwest@riba.org. No refunds can be made for cancellations notified within 30 days of the event. To transfer your ticket/s to another individual/s, please contact riba.southwest@riba.org.
Tickets to be transferred at least 14 days prior to the event.

If a non-RIBA Member replaces a booking made for a RIBA Member, there will be an extra charge for that delegate to match the charge applicable to non-RIBA Members.

If the RIBA has to postpone or cancel the event the booker is entitled to a full refund of the ticket price only.
On entry to the event, you agree to accept and abide by any venue rules.
The RIBA reserves the right to refuse admission to any ticket holder.
The details you provide will be used in line with the RIBA's GDPR obligations. For information on how we will handle your personal data please see our Privacy Policy