Location
Wells Cathedral
Cathedral Green
Wells
BA5 2UA
United Kingdom
Come and find out about the fascinating architectural history of England's first Gothic Cathedral
About this event
The building of the new church, which was to become the cathedral of the Bishop of Bath & Wells, was the first "great church" to be built, in this country, in the newly imported Gothic style. The period of construction of that church, 1175 – c. 1250, fits neatly into that first period of Gothic called Early English Gothic. Thus that "original" church was all of a piece of that style. Over the next three hundred years there was extension and revision in the Decorated and Perpendicular styles in turn as architectural fashion dictated. The tour will review the history of the cathedral and the evolution of the building with particular attention to representative and fine features.
Please note: This tour will include a visit to the Chapter House which is accessible only via uneven medieval stairs. If you require a step-free tour, please email visits@wellscathedral.org.uk
The maximum group size for this tour is 12, and the tour will last 1hour 15 minutes
Booking your tickets
Bookings can be made via Eventbrite up to 24 hours prior to the tour taking place. Want to make a last minute booking? Call us on 01749 671663 or ask at the Donation desk on the day of your visit.
Where to meet your guide
Check in at the Donation desk in the New Entry Cloister. A few minutes before your tour start time a Guide will meet you and take you to the tour start point
You must read the Terms and Conditions associated with this tour which are listed below.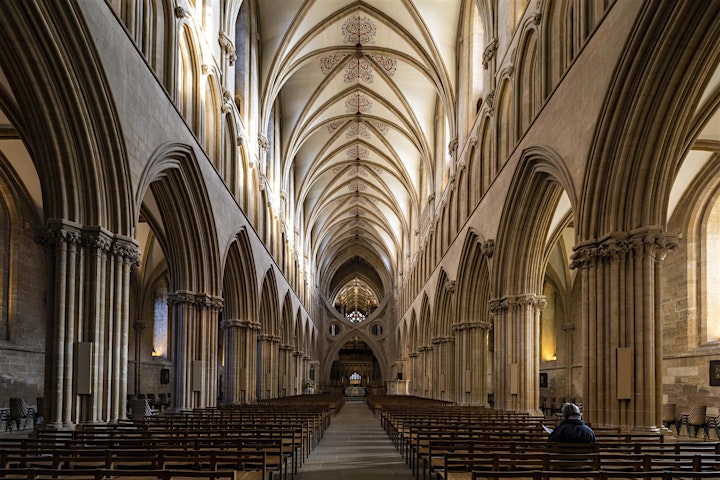 Terms and Conditions
Please read this information carefully; the Cathedral wishes you to have an enjoyable and safe tour experience and we are grateful for your co-operation.
• Food and drink should not be brought into the Cathedral.
• Cameras are welcome but should be set not to take flash photographs.
• Smoking is not permitted anywhere in the Cathedral or its grounds.
• Once the tour has started there will be no opportunity for a comfort break.
FAQs
What's the refund policy?
Refunds can be obtained 30 days prior to the Event.
Do I have to bring my printed ticket ?
No, if you have the booking confirmation on your phone you can show it at the Donation Desk on arrival, or give your name when registering.
For further queries or for assistance with booking, please email visits@wellscathedral.org.uk
Images: Nick James LRPS