"Archives: Knowledge, Politics, Ethics" An Interdisciplinary Advanced Training Workshop" A Northumbria University NINE DTP sponsored event.
About this event
Venue: Great Hall, Sutherland Building, Northumbria University
Overview
Material (written, visual, audio) from public and non-public archives is increasingly being used by postgraduates across the social sciences and humanities. Finding secondary sources at the boundary of public knowledge, such as from charities and professional organisations, can expand one's base of sources, but raise important methodological and ethical challenges. In this interactive, interdisciplinary workshop we suggest that an even more active appreciation of the dynamic nature of relationships between researchers, owners of records, and archival material is needed with specific reference to issues of access, ethics, trust, and Intellectual Property Rights.
Ethical challenges can arise when engaging with archival material including when working on sensitive and/or controversial topics. But archival research generates impact due to the potential to unearth 'hidden histories', elevate the voices of 'others' and help shape and construct 'alternative histories', expanding the parameters of what is known. Yet through this process, researchers have to balance the advance of knowledge against these sensitivities. This workshop will focus on navigating ethical dilemmas inherent in archival research and discuss working practices which have been adopted to minimise harm and maximise benefits. Furthermore, speakers will illustrate how they have mediated their own positionality when engaging with these traces and historically distant research subjects.
This interactive workshop will be chaired by Dr Justin Davis Smith (Cass Business School, City University who has recently written a history of the National Council for Voluntary Organisations. Speakers include: Georgina Brewis (UCL), Angela Ellis Paine (Birmingham University) and Irene Hardill (Northumbria University) who will focus on their ESRC project Discourses of Voluntary Action which has involved negotiating access to the private archives of some national voluntary organisations (https://discoursesofvoluntaryaction.wordpress.com/). Laura Crawford, University of Northampton who has recently successfully defended her thesis on disability which involved accessing the private archives of Leonard Cheshire and Hannah Martin, a year two postgraduate student at Northumbria University examining BAME seafarers and focuses on ways of overcoming archival absences. We aim to co-create a list of tips for researching archives
Capacity will be limited to 30 attendees.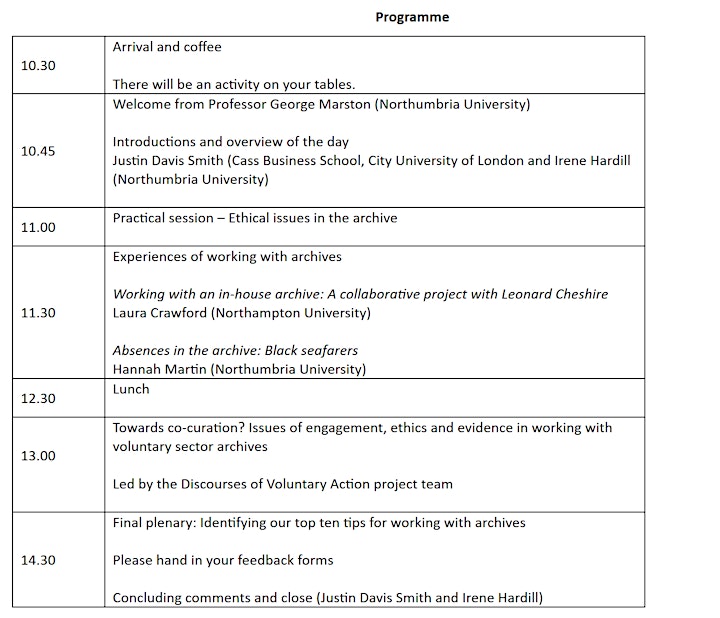 Organiser of "Archives: Knowledge, Politics, Ethics" An Interdisciplinary Workshop