Are we Living in an Age of Distraction? - Graduate Student Conference
Description
Graduate Student Conference
Organized by Birkbeck Institute of Humanities, Birkbeck Institute for Social Research and Birkbeck Gender and Sexuality
Keynote Speakers: Professor Carolin Duttlinger, University of Oxford. Dr. Sophie Jones, Birkbeck.
Discussions with: Prof. Felicity Callard and curator Alessandra Cianetti
Age of Distraction is a chance for an enriching discussion between MA, PhD students and early career researchers from all disciplines.
This conference explores distraction and all its meanings and implications. Distraction is commonly thought of as a growing concern or even a sickness of modern society and digital culture. From mindless scrolling to heavy consumerism, the pursuit for entertainment and satisfaction is insatiable, leaving us vulnerable to ruling corporations. Does our lack of control transform us into a conformed mass that is susceptible to tabloid media and the rise of populism? On the other hand, distraction is not necessarily steeped in negativity. In fact, it has had a long and fascinating history. Its German equivalent, 'Zerstreuung', comes from the idea of dispersion. At the start of the twentieth-century, Walter Benjamin defined the term as 'floating attention', where experience is caused by chance rather than concentration. Does lack of focus in fact allow a sense of freedom and inspiration?
Artist Collaboration: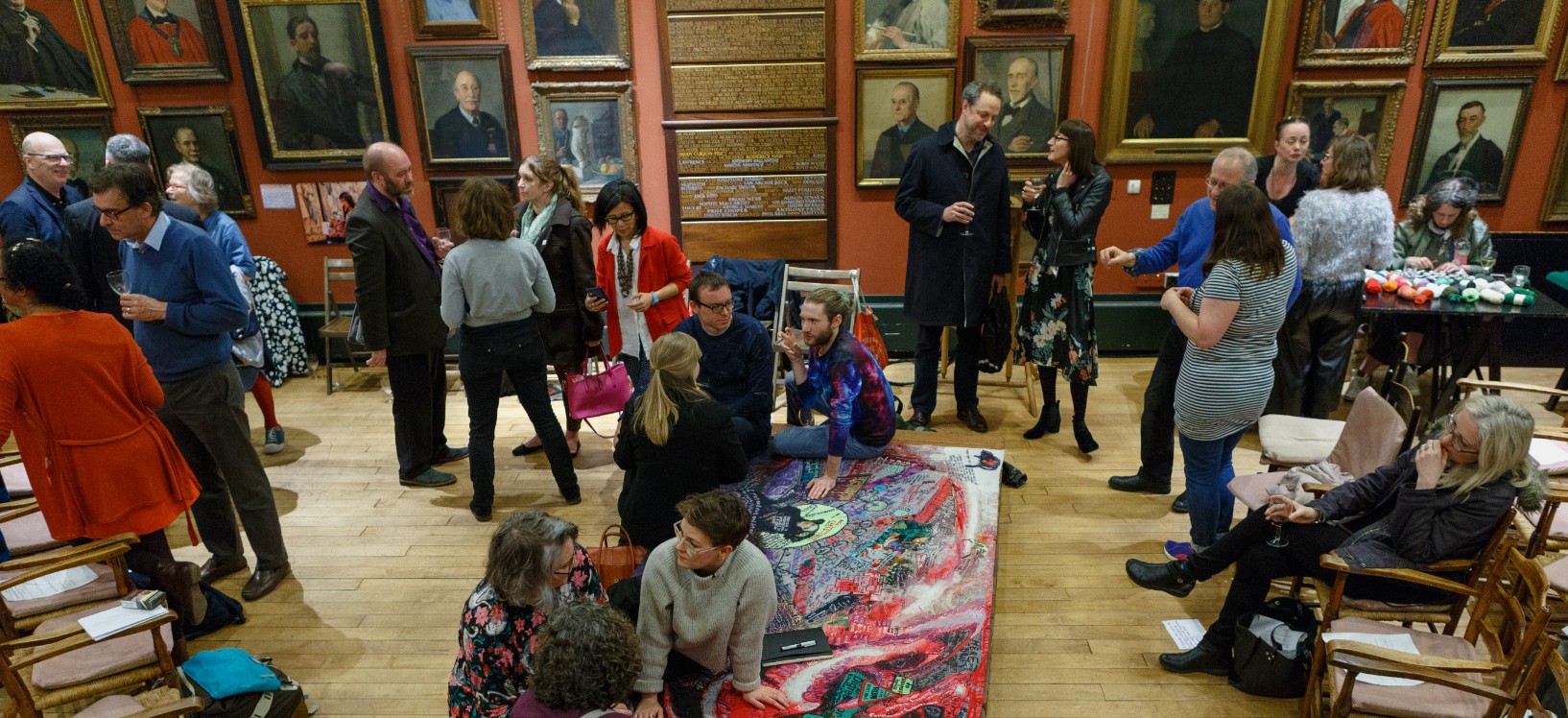 Age of Distraction presents Kai Syng Tan's photographic series BADGE-WEARING MIND WANDERER IN ACTION (M.I.A), 2017, through an exhibition curated by Alessandra Cianetti. BADGE-WEARING MIND WANDERER IN ACTION (M.I.A) is part of We sat on a mat and had a chat and made maps! #MagicCarpet, a 1.5 year art practice-led research project that draws on emerging research on the universality of mind wandering as well as how it relates to visual art and Attention Deficit/Hyperactivity Disorder (ADHD). Through a programme of talks, workshops and the creation of a new participatory tapestry art installation, #MagicCarpet aims to generate a creative space to explore the lines – squiggly, fractured, actual, imagined, messy, fascinating – between 'normal' and 'abnormal' behaviours, imagination and pathology, art practice and scientific research as well as the physical weave and digital pixel.
#MagicCarpet is a 2017 Unlimited commission. The project is part of King's artist in residence programme supported by Cultural Programming and the Department of Social, Genetic & Developmental Psychiatry Centre, King's College London. #MagicCarpet is realised with the support of Submit To Love Studios (Headway East London), UK Adult ADHD Network (UKAAN), Flanders Tapestries.
Dr Kai Syng Tan FRSA SFHEA is an artist, curator and researcher. Currently a Research Fellow at Leeds College of Art and AHRC Peer Review Member, Kai completed her PhD at the Slade School of Fine Art in 2014. Her performances, papers and installations have been shown at exhibitions like dOCUMENTA and Biennale of Sydney, and sites including MOMA, ZKM and Dom Muzyki.
Alessandra Cianetti is a London-based curator, creative producer, and writer. She has worked internationally on multi-disciplinary live and visual art projects across the UK, Europe and Southeast Asia. She is the founder of the research platform 'performingborders. conversations on live art | crossings | europe'.
Programme:
Friday 8th June

9.00-9.45am: Registration (Coffee & Tea provided)
9.45-10.00: Introduction by Esther Leslie (Birkbeck)


10.00-11.00: Keynote speech- Carolin Duttlinger (Oxford)

11.00-11.15: Break

11.15-12.45: Session 1 (Distraction & Aesthetics). Chair: Carolin Duttlinger
Nickolas Lambrianou (Birkbeck): An aesthetics of distraction: Encounters and Interventions in contemporary art
Lawrence S. Wang (Albert-Ludwigs-Universität): An Aesthetic Phenomenology of Boredom
Zoe Louizos (Birkbeck): The phenomenon of canned laughter in the 20th Century

12.45-14.00: Lunch (Provided)

14.00-15.30: Session 2 (Distraction & Politics). Chair:
Arianna Bassetti (QMUL): Engaged Comics for Migratory Publics: Zerocalcare's Kobane calling
Cindy Guo (Indiana): (In)visible Individuals: Exploring the Distracted Narrative of Ha Jin's War Trash
Aytekin Kaan Kurtul (Middlesex): Online Lèse-majesté: Silencing Dissent in the "Age of Distraction" and the Example of Turkey

15.30-15.45: Break

15.45-17.15: Session 3 (Historicism & Psychology). Chair: Esther Leslie
Katy Maydon (Birkbeck): Jewish Passivity in Academia and Cinema: Peter Hayes and The Son of Saul
Eleonora Antonakaki Giannisi (Kingston): Distraction and Censorship
Tom Fielder (Birkbeck): Are You Distracted? Following Freud in his Interpretation of Dreams, Slips of the Tongue, and Neurotic Symptoms

17.15: Ending & Drinks reception


Saturday 9th June

9.00-9.45am: Registration (Coffee & Tea Provided)
9.45-10.00: Introduction by Felicity Callard (Birkbeck)

10.00-11.00: Keynote speech- Sophie Jones (Birkbeck, English)- Inscrutable Objects: Minimalist Literature, Attention Deficit Disorder, and the Problem of Knowledge
11.00-11.15: Break

11.15-12.45: Session 1 (Education, Digital Media & Post-Truth). Chair: Felicity Callard
Jessica Massonnié (Birkbeck): Good multitaskers suffer less from noise in classroom settings
Octavia Reeve (Birkbeck): Digital Media: Paying Attention and the Cost of Distraction
Anamaria Popa (Warwick): Post-truth: An Arendtian approach

Lunch: 12.45-14.00 (Provided)

14.00-15.30: Session 2: Mind-wandering, ADHD & Contemporary Art. Chair: Sophie Jones
Alessandra Cianetti (Curator): Mind-wandering in action: the power of the distracting performative body
Felicity Callard: Tracking down day-dreams

15.30- Ending: Felicity Callard