Are we too irrational to participate in policymaking?

Tuesday, 25 September 2012 from 18:30 to 20:30 (BST)
Event Details
A Political Innovation 'Translation Layer' Event at Adam Street
Are we too irrational to participate in policymaking?
'Empowerment' v Presumed irrationality?
Speaker: Warren Hatter - With The Grain
A short talk followed by drinks & networking
Politicians & their staff
Campaigns & Public affairs professionals
Policymakers
Entrepreneurs & investors
Gamers
Bloggers & journalists
Social media specialists
Behavioural economics and psychology is beginning to provide a new 'grammar' for policy-makers.
Politicians would get shot for saying that they regard the public as  'irrational'. Yet this assumption is the one that fashionable wonks from both the left and right are starting from when they use the kind of persuasive tools found in the best-selling 'Nudge' to frame public policy.
Can a government that adopts approaches from behavioural economics be trusted to be serious about any kind of participative politics? Are the two oil-and-water opposites? Or is it more complicated than that?
Warren will outline the problem, and tentatively suggest solutions.
Warren Hatter devised and runs With The Grain. He uses insights from behavioural economics and behavioural psychology, to help local authorities and public health professionals work out how to encourage 'desired' behaviours in a way that is more 'with the grain' of human nature.
We often ask politicians to embrace innovative ideas from the worlds of social media or gaming and use them to solve long-standing problems.
Never before have we faced a position where so many key concepts are not fully understood by policy makers and their stakeholders.
They're tough concepts to grasp if you don't work in these industries. A
Translation Layer
is needed. Applying these solutions to the obvious problems with policymaking can help improve an understanding of the wider opportunities presented by innovation.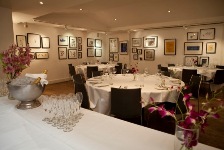 About Adam St
Hidden in 18th century vaults under the Strand, Adam Street is a central London base for work and play.  Here you can relax, work, hang-out, entertain, hide, impress, eat great food and drink excellent wine and cocktails, surrounded by like-minded souls.  The membership is built around entrepreneurs and freelancers.
The club comprises a bar, restaurant, meeting rooms, events spaces and an interestingly diverse membership.
If you are an independent-minded person who struggles to separate work and pleasure then you may well find you need a bit of Adam Street in your life.
Adam Street Private Members Club is offering an Associate Members rate of either £600 per year or £50 per month to all attendees of the Political Innovation Event.
To find out more information about membership at Adam Street, Please contact the Membership Manager, Ellie Barrett on 020 7520 9033 or Ellie@adamstreet.co.uk 


Attendee List
Sort by:

Date

|

First Name

|

Surname
When & Where
9 Adam Street
The Strand, Charing Cross,
WC2N 6AA London
United Kingdom


Tuesday, 25 September 2012 from 18:30 to 20:30 (BST)
Add to my calendar
Organiser
A series of meetups and short talks at which people with ideas on political innovations can mix with technical experts, journalists, bloggers, politicos and others with an interest in politics and public affairs to grow and promote innovative projects.
About the Political Innovation Translation Layer events
Many of the key actors in political life – elected representatives, tabloid newspapers, lobbyists - have been shaken by new demands for transparency in recent years. The world of think-tankery is next.
In a recent set of short essays on the Political Innovation website, Dr Andy Williamson has set out a list of problems found in any policy-making ecology in which Think Tanks are influential, along with an outline of what a more transparent and efficient alternative could look like. These events explore how innovative concepts can transform policymaking - and what politicians can learn from this for wider application.