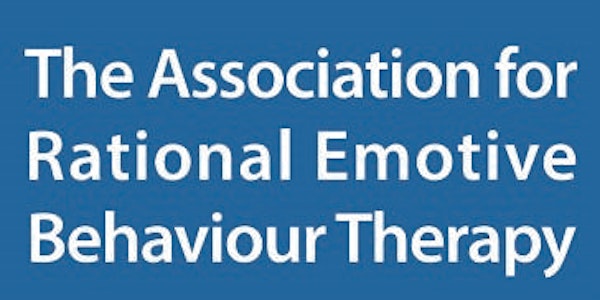 AREBT International Conference 2021
Refund policy
Contact the organiser to request a refund.
Eventbrite's fee is nonrefundable.
AREBT International Conference to be held Tues 30th November (keynote speakers and invited papers)
About this event
AREBT International Conference on
TUES 30th NOVEMBER 2021 (keynote speakers and invited papers) WED 1st DECEMBER 2021 (workshop)
THIS EVENT IS FREE OF CHARGE FOR CURRENT AREBT MEMBERS
Conference speakers will include:
Daniel David (Romania)
Raymond DiGiuseppe (USA)
Windy Dryden (UK)
Monica O'Kelly (Australia)
Kathryn Gilson (Australia)
Stephen Palmer (UK)
Martin J. Turner (UK)
Workshop details for Wed 1st December 2021 below.
See our conference website here for more details.
NB: THE AREBT AGM WILL FOLLOW THE CONFERENCE SPEAKERS
WORKSHOP - Wed 1st December
Anxiety or Rational Concern: Working with Health Anxiety & Agoraphobia
This workshop will explore the challenges of working with health anxiety and associated agoraphobia in the context of a pandemic, where there may be real rational concerns about infection.
We will work with the stages of therapy, including the collaborative setting of appropriate and realistic goals. We will explore REBT interventions that can be particularly useful in helping the client to work with their fears, including the concepts of rational concern and healthy negative emotions. We will reference specific CBT case conceptualisations with regard to health anxiety and how these can be integrated into treatment, where helpful.
Attention will also be paid to therapists' ethical dilemmas as well as their experience of the pandemic and how this may impact on them and on the therapy.
This workshop is suitable for therapists at all levels of experience and although trainer-led, is intended to include some discussion and experience sharing.
with Denise Christy MSc MAREBT Accred, AREBT Accreditation Director/Practice Officer.
Denise is an AREBT and BABCP Accredited Therapist and also BACP Accredited Counsellor. She has designed and run groups within the National Health Service. These include group therapy to help parents recover from Postnatal Depression. This helped parents to develop a balanced lifestyle, to learn relaxation techniques, challenge negative beliefs, improve their confidence and find realistic strategies to deal with the everyday pressures of new parenthood. A second group she designed and ran was to help people develop their Confidence and Assertiveness. This forum was based on the Hope and Heimberg's Cognitive Behavioural Therapy for Social Anxiety Group, but was expanded to include assertiveness skills. Group members learnt how to challenge their self-critical beliefs, develop self-acceptance, gain confidence and to use assertiveness skills in challenging situations.
Denise has worked as a private therapist for over 5 years, having formerly been a Joint Clinical Lead in IAPT. During the pandemic she has adapted her practice to working virtually. She is particularly interested in the challenges that the pandemic has presented clients and therapists with, and in using REBT to work with these challenges effectively (and realistically!).
See our conference website here for more details.