"ARETHA" REMEMBERED & REUNITED with KING: Wreath Laying & Day of Rejoicing
Description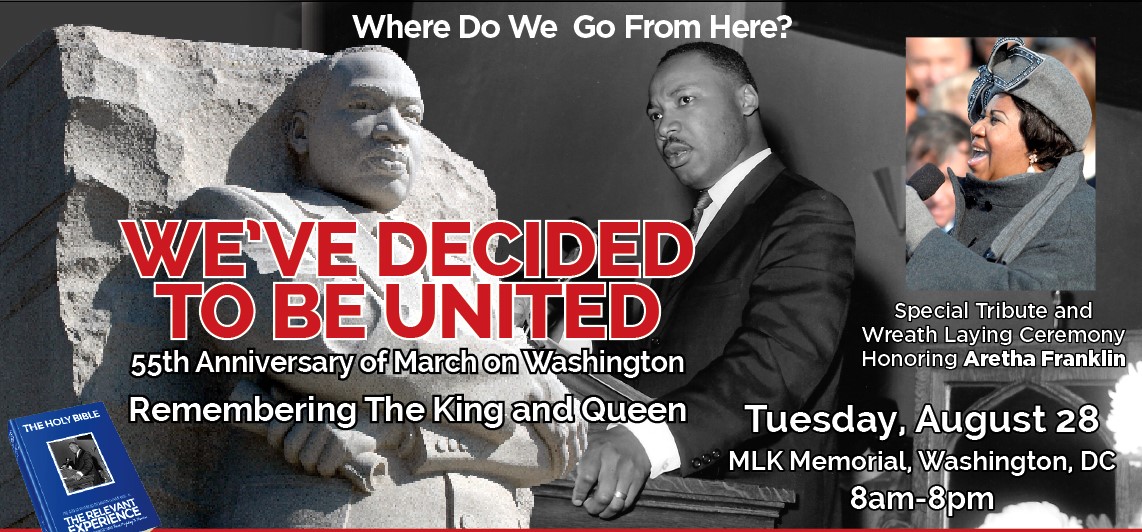 {ALL INVITE} This Memorial Service is open to the Public. It is being presented by The College of Aspiring Artists and support from donors and ministries who are bringing honor to this historic moment. It is an expanded part of our Dream Again event that happens also on this day. For others, including performing artists who wish to perform, please see the final section in this overview for how to connect with us. Thanks to everyone in advance. Please join us with well-wishes and donations here and read the national coverage from DC. http://m.nwaonline.com/news/2018/aug/21/event-for-king-memorial-bible-to-double/
Commemorative Bible Honoring Rev. Dr. Martin Luther King Dedicated on MOW Anniversary will Double as Tribute to Aretha Franklin
(Washington, D.C.) – The publisher of a Bible commemorating the Rev. Dr. Martin Luther King, Jr. will dedicate The God of Reverend Dr. Martin Luther King, Jr: The Relevant Experience on Tuesday, August 28th, the 55th Anniversary of The March on Washington. In a duel ceremony held at the MLK Memorial on the National Mall, the morning tribute to King and the evening tribute to both King and Ms. Aretha Franklin, an undisputed icon who sang at Dr. King's Homegoing and died just shy of this historic day.
Program Order Morning Tribute: 'WE'VE DECIDED TO BE UNITED'
The New Mountaintop and Spiritual Pulpit of "The Promised Land
9:00AM Welcome/Oath Of Love Rev. Arthur L. Hunt Jr.
This oath of love when taken and put into action, answers Rev. Dr. Martin Luther King, Jr.'s question posed 50 years ago in many moments of his ministry and in his book with the same title; "Where Do We Go From Here: Chaos or Community?" The Answer: "WE'VE DECIDED TO BE UNITED."
Rev. King was killed by gun violence. His granddaughter, Yolanda Renee King, just nine years, said at the March for Our Lives rally on March 24, 2018 that she too has a dream- "Enough is Enough."
Wherefore: At the MLK Memorial during the 50th Commemoration on April 3-4, and on April 7, and at churches across the nation and the world in the year 2018 of our Lord and Savior, Jesus Christ and in the years to come, we agree prayed at this sacred landmark to declare God's glory on the past and future work with his servants.
9:09AM Dr. Christi Griffin Speaker
The Ethics Project is multiple award winning a non-profit, 501(c) (3) corporation, with a mission to reduce the impact of crime, wrongful prosecutions and mass incarcerations by increasing collaboration of agencies and ministries that serve those most affected by crime and by raising the bar on ethical conduct within the system. By convening consortiums of criminal justice professionals, agencies and faith-based ministries throughout the country, designing and implementing programs that serve to decrease conflicts between law-enforcement and the community, The Ethics Project provides opportunities for integration of services, effective use of resources, heightened awareness of national trends and best practices, and guidance toward joint problem solving and strategic execution. "Crime is about us – all of us. Directly or indirectly, it affects every man, woman and child in America. Crime reaches beyond the protective doors of class and permeates every culture. It tears families apart and ravages their communities. " I would now like to introduce to you Founder and President Of The Ethics Project, Dr, Christi Griffin
9:20AM Reading Of Psalms 27 Hilda Willis
1 (A Psalm of David.) The LORD is my light and my salvation; whom shall I fear? the LORD is the strength of my life; of whom shall I be afraid?
2 When the wicked, even mine enemies and my foes, came upon me to eat up my flesh, they stumbled and fell.
3 Though an host should encamp against me, my heart shall not fear: though war should rise against me, in this will I be confident.
4 One thing have I desired of the LORD, that will I seek after; that I may dwell in the house of the LORD all the days of my life, to behold the beauty of the LORD, and to enquire in his temple.
5 For in the time of trouble he shall hide me in his pavilion: in the secret of his tabernacle shall he hide me; he shall set me up upon a rock.
6 And now shall mine head be lifted up above mine enemies round about me: therefore will I offer in his tabernacle sacrifices of joy; I will sing, yea, I will sing praises unto the LORD.
7 Hear, O LORD, when I cry with my voice: have mercy also upon me, and answer me.
8 When thou saidst, Seek ye my face; my heart said unto thee, Thy face, LORD, will I seek.
9 Hide not thy face far from me; put not thy servant away in anger: thou hast been my help; leave me not, neither forsake me, O God of my salvation.
10 When my father and my mother forsake me, then the LORD will take me up.
11 Teach me thy way, O LORD, and lead me in a plain path, because of mine enemies.
12 Deliver me not over unto the will of mine enemies: for false witnesses are risen up against me, and such as breathe out cruelty.
13 I had fainted, unless I had believed to see the goodness of the LORD in the land of the living.
14 Wait on the LORD: be of good courage, and he shall strengthen thine heart: wait, I say, on the LORD.
9:25AM Mr. Calvin Hawkins: Council Member At Large: Prince George County
Psalms 1/Tribute To King Mr. Calvin Hawkins
1 Blessed is the man that walketh not in the counsel of the ungodly, nor standeth in the way of sinners, nor sitteth in the seat of the scornful.
2 But his delight is in the law of the LORD; and in his law doth he meditate day and night.
3 And he shall be like a tree planted by the rivers of water, that bringeth forth his fruit in his season; his leaf also shall not wither; and whatsoever he doeth shall prosper.
4 The ungodly are not so: but are like the chaff which the wind driveth away.
5 Therefore the ungodly shall not stand in the judgment, nor sinners in the congregation of the righteous.
6 For the LORD knoweth the way of the righteous: but the way of the ungodly shall perish.
9:30AM Edith Lee Payne
Edith has been an activist for social justice in areas of education, housing, public safety, police/community relations, and civil rights for most of her life. In 2008, Edith learned she had a permanent place in history after discovering that three photographs taken of her at the August 28, 1963 March on Washington for Jobs and Freedom are among the holdings of the National Archives and Records Administration. Most notably, one of the images appears on the Martin Luther King Jr. Memorial brochure, in the Records of Rights permanent exhibit in the David M. Rubenstein Gallery of the National Archives Museum in Washington, D.C., and in the newly opened Oprah Winfrey Gallery in the National Museum of African American History and Culture along with the pennant Edith held in the historic photo.
Edith brings history to life when speaking to audiences of all ages on her personal recollections, observations, and interpretations of growing up during the Civil Rights Movement to present. As the "Poster Child" for the Civil Rights Movement, Edith has made a variety of local, national, and international appearances. Edith has written several articles and a children's and chapter book are forth coming on the August 28, 1963 March on Washington and the person behind the image.
Spanning four decades, Edith is affiliated with civic and community organizations for civil and human rights in the areas of education, police/community relations, and public safety, She has been recognized for her advocacy, professional and political service. Please welcome Mrs. Edith Lee Payne
9:32AM The Impact Of The Movement Edith Lee Payne
9:42AM Pastor Paige Harris Prayer
9:44AM Worship and Song
9:54AM Oath Of Love
We've Decided to Be United underscores the reality that the MLK Memorial is the "New Court" on the National Mall. The residence of one who holds a position of dignity and honor based on God using him to impact the nations to more greatly understand how God loves and how God is Love.
We've Decided to Be United
Decree with me—affirm the spiritual purpose. Declare on October 16, 2011, the United States dedicated a national monument in honor of the Rev. Dr. Martin Luther King, Jr., as the country's foremost champion of civil rights, diversity, and cultural tolerance—it would be the only monument that recognizes a spiritual leader who gave his life for the sake of the Gospel of Jesus Christ.
Join me in affirming the spiritual purpose of the MLK Memorial
We've Decided to Be United
Presence of MLK is a constant reminder to continue praying forward St. John 17 as Jesus prayed, for unity among the Body of Christ and society—"No longer will mankind characterize one another by the color of their skin but by the content of their character."
We've Decided to Be United
St. John 17:21, 22, 23 (Amplified Version and read in unison)
That they all may be one, [just] as You, Father, are in Me and I in You, that they also may be one in Us, so that the world may believe and be convinced that You have sent Me. 22 I have given to them the glory and honor which You have given Me, that they may be one [even] as We are one: 23 I in them and You in Me, in order that they may become one and perfectly united, that the world may know and [definitely] recognize that You sent Me and that You have loved them [even] as You have loved Me.
Assembly—I accept the commission to keep the Spirit of unity in the bond of peace.
I hereby commit to being united and to uphold the oath as said. I humbly commit to be a Representative of love and a keeper of the faith.
9:58AM Closing Remarks Rev. Arthur Lee Hunt Jr.
11AM Performance by DACAPO National Recording Artist
Every Now and then, A star comes along that captures the hearts of many... DaCapo, which means to start again, is taking America by storm as he spits the gospel on his U.S. 2nd single project entitled 'REMEMBER" Pilot Nigeria's top rapper and hip hop producer is a captivating lyricist with over twenty albums and thirty hit singles produced to his credit, as well as record sales of over 500,000 copies in Africa is now set to take front stage in America side by side with hip hop greats. With "Simply DaCapo" – his 1st successful US project and his hit single Love Flow featured on the Stellar nominated Gospel Skate Jams Vol. 1 compilation cd, Now with his 2nd upcoming project with Hot single and video "REMEMBER" DaCapo's project is innovative, creative and unique.
Accomplished in all areas relating to the production of music and the coordination of choir music amongst children and adults he formerly served as music director at the House on the Rock Church in Abuja, Nigeria. Currently he serves as regional music director at Christ Embassy Church. Dacapo is a finished product, with a very strong electrifying and captivating stage presence.
Performances include, The Black History Gospel Explosion for the government of the District of Columbia, World Championships of Performing Arts Gold Medalist, in Hollywood, CA, Jam Festival – International Aids Candlelight Memorial in Abuja, Nigeria , Colour of Peace Art Exhibition participant, in Abuja, Nigeria, The Redeemed Christian-Teenage Convention (MD), Church of God
Stage Performances in "So How Ya Livin' Now", a Gospel stage play,
Motion picture film debut in "RISE Above the Silver and Gold,
12 Noon - 6 PM Inaugural ONE-YEAR Reading Begins from Commemorative Bible
The God of Reverend Dr. Martin Luther King, Jr: The Relevant Experience
(Bible reading begins in Genesis with various persons reading beginning in Genesis. Beyond today, a schedule will be posted when ongoing sessions will take place live from the MLK Memorial through the course of one year).
6:30 TRIBUTE AND WREATH LAYING FOR MS. ARETHA FRANKLIN AVAILABLE ON SITE ONLY
STREAMING LINK WILL BE POSTED HERE
THE HAPPENINGS... AUGUST 28, 2018
Across the nation (and the world) Aretha Franklin is being remembered in thousands of ways for her iconic gospel heritage, music, activism and philanthropic works.
Again, we pay tribute and give thanks for two social conscious engineers. We stand in celebration to many who advocated multiple causes flowing from one same spiritual fountain. Rev. Dr. Martin Luther King, Jr., and the Queen of Soul, Ms. Aretha Franklin will be remembered and reunited a memorial tribute giving honor to their legacies in a special moment prior to Ms. Franklin's Homecoming set for three days later, in Detroit.
On August 28, the 55th Anniversary of the March on Washington where King delivered his famous "I Have a Dream" speech/prophecy, we meet in unison at the MLK Memorial in honor of Rev. Dr. Martin Luther King Jr. Two special ceremonies salutes will take place during the day-long tributes. At 9am, we gather as an army of foot soldiers to stand in celebration for those who advocated multiple causes for the greater good of all. A one-hour memorial service opens the day and is followed with all-day tributes. The day ends with a 6:30 pm prayer vigil and wreath laying in honor of the late Queen of Soul Aretha Franklin. The wreath, along with a copy of the inaugural bible, The God of Rev. Dr. Martin Luther King, Jr.- THE RELEVANT EXPERIENCE, will be presented to the National Museum of African American History.
These legendary extraordinaire, yet ordinary individuals taught us to see each other respectfully in totality. On this date we stand together to uplift our ancestors, as the cries of the people are echoed in the voice and songs of Aretha Franklin.
Dr. King and the Queen of Soul life were intertwined as servants, healers and delivers of those socially oppressed, marginalized, mental abused and imprisoned. Their legacies were deeply rooted in dismantling spiritual violations and layers of injustice.
We celebrate Dr. King's as his home-going journey began fifty years ago, April 4th, 1968, and the Queen of Soul, Aretha Franklin home-going journey began August 16, 2018. Her role in the dedication of the MLK Memorial afforded her to see King's dream advanced and manifested with the election of President Barack Obama.
Pastor Arthur L. Hunt, Jr., of HMC- Hunt Memorial Cathedral of Faith and Publisher at MLK Bible.Education from Dumas, Arkansas is spearheading these events to pay tribute and give thanks for two social conscious engineers and biblical rights leaders. Hunt has done legacy tributes to Rev. King for nearly 30 years including the opening tribute for King Holiday for the National Civil Rights Museum.
This day will bring them together from King's spiritual landmark with tributes of honor and love symbolizing and confirming that their works continue to do as the holy scripture outlines:
Revelations 14:13: And I heard a voice from heaven saying unto me, Write, Blessed are the dead which die in the Lord from henceforth: Yea, saith the Spirit, that they may rest from their labours; and their works do follow them.
~9AM and 6:30PM
While the 55th Anniversary of the MOW is an all-day gathering, the two special programs of ceremonial salutes will require special details for persons desiring to attend. For seating purposes (limited) registration is required for these two sessions only. All tourists and visitors to the MLK Memorial all welcome all day long.
Seven hours of continuous tribute will take place between the 10:30am and 5:30pm. Readings from the inaugural commemorative bible, The God of Rev. Dr. Martin Luther King, Jr.- THE RELEVANT EXPERIENCE along with musical tributes which will be ongoing throughout the day. The bible will be available on site in limited quantities.
How to Participate/Attend/Donate/Support
Churches, institutions, industry professionals/agencies who want to present an hour from their organizations in song/prayers/tributes can do so by contacting the organizers at 501.680.0352 or email thecollege@aol.com
~The Nation's First Biblical Rights Movement Begins~
"Inaugurating the nation with the first bible with Rev. Dr. King's image on the cover, both spotlights and arms millions of people with 'the most powerful weapon of love and hope that Rev. King used to convey— how God can use a man to bring the nation back to him.' One value reset is shifting our youth, young adults and their parents from investing hundreds/thousands of dollars in 'sneakers and styles' celebrating and showcasing their favorite entertainers. They need this bible. For they will outgrow their sneakers and styles, but they will never outgrow a relationship with their Savior. Own it! Gift it! Read it… and see how God brings forth greater use from you and those you love." Philippians 1:6 Rev. Arthur L. Hunt, Jr., D.D., Publisher
This bible will be available on site in limited quantities. Orders begin on August 28 live from the mlkbible.education site.
The College of Aspiring Artists | 501.683.8555 ceo@thecollegeofaspiringartists.education