Description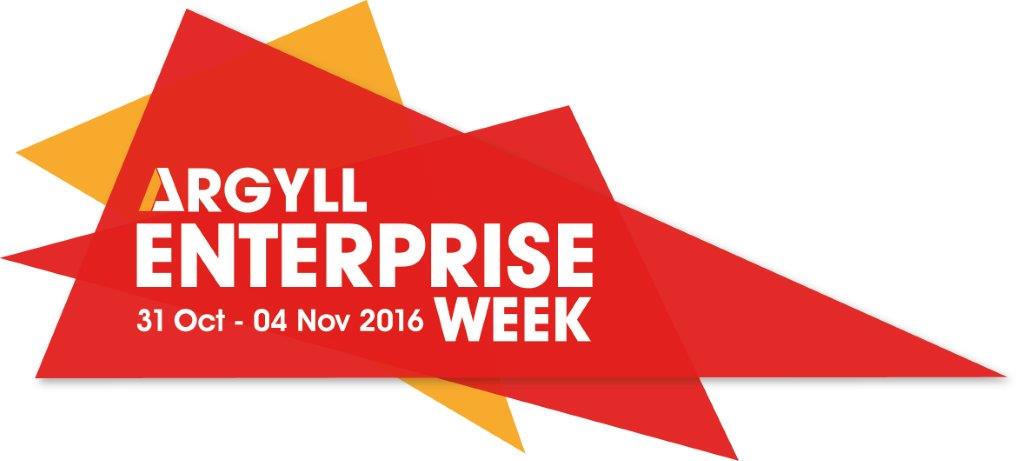 Argyll Enterprise Week
31st October to 4th November 2016
Argyll Enterprise Week is an exciting new event, bringing together businesses, social enterprises, communities, support providers, entrepreneurs and anyone with an interest in business enterprise. The week is packed with opportunities designed to inspire, connect and inform.
To register for any of the events below click "Register"


---
Monday 31st October 2016
---
Launch Event
The launch of Argyll Enterprise week will include an address by Nicholas Ferguson, CBE, Chair of the Argyll & Bute Economic Forum and former Chair of Sky Plc, plus key speakers from across the political, private and public sector who are involved in supporting business growth in Argyll and Bute. Argyll entrepreneurs, Jamie Delap of Fyne Ales, Brendon Wallace of BC Technologies and Craig Cameron of Midton Acrylics will be talking about their successful Argyll based businesses. It will conclude with a networking lunch provided by Food from Argyll and a showcase of Highlands and Islands Enterprise (HIE) and Argyll and Bute Council initiatives supporting economic growth.
Argyllshire Gathering Halls, Breadalbane Street, Oban, PA34 5NZ
Monday 31st October 2016 at 11.00am
Better Budgeting

A short session that will help you identify barriers to effective budgeting. You can also learn to understand your costs and work with cash flow forecasts. Followed by a Question & Answer Session. Places are strictly limited, please call 01631 559500 to book your place.
Argyll College, Glenshellach Business Park, Oban, PA34 4RY
Monday 31st October 2016, 9.00am - 11.00am
Cyber Survival Guide
An essential guide for everyone: this short session will bring you up to date with possible technological threats to your business and what you can do to keep yourself and your data safe. Topics will include: Password Complexity, Emails & Phishing, Mitigating Wi-Fi threats and USB safety.
Places are strictly limited, please call 01631 559500 to book your place.
Argyll College, Glenshellach Business Park, Oban, PA34 4RY
Monday 31st October 2016, 5.00pm - 7.00pm
---
Tuesday 1st November 2016
---
Funding your Business
Access to funding has been identified as one of the key challenges for small businesses. Argyll Enterprise Week has this as one of its central themes, with a whole day dedicated to linking up entrepreneurs with a range of alternative sources of funding.
A series of five one-hour seminars will run throughout the day, so that funders can outline what they have to offer and how to apply, and businesses can make contact and ask questions.
Business Gateway Local Growth Accelerator Programme, Argyll and the Isles LEADER Programme and the Rural Resettlement Fund
Kate Fraser and Colin Fulcher of Argyll & Bute Council will be presenting information about the support available to businesses through Argyll & Bute Council and how to apply, including the Rural Resettlement Fund, the Business Gateway Local Accelerator Growth Programme and the Argyll and the Isles LEADER Programme.
McCaig Suite, Corran Halls, The Esplanade, Oban, PA34 5AB
Tuesday 1st November at 9.30am
S J Noble Trust
Set up in memory of Johnny Noble, Chairman and co-founder of Loch Fyne Oysters who died in 2002. The purpose of the SJ Noble Trust is to promote rural regeneration by providing financial or other assistance to new or existing businesses where this can be demonstrated to provide employment and training opportunities. Christina Noble will talk about the Trust and the impact it has had on businesses in Argyll.
McCaig Suite, Corran Halls, The Esplanade, Oban, PA34 5AB
Tuesday 1st November at 10.30am
Growthdeck Crowdfunder
Derek Bond, who founded the first Scottish equity crowdfunding platform Squareknot, has significant experience in all forms of crowdfunding, and has advised companies across all business sectors on the use of crowdfunding to raise seed or growth capital. Squareknot merged with London-based Growthdeck earlier this year, and Derek now provides access to funding for businesses through this platform.
Growthdeck is a multi-channel investment platform that provides investors with direct access to early-stage UK businesses. Unlike many other platforms, we also provide service levels similar to more traditional private equity and venture capital firms, including professional due diligence, extensive investee business support and higher levels of customer service. Growthdeck also host a series of networking events around the UK aimed at premium investors.
Derek's presentation will provide an insight into the growth of crowdfunding in the UK and the various forms of crowdfunding that are available to businesses. He will provide advice and tips on how to run a successful crowdfunding campaign, and highlight some of the pitfalls that businesses should be aware of. There will also be the opportunity to find out if your business would be suitable for raising funding through Growthdeck, or if there is a more appropriate platform that could facilitate it.
McCaig Suite, Corran Halls, The Esplanade, Oban, PA34 5AB
Tuesday 1st November at 11.30am
DSL Business Finance

Based in Glasgow, fully regulated with the Financial Conduct Authority and a member of The Responsible Finance Association , DSL Business Finance Ltd is a Not for Profit Alternative Lender that has been providing loans of up to £50,000 to start-up and established businesses in Scotland since 1993.
Many, but not all, DSL clients are unable to source funding from the more traditional Clearing Bank sources and DSL regularly receives introductions from Banks either when they are unable to assist a client or when there is a funding gap. DSL are the only Scotland based and headquartered delivery partner for the UK Government backed Start-Up Loan scheme in addition to which DSL have their own loan fund that is operated using their EFG (Enterprise Finance Guarantee) Licence. Qualifying criteria for these loan funds are slightly different and this session will explore and explain how DSL assist businesses, what the application process is and also share some case studies of where DSL have provided loan support with particular reference to Argyll & Bute. In more recent times DSL have assisted several businesses in Argyll sometimes partnering with the S J Noble Trust.
Whether you are just thinking about establishing a business, have worked up your plans and have determined a funding need, are an established business or are a business advisor (Accountant, Consultant, Solicitor, IFA etc.) there is something in this session for you. We will be delighted to see you there.
McCaig Suite, Corran Halls, The Esplanade, Oban, PA34 5AB
Tuesday 1st November at 1.00pm
Scottish EDGE
Scottish EDGE is a private community interest company offering funds and support to help entrepreneurs grow their business. Join Jack Proctor from the EDGE to find out how to apply for Scottish EDGE funds, including how to complete a good application and construct a video pitch. Jack will be joined by local businessman Clive Rumbold of MotoScotland who was successful in pitching for Scottish EDGE funds in 2014.
McCaig Suite, Corran Halls, The Esplanade, Oban, PA34 5AB
Tuesday 1st November at 2.00pm
A Day With The Angels
This is a practical, highly interactive workshop with Investing Women. Meet and talk with business angels, get tips on what makes your business attractive to investors, the process involved and what to prepare. This is a very flexible day where we will discuss your business and business model, how the company can be scaled and other financing options which may be worth exploring. You will have many opportunities to ask questions, meet other entrepreneurs and get help with your pitch. For further information and booking please visit:
https://www.eventbrite.co.uk/e/a-day-with-the-angels-oban-argyll-enterprise-week-tickets-26963932849
Gaelic Room, Corran Halls, The Esplanade, Oban, PA34 5AB
Tuesday 1st November at 10.00am
---
Wednesday 2nd November 2016
---
Business Support Fair 11.00am - 6.00pm
Corran Halls, The Esplanade, Oban, PA34 5AB
We will have a series of taster sessions running throughout the day alongside our Business Support Fair at the Corran Halls. Come along and find out more about how these organisations can support your business.
Scottish Manufacturing Advisory Service (SMAS): 11.00 - 11.45am
Small changes to the way you work can make a big difference to your productivity and business growth. Find out more about the Scottish Manufacturing Advisory Service and how you can improve your production and manufacturing business processes.


WorldHost™ Customer Service Training: 11.45 - 12.30pm
Find out more about the WorldHost™ customer service training and how it can help your business. Carron Tobin of Argyll & the Isles Tourism Co-operative will be talking about plans for Argyll to become a WorldHost™ accredited destination.


The Digital Garage from Google: 12.30 - 1.15pm & 4.15 -5pm
#hellodigital brings The Digital Garage from Google to Argyll Enterprise Week - a digital skills training platform to assist you in growing your business, career and confidence, online. A Google digital expert is coming to deliver training on Reaching New Customers Online - Learn how to make your business more visible online to help new customers find you through search optimisation, local listings and search engine marketing. Google will also be offering one-to-one mentoring sessions at the Business Support Fair to teach you what is needed to gain a competitive advantage in the ever changing digital landscape, so come prepared to learn and ask questions, too.
Resource Efficient Scotland: 1.15 - 2.00pm
In just the last year alone, Resource Efficient Scotland identified over £10 million of savings opportunities for Scottish businesses. Including energy, water and waste bill savings, that's an average of over £17,000 for each business they helped. Find out more about the free support available to SMEs from Resource Efficient Scotland, and get some takeaway-tips on how you can quickly and easily cut your bills.
Internationalisation: 2.00 - 2.45pm
Are you exporting or thinking of exporting? Come and join Stewart Miller of 9SM as he explains some of the support available to develop the skills, knowledge and confidence you need to grow your company overseas.



Intellectual Assets: 2.45 - 3.30pm
HIE's Intellectual Assets and Innovation Adviser, Ewen Macaulay will be chatting about Intellectual Property (IP) and how unique knowledge (trade secrets, recipes, processes etc) and IP including copyright, trade marks, design rights and patents work to protect and enable your business to grow successfully.


Argyll and Bute Council Regulatory Services: 3.30 - 4.15pm
Find out more about how Argyll & Bute Regulatory Services can help support your business to become compliant and sustainable.
Getting to Grips with Spreadsheets

Have you ever thought you could be doing more with spreadsheets? Do formulas fill you with dread? This session is suitable for those with a basic knowledge of using spreadsheets and will cover topics such as working with cash flow forecasts, costing and applying discounts to your products and services, and creating sales forecasts. There will also have a chance to ask for help with other tasks.
Places are strictly limited, please call 01631 559500 to book your place.
Argyll College, Glenshellach Business Park, Oban, PA34 4RY
Wedneday 2nd November, 6.00 - 8.00pm
---
Innovation, Internationalisation and Digital
#hellodigital Introduction to 360-Degree Video - Using 360 video to promote your business
09:00-10:30 Why use 360 video? A brief overview of 360 video & photography technology & basic theory involved in shooting 360 video. Throughout, we will use side by side footage from actual shoots to demonstrate the difference between 360 video & traditional video.
11:00-12:45: How to Shoot/Produce/Promote your own 360 video. Outlining the steps to start filming and go through the recommended workflow with a 2 lens system. Film an example 'Classroom' scenario and go through (step by step) how to edit/upload onto YouTube or similar platforms.
Delivered by: #hellodigital from Highlands and Islands Enterprise
McCaig Suite, Corran Halls, Oban, PA34 5AB
Wednesday 2nd November, 9.00am - 12.45pm
360 VIDEO: HANDS-ON TRAINING (OBAN) Wed 2 Nov 14:00-17:30, The Corran Halls
#hellodigital, from HIE, are giving 6 businesses the opportunity to receive hands-on training in Oban and borrow a 360 video camera each, for 2 weeks.
The businesses can be from any sector and of any size. What's important is that you can demonstrate how access to the 360 camera will provide a real benefit to your business. When you apply, you'll be asked to outline how you hope to use it and to demonstrate that you have someone within your business who can commit to completing a project.
For more information on how to apply click here: http://hellodigital.scot/events/360-video-hands-on-training-oban-tickets-27773346828
The Studio, Corran Halls, Oban, PA34 5AB
Wednesday 2nd November, 2pm - 5.30pm
DigitalBoost Cyber Security
Are You Cyber Resilient? You wouldn't head home for the evening after work without locking up, but how many of us unknowingly leave our businesses wide open to online attack? Keith McDevitt, a Cyber Resilience Integrator for the Scottish Government and Kyle who is an ethical hacker for the Scottish Business Resilience Centre will talk about how you can take steps to protect your business online.
McCaig Suite, Corran Halls, The Esplanade, Oban, PA34 5AB
Wednesday 2nd November, 1.00pm - 4.00pm


Innovation in many disguises
Find out more about innovation in business. John Mackenzie, Senior Innovation Manager at HIE will be joined by Henry Blake of Woodblox and Andrew Cameron if the V&A museum in Dundee talking about their innovation journeys. This will be followed by an interactive session on workplace innovation from the Fair, Innovative and Transformative work (FIT) in Scotland team who are based at the University of Strathclyde. Teh session will be round off with a Q&A Panel session.
McCaig Suite, Corran Halls, The Esplanade, Oban, PA34 5AB
Wednesday 2nd November, 4.30pm - 6.30pm
---
Women in Business
Women in Business Discussion Panel
This informal session is aimed at women in business, or those planning to be, or those just interested in finding out more! Margaret Gibson of Women's Enterprise Scotland will host a discussion panel of women at different stages of business. Focus of questions will be around challenges and opportunities for women in business in Argyll. There will also be an opportunity to take questions from the audience. The session will be followed by an informal networking opportunity supported by the Federation of Small Businesses (FSB).
The Conservatory, Oban Bay Hotel, Oban PA34 5AE
Wednesday 2nd November, 2.00 - 4.00pm
---
Social Enterprise Film Festival
Film Festival and Question Time Panel
Phoenix Cinema, 140 George Street, Oban, PA34 5NX
Wednesday 2nd November, 6.00 - 9.00pm
For further information and to register your attendance please visit https://argyll-enterprise-week-social-enterprise.eventbrite.co.uk
---
Thursday 3rd November 2016
---
Focus on Social Enterprise Day
Social Enterprise day co-ordinated by InspirAlba, featuring networking, workshops and a dragons' den.
For further information and to register your attendance please visit https://argyll-enterprise-week-social-enterprise.eventbrite.co.uk


---
Selling and Procurement
Supplier Development Programme: Introduction to Working with the Public Sector
How well do you know the public sector? This introductory module is recommended for anyone new to bidding. It provides a comprehensive overview of the public sector marketplace in Scotland and beyond and introduces the concept of tendering and procurement
Key topics:
Finding public sector contracts
Government structure
Procurement legislation
Proving experience
Policies and certifications
Sustainability and community benefits
This event is suitable for you if:
You are new to working with the public sector
You want to refresh your knowledge of the public sector in Scotland
No previous knowledge or experience is required to attend this workshop.
West Highland Housing Association, Crannog Lane, Oban PA34 4HB
Thursday 3rd November, 10.00am - 1.00pm
Selling with Confidence

A workshop to help business owners learn how to feel more confident selling and promoting themselves and their business to customers. Learn some top selling tips, how to identify your customer needs and provide products and services to meet them. Find out why people buy and learn how to highlight the features and benefits of your products or services. You will also learn how to overcome customer objections, deal with queries and feedback and identify the buying signals to help you close the sale.
West Highland Housing Association, Crannog Lane, Oban, PA34 4HB
Thursday 3rd November, 2.00 - 5.00pm
---
Food and Drink
Scottish Food and Drink and Highlands and Islands Enterprise: Strategy 2030 - Have your say
The Scotland Food & Drink partnership is working to deliver the new industry strategy, looking forward to 2030. This is your opportunity to:
Join in and contribute to the new strategy for 2030
Hear about our research so far, consider the strategic options and feed in your plans and concerns for the future
Voice your opinion and get involved in shaping the direction of travel for our industry
The Studio, Corran Halls, The Esplanade, Oban, PA34 5AB
Thursday 3rd November, 10.00am - 12.00pm
Scottish Food and Drink and Highlands and Islands Enterprise: Understanding your Markets and Customers
When targeting new markets, it is essential to understand your shopper and their behaviors. Rick Allison, UK Market Analyst, will set the scene on current trends in the UK and beyond as well as demonstrating practical tools and techniques that you can deploy to strengthen your understanding of opportunities both locally and across the UK.
The Studio, Corran Halls, The Esplanade, Oban, PA34 5AB
Thursday 3rd November, 12.30 - 1.30pm
---
Friday 4th November 2016
---
Creative and Tourism
Craft Scotland: Working with the Tourism Industry
Sheena Kitchin of Craft Scotland and Jenni Steele from Visit Scotland will be presenting this workshop on the real opportunities within the tourism industry for craft makers and how to make the most of these opportunities to develop and grow their business. Jenni will also give an update on opportunities arising for craft makers from the forthcoming 2017 year of History, Heritage and Archaeology
Sheena and Jenni will be joined by Wilma MacKenzie of Luckenbooth Gallery in Tarbert. Wilma is a glass engraver specialising in engraving wildlife and calligraphy-inspired designs. Wilma was commissioned to do Jacobean engraving on items for the Outlander set. Wilma is also a member of Artmap Argyll.
There will also be the opportunity to talk to Louisa Grant of Majestic Line cruises. Louisa will be talking about the Majestic Line and how they are looking to incorporate scheduled and ad hoc stops to craft makers for their cruises guests.
Argyllshire Gathering Halls, Breadalbane Street, Oban, PA34 5NZ
Friday 4th November, 9.30am - 1.00pm
Argyll and Isles Tourism Co-operative Ltd:
Wild About Argyll - Adventure Tourism in Argyll & The Isles
Argyll & The Isles Tourism Co-operative has been undertaking core research into adventure tourism in Argyll and the Isles. A 12 day epic adventure took place this summer with celebrity cyclist Mark Beaumont, and a campaign will be launched later this year aimed at attracting a much younger audience to Argyll. The findings of the Wild About Argyll research and details of the campaign will be shared during this workshop with lots of hot tips on how businesses and individuals can help grow Argyll & The Isles' Adventure Tourism credentials – and grow their own businesses.
This workshop is targeted at all businesses and individuals who are either already involved in the adventure market, or see this as an opportunity. The workshop will be directly relevant to activity providers, outdoor specialists and accommodation providers, who would like to target or develop this important market. It is expected that an adventure tourism forum will be established and all participants will be able to help shape what form this takes.
The Studio, Corran Halls, The Esplanade, Oban, PA34 5AB
Friday 4th November, 10.00am - 12.00pm
Digital Tourism Scotland: Digital Technology Update for Tourism
How do you know what you don't know?
Digital Technology is transforming our world rapidly! This session will bring you up to speed with digital media marketing and tourism consumer trends.
A broad range of topics are covered, from the latest social media platforms, digital and business transformation, big data, the importance of good online design as well as mobile user experience.
Topics include:
Digital Transformation and the Data Revolution

The ever evolving world of social media platforms, looking at Snapchat,

Facebook, Periscope, Twitter, Instagram to name but a few!

The impact of increased mobile usage on user experience expectations and search engi

ne optimisation.

How using good design can be persuasive and help convert customers.

How to source engaging content.

The importance of a digital strategy and a methodology to work to.

Maximising your Digital Footprint (including Visit Scotland)
The Outcome:
By attending this session delegates will understand the opportunities that Digit

al Transformation offers, if they are:

using the correct platforms to engage with key audiences aware of the latest trends in digital and tourism

benefiting from persuasive design techniques that can increase website engagement

and, the free tools available to measure return on investment.
Friday 4th November, 12.00 - 2.00pm

---
Fast Talking: Oban Times Speed Networking Event
Come along to this fast and furious speed networking event where you will meet people from many different businesses, have some fun and the opportunity to promote your business and make connections.
Facilitated by the Oban Times, each company will be represented by 2 people and have 60 seconds to deliver their elevator pitch, one representative will then move round the tables while the other remains at their table. This session is guaranteed not only to get you laughing but making those important connections. Refreshments will be provided.
Argyllshire Gathering Halls, Breadalbane Street, Oban, PA34 5NZ
Friday 4th November, 2.00 - 4.00pm
---
XpoNorth on the Road
XpoNorth is Scotland's leading Creative Industries festival; a unique conference, networking and showcase event, held annually in Inverness. This one day version of XPONORTH offers the chance to meet a range of industry specialists, look at a range of challenges and opportunities and put your own questions forward. A packed day of panels, presentations and chat looking at how to make a success of your creative career
All free, the sessions are open to any level of experience. Whilst the different sessions available are aimed at specific parts of the Creative Industries, the content of the sessions is still very relevant to anyone regardless of what your creative passion is – crowd funding, looking at the challenges and opportunities of a rural base, licensing content amongst others.
All sessions can be booked individually, or for the enthusiasts, book for the day!
Kinetic Studios, Unit 2, Mill Lane, Oban, PA34 4HA
Friday 4th November, 10.30am - 7.45pm
For further information and to register your attendance please visit https://argyll-enterprise-week-xponorth-on-the-road.eventbrite.co.uk
This event is part-funded by the European Regional Development Fund under the 2014‑2020 Structural Funds Programmes

---
Terms and conditions for Argyll Enterprise Week event bookings
The organisers of Argyll Enterprise Week are Highlands and Islands Enterprise and Argyll and Bute Council's Business Gateway.
Booking and event delivery
When booking an event you are reserving a place at the event and signing up to these terms and conditions.
No costs incurred in attending an event can be paid in any circumstances, unless financial assistance is expressly indicated on the event information as being available to delegates.
By completing an online event booking you are indicating you will attend an event organised as part of Argyll Enterprise Week. Places on events are booked on a first-come first-served basis. It is essential that all delegates pre-book places at an event. The organisers reserve the right to prevent delegates from taking part in an event which has not been pre-booked.
Some events will accept only limited attendees from the same organisation, if the event is oversubscribed. If an event is full you may be added to a waiting list for this event. In the event of a cancellation, the organisers may contact you. To be added to the waiting list for an event, book the event as normal and you will be advised you have been added to the waiting list. The organisers do not guarantee that all or any delegates held on the waiting list will be offered a place on the actual event.
The duration and location of the event will be specified in the event description for that event.
Inclusion & equality
At all of our events the organisers are committed to make every effort to ensure equality of access and to meet the needs of the target audience. Please let Business Gateway know on 01546 604 555 or business.gateway@argyll-bute.gov.uk if you have any specific needs, not covered in the event booking form.
Cancellation policy
If an event is cancelled, postponed or abandoned
The organisers may have to cancel, postpone or abandon an event. If a cancellation takes place we will use reasonable endeavours to notify all customers who are booked on by telephone or email.
In the event of event cancellation, postponement or abandonment, the organisers are not liable for any compensation, refund of travel or accommodation expenses or any other costs incurred by you.
Changes to an event
It may be necessary for reasons beyond the organiser's control to change the content or speakers for an event, without notice to booked delegates.
If a change to timing or venue is necessary, we will use reasonable endeavours to notify all customers who are booked on, by telephone or email.
Privacy policy
By registering for any event as part of Argyll Enterprise Week you agree to the terms and conditions of Business Gateway's Privacy Policy www.bgateway.com/info/privacy-policy

Advice
Whilst the advice provided at Argyll Enterprise Week events is given in good faith, the responsibility for all commercial or business decisions remains at all times with you/your business and its management team. It is a matter of your own commercial judgement whether or not you adopt the advice given at any event and you rely on this advice at your own risk. The advice you receive at any event is not a substitute for legal, financial or other professional advice and is not to be taken as such.