Description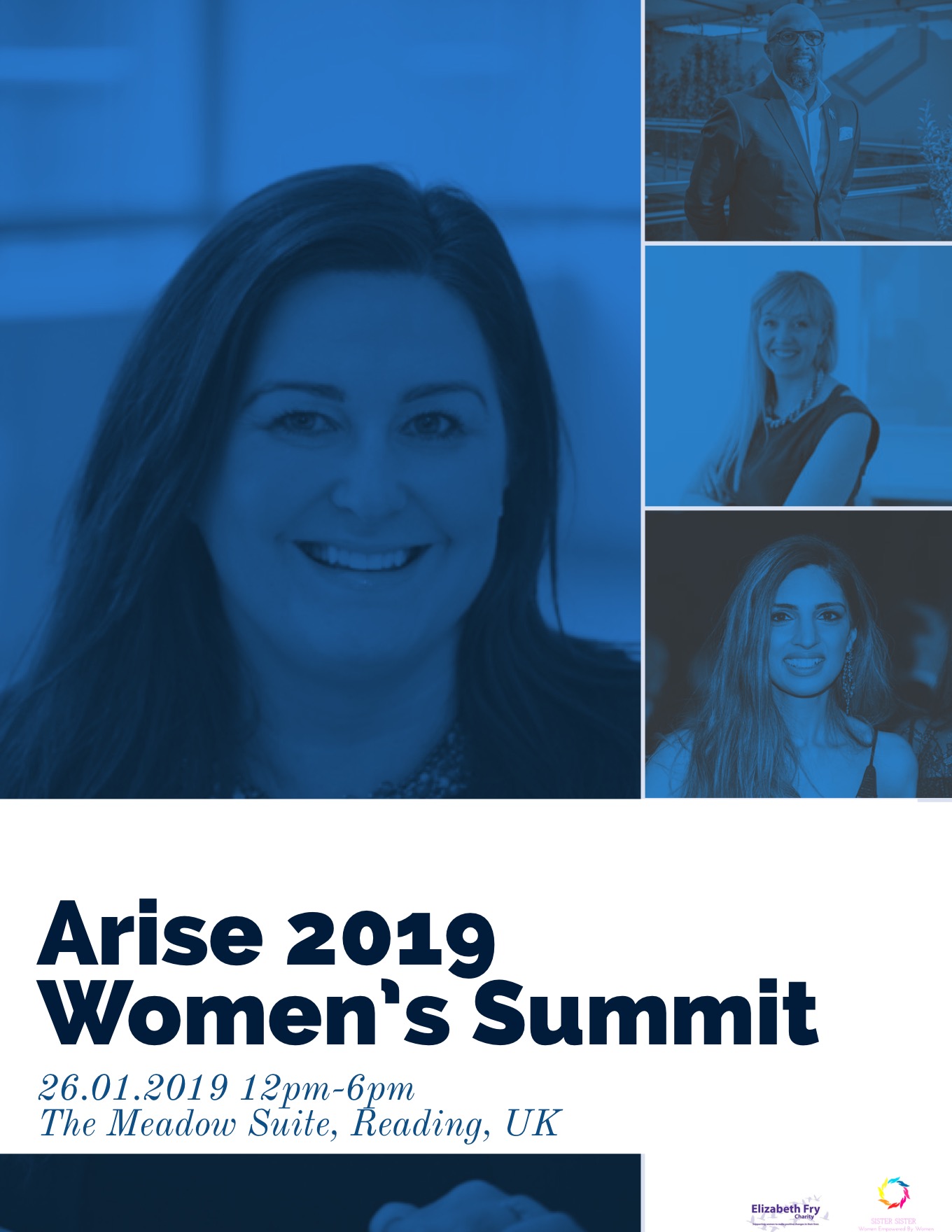 About The Event
Arise 2019 - The Women's Summit
ARISE 2019 is our rallying cry for women to be fearless, brave and step up into emerging possibilities.
Arise 2019 is designed to empower women from all backgrounds to realise their individual and collective potential to rise together and enact change.
Our transformational summit is programmed to inspire action and fuel creativity and passion in key areas of life for women including Leadership, Entrepreneurship,Education and Philanthropy.
Featuring keynote talks, panel discussions, and focused group discussions the Arise 2019 will bring together the voices of a diverse range of female and male luminaries from the worlds of business, industry and politics to deliver a truly value adding inspirational event for women.
Key areas of focus will include leadership, alertness, self confidence and belief, effective networking, negotiation and self-actualisation for women who are ready to raise their profile and impact an ever changing world.

Speakers:
Yvonne Greeves - Head of Women in Business Natwest, Royal Bank of Scotland and Ulster Bank
As Head of Women in Business for NatWest, The Royal Bank of Scotland & Ulster Bank, Yvonne is responsible for designing and implementing the Women in Business Strategy working with key stakeholders both internally and externally across the UK. With over 400 WIB specialists across the country she is also responsible for supporting this network to collaborate, build relationships and influence senior stakeholders, strategic partners and external organisations across the UK to drive the WIB proposition for the bank.
Yvonne's passion is to champion female led businesses and is a member of the All Party Parliamentary Group for Women in Work at Westminster and the Cross Party Group for Women in Enterprise at the Scottish Parliament. In addition, Yvonne is a member of the Women & Girls Sports Advisory Board and the Women in Enterprise Advisory Council for the Scottish Government.
Yvonne actively mentors and provides training to Women in Business across the country and is keen to inspire women to set up and scale their business. Yvonne is Chair of MsMissMrs, a Community Interest Company seeking to empower women and girls from disadvantaged backgrounds and is a trustee of Changing the Chemistry, an organisation seeking Diversity of thought on boards.
Tunji Akintokun MBE - Senior Vice President, NSC Global
Our first ever male speaker, from living in a hostel to carrying the Olympic torch, Tunji Akintokun's story is one of overcoming adversity. Now he's focusing on helping others to do the same.
Tunji is multi-award-winning leader and Senior Vice President of sales at NSC Global, a professional and managed services organisation operating in over 100 countries. He previously held several senior leadership positions at tech giant Cisco during his 18-year career at the company.
Passionate about diversity in the workplace, science & technology (STEM) and social mobility, Tunji resides on the boards and councils of several organisations including Grant Thornton, techUK, Teach First and Regital.
Tunji has founded two social enterprises (Your Future, Your Ambition & Aspire2Achieve) that aim to educate, excite and motivate young people globally in considering careers in science and technology.
He supports many diversity, STEM and social mobility causes through his Ilesha Charitable Trust, making impact and long-term donations. Tunji is a patron of the autism charity CASPA.
In the Queen's 2018 New Year's Honours List, Tunji received an MBE for services to young people from ethnic minorities in Science & Technology.
Vanessa Pine - Director Atlas Patners
As a former special adviser to the Liberal Democrats Jo Swinson and Vince Cable she helped push for the 2010 Equality Act and therefore has intricate knowledge on and is a strong advocate for the gender pay gap.
Vanessa has more than 15 years' experience in corporate communications. Having started her career drafting government policy at the Home Office, she honed her media and campaigning skills in public affairs and communications agencies before taking up senior client-side roles at Carbon Trust and Coca-Cola.
During the 2010 and 2015 general elections, she managed more than 30 campaign events for the former Deputy Prime Minister, Nick Clegg. Co-ordinating the needs of national TV and print journalists, local MPs and site owners to deliver both media coverage and positive stakeholder outcomes. She has worked in the UK, Australia and on pan European campaigns for clients combining corporate reputation, crisis and issues management and brand led social media campaigns. Vanessa founded the integrated communications agency Atlas Partners in 2015 with Charles Napier.
In recent months, Vanessa has led work on internal pay gap communications for international pharmaceutical Merck Europe. She has a unique understanding of gender pay gap issues from a policy and corporate perspective and would be an engaging and humorous addition to the event.
Also featuring inspirational panelists:
Riffi Khan - Creative Director, Rochay TV
Canon Yemi Adedeji- Strategy and Leadership Coach
Tamsin Napier-Munn- The Business Magazine
And curated high impact breakout sessions with:​
Roger Harrop- Author and Business Coach
Mark Terrell- The Reluctant Leader
**** 10% of all ticket sales will be donated to The Elizabeth Fry Charity, our 2019 official charity partner.
The Elizabeth Fry Charity provides support to women, mostly on licence from prison, who have a range of complex needs. Through their work, they help women to begin to address the issues they face, to improve their lives and reduce the likelihood of further offending.
Please call 07714487444 for more information