Women In Tune/QUIVER invite you to a 3-Day Conference: Arise Women Of Britain And The Nations!
About this event
A 3-Day conference to call upon and challenge women of Britain and all nations to rise up, at such a time as this, concerning the state of our nations and the earth, and to petition heaven for divine intervention, as well as step up and out with the glorious Gospel of Jesus Christ.
"The earth is the Lord's, and all its fullness, the world and those who dwell therein… Lift up your heads, O you gates! Lift up, you everlasting doors! And the King of glory shall come in. Who is this King of glory? The Lord of hosts, He is the King of glory." (Psalm 24)
See flyer below for more details...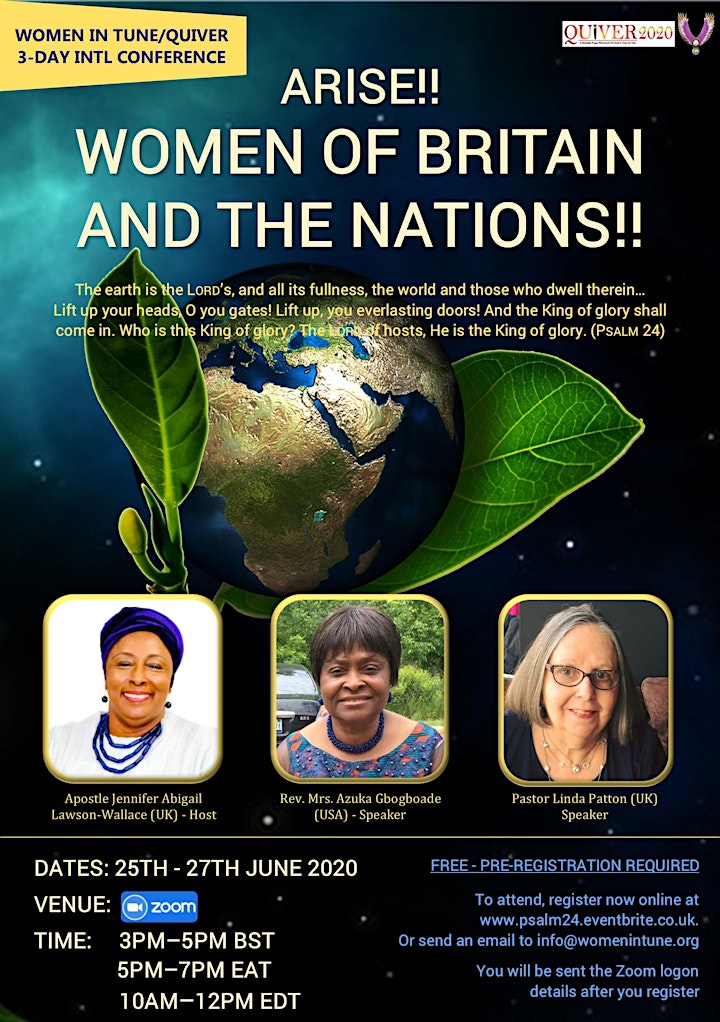 Organiser of Arise!! Women Of Britain And The Nations!!
We are a global army of women, faithfully worshipping and serving Jesus Christ. 
Our passion and mission is to restore, raise and release women (and men and families) to worship and serve Jesus Christ. With the help of the Holy Spirit, through our seminars, conferences, teaching and training programmes, mentoring and other activities, we hope to bring restoration and transformation to the Body of Christ, especially women, and equip, strengthen and empower them to worship and serve the Lord.
Our message is simple and clear – Jesus Christ is coming soon and ALL believers, irrespective of gender, race or age, must be strengthened, equipped and empowered to share, proclaim and demonstrate the Good News of the Kingdom of God through Jesus Christ, within their spheres of influence – family, community, society and nation.