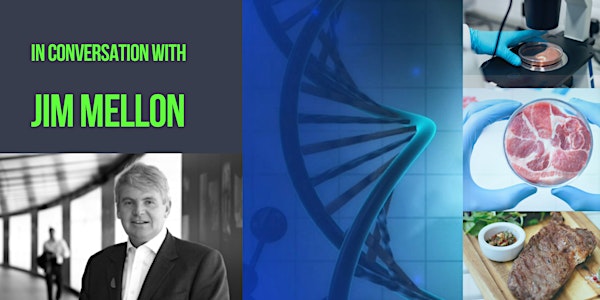 ARK Innovation & Commercialisation Series: In conversation with Jim Mellon
ARK Innovation and Commercialisation Series: In Conversation with Jim Mellon.
About this event
We are delighted to welcome Jim Mellon to speak at our upcoming Ageing Research at King's (ARK) Longevity Innovation and Commercialisation webinar.
Jim is a visionary entrepreneur, investor, author and philanthropist with a wide range of interests. Jim's investment philosophy is underpinned by his ability to recognise emerging trends that give rise to new industries or major shifts in markets. Jim investigates and work with start-up ideas, inspired by his ability to identify technologies and companies that will reshape people's lives. His investment philosophy focusing on these innovative technologies and novel companies has led him to be recognised as one of most successful investors of his generation.
In recent years, Jim has invested his time and attention in is the field of longevity and is outlined in the book Juvenescence. For decades, scientists have quietly been working away to understand the fundamental mechanisms of ageing. Jim and his partners have now set up Juvenescence, a company developing therapies for ageing and the diseases of ageing.
In September 2020, he published 'Moo's Law- An Investor's Guide to the New Agrarian Revolution'. Jim has a vision that within the next couple of decades world agriculture will be radically transformed by the advent of cultivated meat technology. He views the alternative protein trend as a money fountain which will rapidly revolutionise global consumption habits. He is a co-founder of Agronomics, a London-listed investment company, building a portfolio of investments in the most promising cultivated protein companies in the field of cellular agriculture.
Jim is a co-founder and trustee of the Longevity Forum, a not-for-profit initiative committed to achieving longer, healthier and more fulfilled lives for as many people as possible. Jim also sits on the Board of Trustees of the Buck Institute for Research on Aging, Biogerontology Research Foundation and Lifeboat Foundation and is an Honorary Fellow of Oriel College, University of Oxford.
The webinar will include a discussion with Jim together with Svitlana Surodina, ARK Entrepreneur in Residence, and Richard Siow, Director of ARK, about advances in food technologies for health and sustainability, longevity innovation and commercialization opportunities, and industry engagement with academia and policy makers to develop a 'longevity valley'.
Ageing Research at King's (ARK) is a cross-faculty multidisciplinary consortium of investigators which brings together scholarship and research in ageing in several complementary areas. ARK represents King's world class excellence for research on the biology of ageing, from the basic mechanisms in biogerontology to clinical translation and the social impact of ageing. The primary purpose of ARK is to enhance multidisciplinary research collaborations within King's to better understand the mechanisms of ageing and improving health-span. As ageing consists of complex systems at the level of biology, psychology and society, in order to understand the processes of ageing and the nature of old age itself, it is important to bring together learning and research from a number of key disciplines. ARK is uniquely positioned to address the challenges of an ageing world, and to provide answers at multiple levels, from cellular mechanisms to social sciences.