About this Event
"I Want Moor" is the annual birthday party hosted by MOOR BEER. In this fantastic brewery, our brother Justin Hawke will host the first ever UK edition of the Arrogant Sour Festival!!!
The most important event dedicated to the world of sour beer, that takes place every year in Reggio Emilia (Italy), goes beyond national borders to arrive in Bristol. Same format made up of approx. 200+ draught and bottled beers, local food and workshops to bring the spirit of the Sour Family to the UK. There are no entrance fees! Just come down and pay for a glass and tokens, but we are offering a skip the queue option. Pay now, no worries later!
WORKSHOP TICKETS AVAILABLE- INFORMATION BELOW
SKIP THE QUEUE TICKET AVAILABLE- £30 - GLASS + £20 TOKENS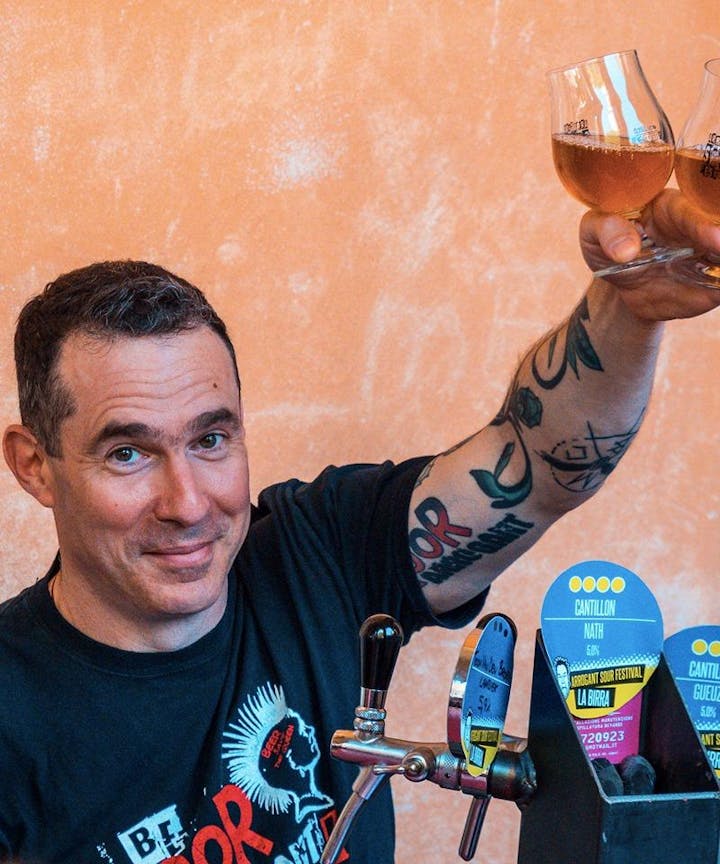 Italian Sour Beer & Sour Family Friday 1900-2000, £25
• 4 beers: This workshop will be led by the messiah (or is he just a very naughty boy?), Alessandro Belli, global visionary of all things Arrogant. He will introduce you to four of his favourite Italian sour beers, teach you about Italian sour beer evolution, and give you a glimpse into the future. Also present will be Luca Giaccone, the editor of the Italian Beer Guide, published by Slow Food.
British Sour Beer Panel Saturday 1300-1400, £30
•Featuring Thornbridge, Burning Sky & Little Earth Project. Ask any Brit and they will tell you that if beer is sour it is off. Join this panel led by our three British brewing VIPs to learn why this is no longer the case, during which you will taste two beers from each of them. Tasting is believing!
Lambic & Cheese Saturday 1600-1700 (£30 with cheese or £25 without for vegans)
• 4 beers and cheeses. Think of sour beer and your first thought is probably lambic, the spontaneously fermented beers of the Pajottenland and Brussels. Here you will taste four distinct examples, each paired with a different cheese. Slow Food teacher Andrea Camaschella will host the event, with beer's presented by legendary publican Michele Galati and Bristol's very own Rosie from Bristol Cheesemonger, voted Britain's best cheese monger!
International Sour Beer Sunday 1400-1500, £25
• 4 beers: Our fearless leader, Alessandro Belli, will take you on a magical sour journey around the world, sampling beers from four different countries and explaining how his missions scouring the earth have uncovered hidden gems.
KEG LIST:
BLOCK 15 (USA) - Apricot Canary
BLOCK 15 (USA) - Pyrus
BLOCK 15 (USA) – Turbulent Consequence Cassis 2018
DE GARDE (USA) – Baies & Arbres
JESTER KING (USA) – Terroir Project
SANTE ADAIRIUS RUSTIC ALES (USA) – Foudre #2
SANTE ADAIRIUS RUSTIC ALES (USA) – Beauty Sleep
HOLY MOUNTAIN (USA) – Deer Years
ALES AGULLONS (Spain) – Barrica Cireres
CYCLIC BEER FARM (Spain) – Cuvéè
SESMA BREWING (Spain) – Basoan
SESMA BREWING (Spain) – Almost Kriek
DUNHAM (Canada) – Tropical IPA
TWO METRE TALL (Australia) – Farmhouse Ambigua
TWO METRE TALL (Australia) – Forester Wild Amber Ale
TWO METRE TALL (Australia) – Pint-O'
WILD FLOWER BREWING & BLENDING (Australia) – Good as Gold Blend #3
WILD FLOWER BREWING & BLENDING (Australia) – Amber Blend #18
WILD FLOWER BREWING & BLENDING (Australia) – X Ester Daily Bread
EIK & TID (Norway) - Krypto
EIK & TID (Norway) - Syr
BREKERIET (Sweden) - Cassis
BREKERIET (Sweden) - Krikon
TOON VAN DEN BROEK (Netherlands) - Pruim Quetsche Lambiek
NEVEN ARTISAN ALES (Netherlands) - Bloei
NEVEN ARTISAN ALES (Netherlands) - Gloed
RITTERGUTS (Germany) - Bärentöter Sour Gose Bock
CANTILLON (Belgium) - Gueuze
CANTILLON (Belgium) - Kriek
CANTILLON (Belgium) - Rose
CANTILLON (Belgium) – Saint Lamvinius
CANTILLON (Belgium) - Nath
CANTILLON (Belgium) - Vigneronne
BROUWERIJ OUD BEERSEL (Belgium) – Farò
BROUWERIJ OUD BEERSEL (Belgium) – Lambic with Earl Grey Tea
BROUWERIJ OUD BEERSEL (Belgium) – Lambic with Lapsang Souchong Black Tea
BROUWERIJ OUD BEERSEL (Belgium) – Lambic 3 yo
BROUWERIJ OUD BEERSEL (Belgium) – Rose Lambic
BROUWERIJ DE RANKE (Belgium) - Kriek
DEN HERBERG (Belgium) - Lambic
BROUWERIJ 'T VERZET (Belgium) – Oak Leaf Harvest 2017
BROUWERIJ 'T VERZET (Belgium) - Oud Bruin Cherry 2017
LINDEMANS (Belgium) - Lambic
LOVERBEER (Italy) - Violetta
LOVERBEER (Italy) – For Fan
LOVERBEER (Italy) - Beerbrugna
LOVERBEER (Italy) - Pruss perdù
SIEMAN (Italy) - Istà
SIEMAN (Italy) - Negà
SIEMAN (Italy) – Le Bucce Bianco Riserva
CA' DEL BRADO (Italy) - Û Baccabianca
CA' DEL BRADO (Italy) - Piè Veloce Brux Cascade
CA' DEL BRADO (Italy) - Cuvee de pega
STAVIO (Italy) – Birrozzo Pinotto
STAVIO (Italy) - Birrozzo cedro
CASA DI CURA (Italy) - Indigeno montal
KLANBARRIQUE / BIRRIFICIO ITALIANO (Italy) – I'M
KLANBARRIQUE / BIRRIFICIO ITALIANO (Italy) - Mooncherry
KLANBARRIQUE / BIRRIFICIO ITALIANO (Italy) - Flos Alba Uva Rabarbaro
KLANBARRIQUE / BIRRIFICIO ITALIANO (Italy) - Flos Alba Uva Spina
MONTEGIOCO (Italy) – La Mummia 2016
MONTEGIOCO (Italy) - Seclè
MONTEGIOCO (Italy) - Rurale Barriquee
MONTEGIOCO (Italy) - Dolj Raptor
MONTEGIOCO (Italy) - Home Bretta
MAESTRI DEL SANNIO (Italy) - Cuvée Henri Street Sleeper
OPPERBACCO (Italy) – Nature Sambuco
OPPERBACCO (Italy) – Nature Mandarino
BALADIN (Italy) - Oval
BIONOC (Italy) - Valtelliga
MONPIER (Italy) - Saison
ANTICA CONTEA (Italy) – Super K
BURNING SKY (UK) – Raspberry Monolith
BURNING SKY (UK) – Saiosn du Fete
BURNING SKY (UK) - Cuvee
BURNING SKY (UK) - Saison de Peche
BURNING SKY (UK) - Rustique
LITTLE EARTH PROJECT (UK) – Elderflower Saison
LITTLE EARTH PROJECT (UK) - Heritage Brown Porter
LITTLE EARTH PROJECT (UK) - Hedgerow Blend
LITTLE EARTH PROJECT (UK) - Stupid Sexy Suffolk
THORNBRIDGE (UK) - Days of Creation
THORNBRIDGE (UK) - Heart Desires
THORNBRIDGE (UK) - Love Among The Ruins
THORNBRIDGE (UK) - Florida Weisse
MOOR BEER (UK) - Old FRUITY Walker
BOTTLES TBC