Art and Propaganda: Experiments of the Russian Revolution
Explore the relationship the relationship of art to politics and the methods of public persuasion.
About this event
Online or Campus
Sat 16 Oct - On Zoom or similar platform
Sat 29 Jan 2022 - On Zoom / On Campus TBA
Sat 14 May 2022 - On Zoom/ On Campus TBA
Course description
When Lenin came to power in October 1917, his party (the Bolshevik party) comprised of at best 350,000 people in a country of 140 million. Quickly the ruling party (the Bolshevik victory in Russia) needed significantly greater support to assume the mantle of sovereign legitimacy – previously claimed by the provisional government and before that by the Tsars. One of Bolsheviks' solutions was the use of the power of mass propaganda in order to establish:
That the Revolution was a large-scale, mass event.
That the (proletarian) people had participated, and were participating in it. Read more here...
VAT
VAT-Free except when provided in Clients' Offices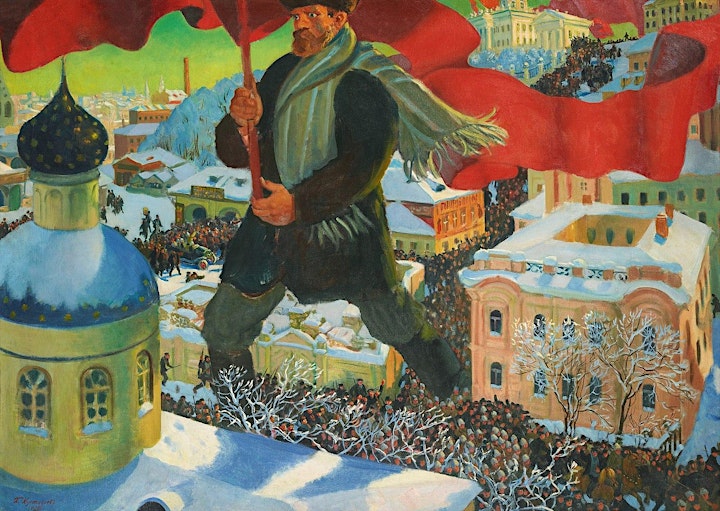 Face to Face on Digital Platform or on Campus:
All our public speaking courses are either Face to Face On Digital Platforms, Campus or Client Offices - check booking page for availability, and more dates.
Value for money:
100% of AIR income, beyond operational expense, is used towards education and research - enabling us to provide our communication training at more accessible rates than other providers covering similar content. Read more…
VAT-Free* - except when provided in Clients' Offices
Tutoring
The course is directed by Dr. Natalia Murray, who is one of the world's leading specialists in the history of Russian art. She is a visiting lecturer at the Courtauld Institute of Art and a Senior Curator. In 2017 she curated a major exhibition: Revolution. Russian Art. 1917-1932 at the Royal Academy of Arts in London and is currently working on an exhibition of Malevich and Kandinsky in Paris.
Her books and articles extend across the wide field of 19-20th century Russian art, and she has featured in films dedicated to the Hermitage museum and the Russian revolution, as well as in programmes for BBC Radio 4 and the BBC World Service. Natalia is also a trustee of the Russian Avant-Garde Research Project (a UK-based charity which shares one of her aspirations to reduce the number of fakes on the Russian art market).
Her most recent book Art for the Workers. Proletarian Art and Festive Decorations of Petrograd. 1917-1920 was published by 'Brill' in May 2018. In autumn 2018, the Russian translation of her 2012 book The Unsung Hero of the Russian Avant-Garde will come out; and The Life and Times of Nikolay Punin will be published by 'Slovo' in Moscow.
Group bookings:
To book this course for a group, please email us air(@gold.ac.uk). The price for group bookings is £1,925. Group size for this course is capped at 8 people.
Enquiries:
Email: air@gold.ac.uk; Phone: +44 (0)20 7078 5468. For information on our upcoming short courses please sign up to our mailing list.
Refund policy: See AIR courses main page
Organiser of Art and Propaganda: Experiments of the Russian Revolution
AIR Courses are a product of combined efforts of world-renowned experts in a range of areas.  
Of the thousands of degree-granting universities, Goldsmiths Psychology department is in the World Top 100 in the QS ranking for academic reputation. Papers by our academics are highly cited, we hold 55th place among the worlds' Psychology departments for the number of citations per published paper.
Our courses:
(see https://www.gold.ac.uk/short-courses/air/)
Academic Writing and Publishing

• Academic Writing, Publishing and Presenting

• Academic Writing and Publishing

Law, Business, Genetics and Ethics

• International Business Law

• Drafting and Negotiating International Contracts

• Genetics and Law

• Law and Justice

• English Law and the Legal System

• Genetics and Society

Public Speaking and Advocacy

• Public Speaking and the Psychology of Persuasion

• Public Speaking and Presenting

• 1-1 Public Speaking and Presenting

• Combating Fear of Public Speaking

• Speech Writing for Public Speaking

• Advanced Methods in Public Speaking

• Advocacy

Psychology, Decision making and Justice

• Psychology in 10 weeks

• English Language and Psychology

• Psychology of Decision Making

• Psychology and Law

• Psychology in One Day

• Art and Propaganda: Experiments of the Russian Revolution

• Psychological Research Design and Analysis

• Statistics for Beginners

Programming: R and Python

• Introduction to R

• Introduction to Machine Learning with R

• Introduction to Python

• Introduction to Python - Evening course

• Intermediate Python - Pandas and Packages

Tailor-made private courses

Tailor-made group courses can also be arranged at other times.

In addition to our group courses, we provide one-to-one courses of different length (subject to availability) – contact us for further information.

Goldsmiths, University of London
Goldsmiths, known for its excellence in creative and cultural arts, humanities and social sciences, is launching an exciting range of adult education and short training courses, giving busy people the chance to work towards new opportunities and a more fulfilling future. We are presenting a diverse, new range of evening and weekend courses, taught by the same experts that teach our ground-breaking degree programmes. This is a chance for you to get a taste of the challenging courses that has made our graduates so successful in creative, cultural and business communities.
So whether you want to learn a new career skill, enhance your job prospects or just discover a new hobby, and at the same time develop your networks, then our short courses are a great opportunity to enrich your life and join the vibrant learning community at a world-class university.