Description
Art and Psyche Symposium 2017
Creative Imagination and the Symbolic Life
You are cordially invited to our second annual Art & Psyche Symposium 2017. This is a public event at Limerick School of Art and Design (LSAD) at the Clare street campus, Limerick. The day includes workshops, lunch and presentations by Julie Aldridge (artist & art therapist), Lucy Dolan (artist) and Dr Mathew Mather (lecturer and author). All welcome.
Schedule:
09:30 registration
09:45 welcome and introductions
10:00 Alchemy and Art – Julie Aldridge
10:45 break: coffee/tea/scones
11:15 Jung's Red Book – Mathew Mather
12:00 Light & Dark – Lucy Dolan
12:45 lunch
14:00 Workshop A or Workshop B
15:30 reflections
16:00 closure
Workshop A: The Creative Imagination (facilitated by Lyn Mather & Julie Aldridge)
Workshop B: Art, Synchronicity & Myth-making (facilitated by Mathew Mather & Lucy Dolan)
Cost: €20 (includes lunch & teas/coffees/scones)
Please book here online or email Mathew: mathew.mather@lit.ie if any queries. We look forward to welcoming you. Certificate in Jungian Psychology with Art Therapy (web search 'LIT Jung').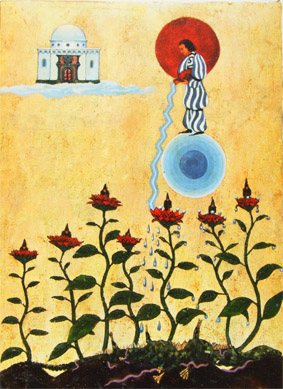 Image from Jung's Red Book