Art and Science of Metrics - Indeed's Tech Talk

Friday, 4 May 2018 from 17:30 to 20:00 (EDT)
Event Details
Quantitative measurement is essential to scaling businesses, processes, and products and making them better.  It sounds easy: just pick a number, like clicks or conversions, and improve it.  It's easy to do, but it's not so easy to get it right.
When it goes wrong, the problem is often misdiagnosed as using metrics.  Every story of metrics gone wrong is really a story of badly chosen metrics.  Choosing a metric has been an unsolvable mystery so enigmatic most people don't even know they're trapped inside.  These choices are a mishmash of folklore, partial patterns, and received dogma rather than a rigorous, reliable set of reusable principles.  Until now.
Join Ketan Gangatirkar, Head of Engineering for Indeed's Job Seeker products, for an exploration of both the art and the science of choosing metrics.  You'll walk away with a deep understanding of principles and concepts that determine which metrics are useful for your product and which ones are a waste of time.  You'll gain practical knowledge you can apply to your product to make it even more awesome.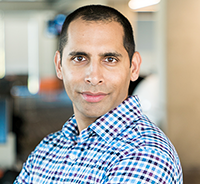 Why measure

What is better even

An overly-simplistic theory of everything

Truth versus utility

Motivations, funnels, and the efficient frontier

Suites and cascades

The devil's in the details

This talk will help you choose the right metrics so you can build a better product and build a better business.  Ketan will explore real use cases and walk through the thought process and trade-offs for selecting metrics. You'll walk away with the knowledge and insight of which data to use to drive better decisions.
Agenda
5.30 PM - 6.00 PM :  Registration & Refreshments
6.00 PM - 6.45 PM :  Tech Talk on Quantitative Measurement - The Art & Science of Metrics (Speaker: Ketan Gangatrikar)
6.45 PM - 8.00 PM :   Networking with fellow engineers over some beer & food :)
***Please note that this is a limited seats INVITE ONLY event for an appropriate audience - If shortlisted, you will be sent an invitation along with the 'Invitation Code'. Do RSVP to request an invitation.  

Save This Event
When & Where

At a Hotel in Hitech City area

Hyderabad
India

Friday, 4 May 2018 from 17:30 to 20:00 (EDT)
Add to my calendar
Organiser
Indeed works when talented, passionate people come together to get a job done.
As the world's No. 1 job site, Indeed helps companies of all sizes, even entire industries, work, too. Every second of every day, people search on Indeed to find a job that fits their mission, their need to contribute and their desire to make something work better.
Come help Indeed work. We are looking to grow our teams with people who share our energy and enthusiasm for creating the best experience for job seekers.
Art and Science of Metrics - Indeed's Tech Talk