Multi-Award Winning Laura I. Art Gallery is pleased to welcome you to visit the sixth solo exhibition "The Art of Adornment" by Daya Bhatti
About this event
Multi-Award Winning Laura I. Art Gallery CIC is pleased to welcome you to visit the sixth solo exhibition "The Art of Adornment" by Daya Bhatti. This virtual exhibition, opens from 10th May to 30th May on Artsy, interconnecting modern fashion with historical cultural traditions through a series of paintings.
We are excited to organise a private view which will be held on 20th May via Zoom. The event aims to be an early celebration of South Asian Cultural Heritage Month which is celebrated in July. As part of Daya's exhibition, she has collaborated with Manisha Solanki, who is a dancer, choreographer and teacher with over 30 years of experience, to create unique animations that enhance each painting's visual story. Solanki is trained in various dance forms including Bharatanatyam, Garba, Dandiya, Musical theatre and more. Beginning her dance journey at the age of 8, her practice has led to many career highlights such as working as a magician's assistant, choreographing for major weddings and performing on the CBBC Basil Brush Show. Solanki uses dance to showcase the richness of Indian culture allowing people to reclaim self-belief and express themselves with full confidence. Attendees will receive an exclusive preview of the animated paintings marrying the two crafts.
This unique event aims to celebrate the diverse creativity within the South Asian community. The artist hopes that this exhibition will highlight, preserve, celebrate culture and show the importance of cultural diversity within the arts and beyond.
The exhibition showcases a collection of acrylic paintings exploring Indian adornment. India's Fashion is known worldwide for being extravagant but is the historical significance of adornment known?
Indian adornment is a creative form of art that visually expresses social identity. The artist has documented this through a series of portraiture and figurative paintings of Indian women signifying the cultural and historical meaning behind wearing traditional accessories. The artist intends to present Indian adornment in a way that it is more than just attire to enhance the beauty of the wearer but has much more to do with cultural identity, creativity, spirituality, health, belonging and expression. Daya has focused on portraying strong women whose adornment empowers them and intensifies their energy. This is translated through strong use of colour, pattern and textures.
Inspired by her own personal journey as a British Asian and the feelings of displacement due to the lack of representation of minorities, the artist explores culture through art. The artist aims to redefine South Asian art and create art with social impact. This collaboration of two art forms, dance and painting, aims to portray the value of traditional culture to modern audiences.
Make sure to join us to tie the knot between painting and dance and experience a new immersive presentation of traditional paintings.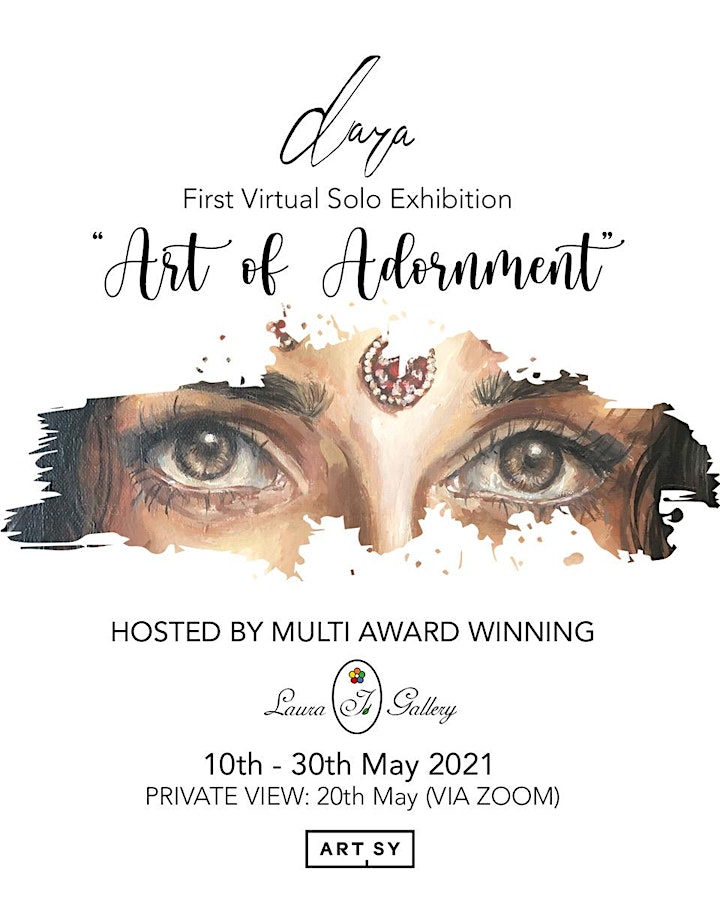 Organiser of Art and South Asian Cultural Heritage-Celebrating Diversity
Laura I. is an award winning art gallery that combines West End chic with a quirky East End setting to break boundaries and bring cutting edge art to a wider audience. Laura I. showcases pioneering and ambitious work by founder Laura Iosifescu and other talented artists. It also aims to take its place in the community with a programme of inspiring and innovative workshop events, promoting self-expression and creativity.