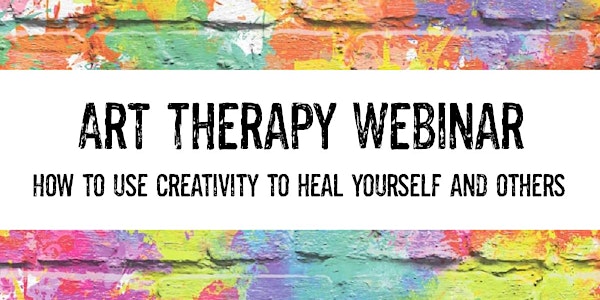 ART AS THERAPY GLOBAL WEBINAR (With Certificate & Free Creative Journal)
Join me for a 2 hour webinar exploring Art Therapy ideas and how to use it as a form of Creative Communication to heal yourself and others.
About this event
Are you curious to learn more about Art Therapy and how it works? Are you looking for ways you can help someone explore their feelings by using creativity? Or perhaps you're looking to explore Art Therapy as personal development and healing for yourself? Perhaps you're a therapist looking to explore new creative tools and ideas with your clients? Maybe you're a parent or professional seeking new ways you can communicate with children/teens?
The great news is you don't need to be good at art to use any of these simple, yet effective, art therapy ideas!
Join me for this special 2 hour webinar which guides you to explore...
- A brief history of Art Therapy
- The psychology of colour and symbolism
- Techniques to help regulate mood and behaviour
- Creative and effective communication skills
- Many new and creative art therapy ideas to try with yourself and/or others, from young children through to teens and adults too.
Comes with a free Creative Therapy Journal to work through after the Webinar, printable slides so you can make notes along the way and also a Certificate to say you've attended the webinar.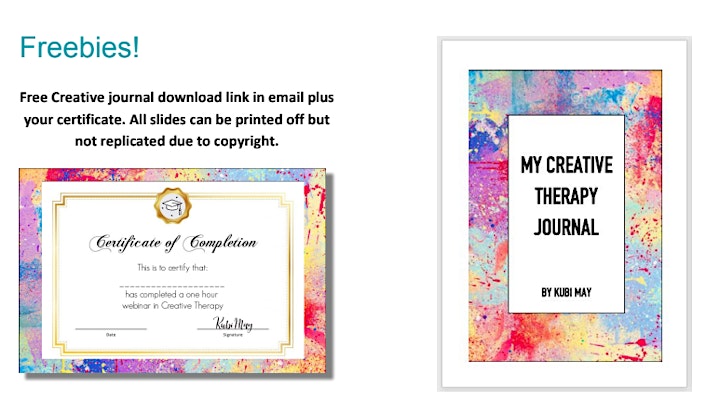 A BIT ABOUT ME:
I'm trained as a Creative therapy practitioner with a BA Honours in Creative Expressive Therapies. I work part time as a child and family therapist for Social Services in the UK and have taken my creative therapy ideas all around the world- from helping the refugee crisis in Calais to forming an activist art group in London for the Climate change marches, so i'm a big believer in the transformative power of art! :) It's so wonderful to watch so many people blossoming more and more into self empowered happiness each week in this group. Many people arrive totally broken and worn out, and it makes my day to see them leaving with more light in their eyes and a smile on their face as they realise their true potential.
Check out my website for more info:
https://www.kubimaycrafts.com/creativetherapy
Follow me on Instagram:
https://www.instagram.com/kubi.creative.healing/
Any questions, please contact me : kubimay@gmail.com