| | |
| --- | --- |
| Art Deco in the Strand Walking Tour | |
Event Details
Architecture on the Thames Waterfront
Have you always found yourself attracted to the iconic design style of the 1920s and 1930s? If so, my new walk, Art Deco in the Strand, might just be right walking tour for you.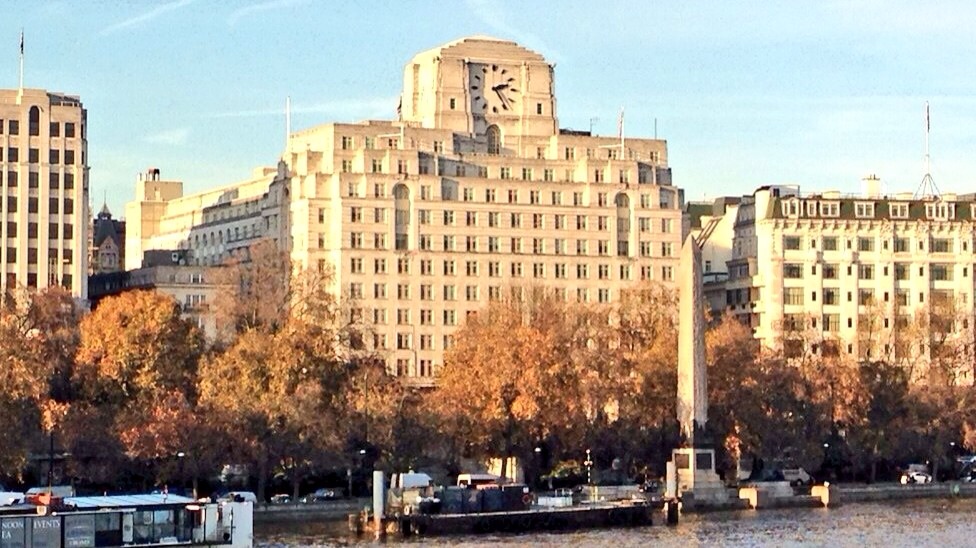 Featuring many grand and glamourous buildings, the Art Deco heritage of the Strand is very opulent and includes the luxurious Savoy Hotel, the severe New Adelphi office block as well as the gigantic 'mantelpiece'-style clock topping Shell Mex House. From stark geometry to lavish ornamentation, this walk will highlight many of the decorative elements associated with this design style, making this tour a must for all fans of the Art Deco movement.
While walking along vistas once sketched by the Impressionist painter Claude Monet, we are also going to learn more about the construction of Waterloo Bridge, the Embankment and the (now mostly demolished) Adelphi Buildings. From little alleyways to busy thoroughfares, our route will also include encounters with a royal peculiar, a mysterious Egyptian obelisk as well as a sculpture often described as London's most erotic statue. As you can note, quite the programme!
Reviews
For a little taster of the tour, check out a preview of the walk on 'Emm in London':
http://www.emminlondon.com/2015/06/an-art-deco-tour-of-strand.html
'[…] Yannick's 'Art Deco in the Strand' walking tour is excellent and highly recommended. I worked in this area for three years and I was astonished by the amount of information I learned on the tour. As with all Yannick's tours, the tour is really well researched and you get to learn not only about Art Deco but also about the history of the buildings before they took their present form.' – @mandyist
Walk Details
This tour is aimed at seasoned Londoners and tourists who are looking to explore the Strand from an architectural perspective. A ideal gift for history buffs as well as fans of all things 'Art Deco', this walk can also be booked as a private tour for birthdays, weddings or any other special occasions.
The meeting point for the tour is by the statue of King George III in the courtyard of Somerset House (see the map below). Please note that if it is raining heavily on the day, we will be meeting under the arches near the Courtauld Gallery. Lasting about two hours, the tour will finish near Hungerford Bridge which is a short 5 minute walk away from Embankment Tube Station and Charing Cross Tube Station.
Contact Me
If you have any more questions about the walk or would like to organise a private tour, do not hesitate to get in touch with me either via EventBrite or send me an email directly to: yannick.pucci[at]gmail.com. You can also find me on Twitter where I'm always up for a chat too.
Save This Event
When & Where

Courtyard
Somerset House
WC2R 1LA London
United Kingdom


Organiser
An expat from Luxembourg, Yannick Pucci is an independent London tour guide and founder of London Unravelled. Constantly inspired by his adoptive city, Yannick is an engaging and enthusiastic storyteller and his walks were named as some of the 'best London walking tours' by LastMinute.com.
Combining his love for architecture and history, Yannick's 'Art Deco' tours explore the sophisticated glamour and severe functionality of 1920s and 1930s design. His popular 'Art Deco in Bloomsbury' tour made its debut during the Bloomsbury Festival 2013 and has been the subject of a Londonist Out Loud radio interview. While 'Art Deco in the Strand' explores posh hotels and towering office buildings, 'Art Deco in the West End', his latest offering in the series, takes a closer look at cinemas, garages and retail spaces.
Combining his love for sweet treats and history, Yannick has also branched out into food tasting tours. While 'Macarons & Mews' explores the history of the (not so) humble macaron, 'Piccadilly & Petit Fours', celebrates the foodie heritage of St. James's and Mayfair. His latest offering in this series, 'Matcha Green Tea', investigates Japanese powdered green tea in Soho and Fitzrovia.

For the past six years Yannick has also been volunteering at the British Museum where he has been facilitating object handling and delivering tours ever since, including the Japan eyeOpener Tour, the Highlights Tour and the WCEC 'Behind the Scenes' Conservation Tour. His team-building efforts have been highly commended in the Renaissance London Volunteers Awards 2011, in the category 'Going the Extra Mile'.
In addition to running his own tours publicly and privately, Yannick has developed and led walks for the London Festival of Architecture, Open Garden Squares Weekend as well as for the Friends of the Royal Academy of Arts.
You can find reviews of Yannick's walks on his website London Unravelled as well as interact with him on Twitter (@ypldn) and Instagram (@ypldn).