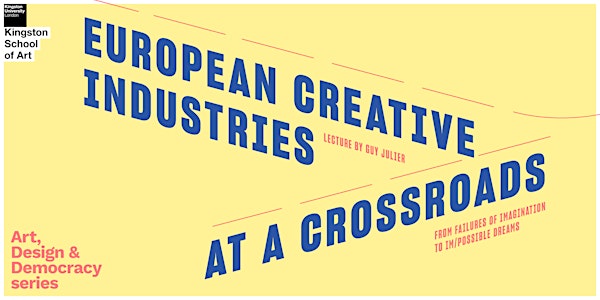 Art, Design and Democracy Lecture Series, KSA, Kingston University.
Art, Design and Democracy is a series of lectures convened to give voice to important contributions design and art can make to democracy.
About this event
This year long lecture series addresses and questions relationships between art, design and democracy . It is organised by MA Art Business, MA Museum and Galleries Studies, MA Curating Contemporary Design and MSc Project Management for Creative Practitioners at Kingston University.
Democracy is under threat. This complex and complicated crisis needs attention and proposals for radical change. As students and staff from an art school we are convinced that design and art need to be part of the process. Speakers include Prof Guy Julier; Prof Gus Casely-Hayford; Dr Janice Cheddie; Prof Peter Hallward and more. They will communicate the complexities, structures and systems currently weakening democracy. Participants will learn about initiatives, which redefine democratic processes and mechanisms.
This series was inspired by MA Curating Contemporary Design's course project on 'Design and Democracy', in collaboration with the curators Amelie Klein and Vera Sacchetti. Their project on this topic started with a summer school in 2021,'Renegotiating Plurality, Power and People', which took place at the Design Campus of the Kunstgewerbemuseum Dresden. This six-week programme of workshops, lectures and seminars led by a group of international designers, architects, curators and writers provided inspiration to observe, analyse and experiment with potential proposals and applications.
Speaker Biographies - Below
Dr Janice Cheddie
19 October 2021 - Museums and Democracy: A work in progress.
Venue: John Galsworthy
Janice Cheddie is a writer and researcher, who has published widely on issues of visual culture, difference and cultural democracy. Janice Cheddie and Shaheen Merali were Keepers of the Panchayat Archive from 2002 to 2015, when the Archive was transferred to Tate Britain Library.
Janice Cheddie works across academia and public policy. She was Lead Consultant for Cultural Strategy at the Mayor's Office, Greater London Authority, where she worked on the development and management of the Heritage Diversity Task Force (HDTF) for the Mayor's Commission on African and Asian Heritage (MCAAH), GLA, London. She currently works for AFFORD as part of their "Return of the Icons" campaign.
https://www.afford-uk.org/afford-institute/return-of-the-icons/
Professor Peter Hallward
9 November 2021 - Overpowering Democracy: The Tensions of Mass Sovereignty
Venue: Knights Park KPTK101
Peter Hallward works mainly on political philosophy, most recently on topics like popular sovereignty, political will, and revolutionary change; he also works on recent French philosophy, contemporary critical theory, and postcolonial theory. After working in the French Department at King's College London 1999-2004, Peter joined the Centre for Research in Modern European Philosophy in 2005. He is the course leader for the Philosophy MA programmes (the MAs in Modern European Philosophy, Philosophy and Contemporary Critical Theory, Aesthetics and Art Theory) and the MPhilStud in Philosophy.
Prof Gus Casely-Hayford
25 January 2022 - Making a Museum: Crafting a New V&A for East London
Venue: Online / MS-Teams
Dr Gus Casely-Hayford, OBE, is a Prof by Practice, SOAS and the founding Director of V&A East, a museum and collection centre presently under construction. He was previously the Director of the Smithsonian, National Museum of African Art, and is also a curator and cultural historian who writes, lectures and broadcasts widely on culture.
Over the course of his career Casely-Hayford has been a constant champion for the arts. He has presented two television series of The Lost Kingdoms of Africa for the BBC (and wrote the companion book), two television series of Tate Britain: Great Art Walks for Sky and has worked for every major British TV channel. His TED talk on Islamic culture has been viewed more than a million times. Former Executive Director of Arts Strategy, Arts Council England, (Britain's major Art's funder) and Ex - Director of the Institute of International Contemporary Art, he has offered leadership to both large and medium scale organisations. Dr Casely-Hayford has lectured widely on art and culture, including periods at Sothebys Institute, Goldsmiths, Birkbeck, City University, University of Westminster and SOAS. He has advised national and international bodies on heritage and culture including the United Nations and the Canadian, Dutch and Norwegian Arts Councils. In 2005 he deployed these leadership, curatorial, fundraising and communications skills to organise the biggest celebration of Africa Britain has ever hosted with Africa 2005 when more than 150 organisations put on over 1000 exhibitions and events to showcase African culture.
Amongst a range of honours, he has also been awarded a Kings College cultural fellowship for service to the arts and a SOAS Honorary Fellowship for service to Africa. He speaks widely, gave a SOAS Centenary lecture, judged the Art Fund's British Museum of the Year award, advised the Royal Shakespeare Company on their production of Hamlet and is a member of English Heritage's 'Blue Plaques Group'.
Dave Beech (Chelsea College of Art)
8 February 2022 - Democracy Has Always Excluded the Working Class
Venue: Online / MS-Teams
Born into a working-class community in Warrington in the mid-1960s, I was the first member of my family to go to university.
I studied painting in Leicester Polytechnic for my BA. I did my MA in cultural studies at the Royal College of Art and wrote a thesis on philistinism which led to a book I co-wrote with John Roberts for Verso called 'The Philistine Controversy'.
I completed my PhD at the University of the Arts London on the economics of art. I was Professor of Art at Valand Academy, University of Gothenburg (2015-19) and I am Reader in Art and Marxism at Chelsea College of Art.
Dr Gillian Russell (Simon Fraser University, Vancouver)
3 May 2022 - Thinking Through Design: Towards a relational practice
Venue: Online / MS-Teams
This talk will present a series of recent trans-disciplinary projects that employ design as a tool for building literacy, visibility, and agency for some of the more pressing challenges of our time. Building on her doctoral research at the Royal College of Art, Dr. Gillian Russell will introduce her conceptualization and practice of thinking through design as a method for thinking collectively about questions of democracy and technology, but also as a form of relational practice that attends to an ontology of design.
Speaker Biography
Gillian Russell is a designer, researcher, and curator. She currently holds the position of Assistant Professor in Design at Simon Fraser University in Vancouver. Her projects investigate how contemporary design practice can be used as a medium to engage with and question the political dimension of technology's influence on social life. Her work uses a range of different media including city-wide projects, exhibition, performance and installation and has been disseminated internationally through design festivals, workshops, lectures and publications. She has a PhD in Design Products and Design History from the Royal College of Art. She has been a lecturer in Design at Emily Carr University before joining the research team 'digital Democracies' at Simon Fraser University as Postdoctoral fellow.
Professor Guy Julier (Aalto University)
17 May 2022 - European Creative Industries at a Crossroads
Venue: Online / MS-Teams
Prof. Guy Julier (Dept. of Design, Aalto University)
Venue: Online / MS-Teams
This talk will begin with a critique of orthodoxies in creative industries policies and how these have shaped urban and cultural planning in elitist and non-inclusive ways. It will then review some current approaches, particularly emergent in Nordic countries, that suggest some new departures, while assessing their potential for new democratic forms through creativity.
Speaker Biography
Guy Julier is the author of Economies of Design (2017) and The Culture of Design (3rd Revised Edition 2014). A writer, academic and practitioner, he has over 30 years professional experience observing and researching global changes in design, economics and society. He is credited with having established Design Culture as a field of study and research. While he was Professor of Design at Leeds Metropolitan University (2001-10), Guy Julier founded and directed DesignLeeds, a cross-disciplinary research and consultancy unit specializing in social design. He was also a co-director of LeedsLoveItShareIt, a company formed to develop and prototype new approaches to urban regeneration. In 2011 he was appointed as the Victoria & Albert Museum/University of Brighton Principal Research Fellow in Contemporary Design and Professor of Design Culture. At the V&A he developed new approaches to curatorship while also directing the museum's Design Culture Salon. He has collaborated with the thinktank, Policy Connect in undertaking a UK parliamentary enquiry into design for public services. With Lucy Kimbell, he has led a number of initiatives and projects to develop cross-disciplinary thinking and methods in social design.
Speakers and our new series of talks to be announced shortly.
Location / Dates / Times: TBC. Check back here for further details on forthcoming speaker events.