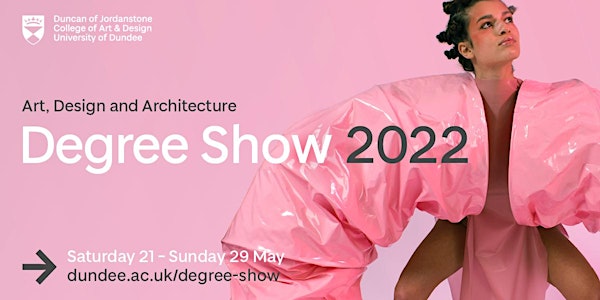 Art, Design & Architecture Degree Show 2022
Location
Duncan of Jordanstone College of Art & Design
13 Perth Road
Dundee
DD1 4HT
United Kingdom
Book tickets to visit our in-person Degree Show and prepare to immerse yourself in inspirational and thought-provoking work.
About this event
Join us as we celebrate the creativity and excellence of the Art, Design and Architecture class of 2022. After two years of online only exhibitions our in-person Degree Show is back, and we are excited to welcome you into DJCAD's studio and exhibition space.
With exhibits ranging from fine art, sculpture, textiles, and jewellery to environmental design, urban planning, and items designed with innovation and functionality in mind, it's not to be missed.  Book your ticket and prepare to immerse yourself in inspirational and thought-provoking work. Perhaps you will spot the next artist or designer set to achieve great things!
We look forward to seeing you there.
Visiting information
Saturday 21 – Sunday 29 May
Saturday & Sunday 10am – 4pm
Monday – Friday 10am – 8pm
In order to help you navigate our buildings the exhibition is separated into three colour zones (pink, blue and yellow).
Each coloured zone has a designated entry point.
Tickets can be booked for AM or PM timed slots for arrival into the building.
Please book an available time slot within your chosen starting colour zone.
You can visit all three zones during your visit, but we ask that you enter the building and start your visit using the designated door for your ticketed colour zone.
Please book one ticket for each person visiting, up to a maximum of 6 tickets per order.
If you wish to visit in a group larger than 6, please contact us directly using degreeshow@dundee.ac.uk
There will be sound works which will require use of wired headphones with standard 1.5mm jack, for hygiene reasons we ask that you bring your own set.
During your visit:
Sanitise your hands on entry using the dispenser provided.
We recommend you wear a face covering inside, unless you are exempt.
Note that some areas of the building have smaller, more confined spaces please observe physical distancing where possible and be mindful of others.
Please remember, stay at home if you're feeling unwell, and follow NHS coronavirus guidelines.
The Colour Zones
Green Zone
Entrance: Matthew Building Main Reception (glass fronted), 13 Perth Rd, Dundee, DD1 4HT
What3words reference: ///crossing.cheek.shared
Courses exhibiting in this zone:
Animation
Architecture
Digital Interaction Design
Fine Art*
Interior & Environmental Design
Product Design
Urban Planning
Blue Zone
Entrance: Old Crawford Building Reception (middle door at car park), 13 Perth Rd, Dundee, DD1 4HT
What3words reference: ///recap.tango.deflect
Courses exhibiting in this zone:
Graphic Design
Illustration
Jewellery & Metal Design
Textile Design
Yellow Zone
Entrance: Cooper Gallery, 13 Perth Rd, Dundee, DD1 4HT
What3words reference: ///segmented.winemaker.harsh
Courses exhibiting in this zone:
Art & Philosophy
Fine Art
Access to the Exhibition
On arrival register your ticket at the reception, situated at the door of your coloured zone.
Access to and throughout the DJCAD buildings can be challenging to navigate, especially for those who may need assistance in the event of an emergency. Some areas have unavoidable stairs and steep gradients as well as narrow spaces that can get easily congested.
Green Zone and Blue Zone areas are fully accessible via a lift. Yellow zone, in some areas, has unavoidable stairs.
Online Showcase
Can't make it in person? You can still view the show online and take part in a variety of online events, plus don't forget to follow along with the preparations on our social channels.
#djcaddegreeshow
All enquiries: degreeshow@dundee.ac.uk