Arebyte Studios invite you to an afternoon of artworks and discussion at our Open Studio Exhibition.
About this event
As part of the Unity Arts Festival we are hosting an event to kick off a weekend of workshops and open studios. Pieces will be exhibited by Painters, sculptors and designers in the very environment they were created in, giving you a chance to get a taste of some of the final works of artists and creative entrepreneurs after viewing their working studios. Talk to artists directly about their process or forge connections for collaboration in our communal space over drinks and music!
Along side this event we will have open studios on 21st - 22nd September, 11am-6pm, Join us in our creative conversation and keep an eye out for all the great workshops hosted by our artists over the weekend!
Exhibiting Artists and Designers:
ELIZABETH COPE
ANNA BARLOW
PAUL MORTIMORE
MILES COOTE
STEPHEN ROBERTS
JENNIFER KIDD
HILARY GUISE
SARAH BEATON
WILL CARTER
DEBBIE SPINK
SUMMER LOAN
ORRIS LONDON
COUCHMAN BESPOKE
MARK STOKES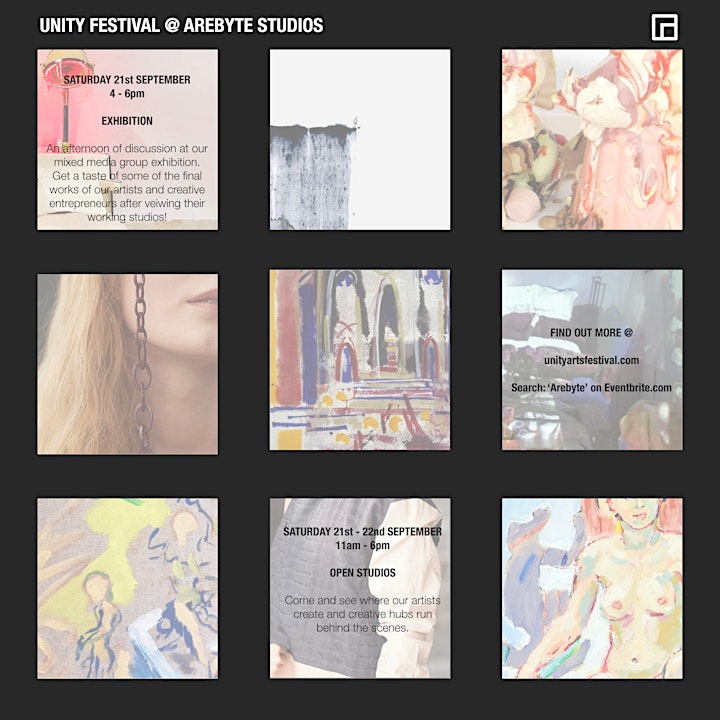 Organiser of Art Exhibition: Arebyte Studios
arebyte Gallery is a London-based art organisation which supports the development of artists working across digital and emerging artforms. 
Following in the long tradition of artists experimentation with new technologies, arebyte Gallery has led a pioneering programme since 2013, to much acclaim. From web-based work to multimedia installations including Virtual and Augmented Reality, Artificial Intelligence, Computer Generated Images and 3D printing, the gallery commissions new works from emerging, as well as more established artists. The gallery supports multiple voices in digital cultures across the UK and internationally to bring innovative perspectives to art through new technologies.
Registered as a charity and operating as a studios provider throughout London, arebyte channels its rental income into its arts programme to deliver a series of exhibitions and online projects, with the support of additional private and public funders.
At the forefront of today's digital art scene, arebyte Gallery offers an inspiring place to explore emerging media art with an interdisciplinary approach at the intersection of art, new technologies, and social sciences.
Through a public engagement programme nurturing creative and digital skills, the gallery fosters a young and inclusive art community that reflects the diversity across Tower Hamlets, Newham and Greenwich.