Meadow Arts and Worcester School of Art's Fabrication Research Group present a series of free artists' talks in the heart of Worcester.
About this event
The Open Lecture Series
The Open Lecture Series is a collaboration between Worcester School of Art's Fabrication Research Group and Meadow Arts. Some of the most exciting contemporary artists working in the UK and internationally visit Worcester to talk about their artwork, wider research, and processes they use. The talks are hosted at The Art House, accessible to students across the university and members of the public, and are free to attend.
Talks take place on selected Wednesday evenings from 4:30pm to 6:30pm, and include a chance to ask questions after each presentation. The talks are free and open to all: booking is recommended.
Gareth Proskourine Barnett
Gareth Proskourine-Barnett is an artist and educator currently based between Birmingham and London. His interdisciplinary practice investigates our relationship to place and the way materials embody histories. Since graduating with an MA in Communication Design from Central Saint Martins in 2011, he has worked on a range of self-initiated and commissioned projects, taken part in artist residencies and delivered workshops internationally. Alongside his personal practice, Gareth teaches Art and Design at the Birmingham School of Art and is also a visiting tutor at the Royal College of Art. He is currently working towards a PhD in Critical and Historical Studies, where his research investigates Brutalist Architecture through the Internet. His work has been exhibited at museums and galleries in the UK, China, Denmark, Russia, India and Thailand.
Recent exhibitions and residencies include On The Subject of Precarity at Grand Union, Common Ground at The New Art Gallery Walsall and Explore New Urban Spaces at Plan8t in Changsha, China.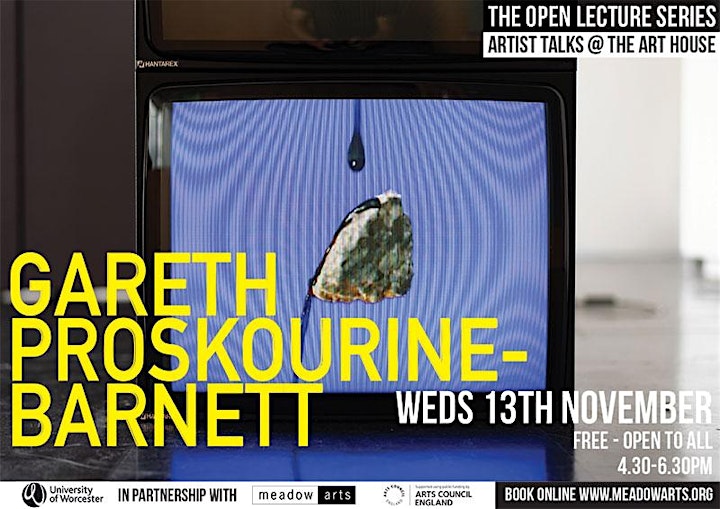 Organiser of Art House Open Lecture Series - Gareth Proskourine Barnett
Contemporary art in unusual places
Meadow Arts brings unique contemporary art projects to places where art is not usually shown, supporting artists by commissioning new work and creating inspiring events and exhibitions.
www.meadowarts.org