Meadow Arts and Worcester School of Art's Fabrication Research Group present a series of free artists' talks in the heart of Worcester.
About this event
Rescheduled after postponement (due to floods)
The Open Lecture Series
The Open Lecture Series is a collaboration between Worcester School of Art's Fabrication Research Group and Meadow Arts. Some of the most exciting contemporary artists working in the UK and internationally visit Worcester to talk about their artwork, wider research, and processes they use. The talks are hosted at The Art House, accessible to students across the university and members of the public, and are free to attend.
Talks take place on selected Wednesday evenings from 4:30pm to 6:30pm, and include a chance to ask questions after each presentation. The talks are free and open to all: booking is recommended.
Jack Evans
Jack Evans' playful sculptures reference the disconnect between the romanticisation of ruins and the reality of modern architectural evolution. His work featured in Meadow Arts' 2019 exhibition in partnership with English Heritage, In Ruins at Witley Court. Capital was shown within the ruined mansion, where its Corinthian capitals with goat-head motifs (that were originally created for Whiteley's Shopping Centre in London) alluded to a loss of decorative architecture and traditional arts to soulless redevelopment.
He was born in Mansfield and now lives and works in London. He graduated with a BA (Hons) Fine Art, from Central Saint Martins in 2015 and completed an ERASMUS Exchange, École Nationale Supérieure des Beaux-Arts de Paris in 2014. Evans' recent exhibitions include In Ruins (Meadow Arts); Life is too short to be serious all the time, London (Lumen Open Call); Inhabiting The Dome, Whiteley's Building, London; Postage and packaging paid for, Art Licks Weekend 2018; The Floor is Lava Subsidiary Projects, London (Art Night 2018); The grass is greener HERE Inderwick Road, London.
jack-evans.com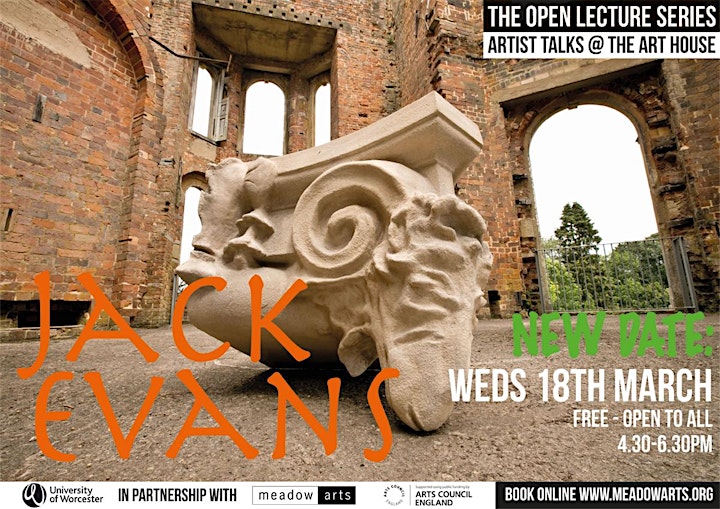 Organiser of Art House Open Lecture Series - Jack Evans
Contemporary art in unusual places
Meadow Arts brings unique contemporary art projects to places where art is not usually shown, supporting artists by commissioning new work and creating inspiring events and exhibitions.
www.meadowarts.org