Meadow Arts and Worcester School of Art's Fabrication Research Group present a series of free artists' talks in the heart of Worcester.
About this event
The Open Lecture Series
The Open Lecture Series is a collaboration between Worcester School of Art's Fabrication Research Group and Meadow Arts. Some of the most exciting contemporary artists working in the UK and internationally visit Worcester to talk about their artwork, wider research, and processes they use. The talks are hosted at The Art House, accessible to students across the university and members of the public, and are free to attend.
Talks take place on selected Wednesday evenings from 4:30pm to 6:30pm, and include a chance to ask questions after each presentation. The talks are free and open to all: booking is recommended.
Tom Cardwell
Tom Cardwell is an artist, researcher and lecturer based in London. His studio practice uses painting as a means to explore how objects act as crossing points for successive layers of cultural narrative and history. These paintings and textile works owe much to the historic Dutch still life genre, in which the mundane is elevated through painting. Previous series of work have focussed on artefacts including suits of armour and the customised 'battle jackets' made by heavy metal fans.
Recent solo exhibitions include Bad Patch, Wimbledon Space Gallery, London (2017) and Faith Once More, Herbert Read Gallery, Canterbury (2014). Recent group exhibitions include Home of Metal, Birmingham City University (2019), Faster, Faster! Wignall Museum of Contemporary Art, Los Angeles (2019), and Shelfie, Best Practice, London, (2016).
Publications include Still Life and Death Metal (PhD thesis, Chelsea College of Arts, 2017) and the article 'Battle jackets, identity and 'material individuality'' in the journal Metal Music Studies (Intellect) 3.3 (2017).
Tom is currently working on the book Heavy Metal Armour (Intellect, Bristol) and is Senior Lecturer in Painting at Wimbledon College of Arts.
www.tomcardwell.uk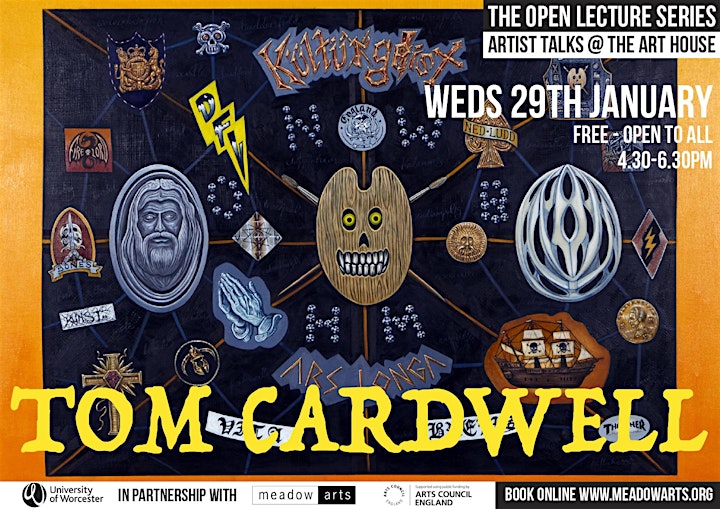 Organiser of Art House Open Lecture Series - Tom Cardwell
Contemporary art in unusual places
Meadow Arts brings unique contemporary art projects to places where art is not usually shown, supporting artists by commissioning new work and creating inspiring events and exhibitions.
www.meadowarts.org