ART IN COMMUNITY invites refugees, migrants and friends to meet and share their stories through engagement with the healing arts.
About this event
THIS EVENT IS POSTPONED DUE TO THE CORONAVIRUS SITUATION — THANK YOU FOR YOUR SUPPORT
Karl Koenig: The Refugee Doctor Who Pioneered Art as a Language for Social Therapeutic Care
The story of Camphill is a life affirming story of refugees helping refugees, of seeking and finding home through care of the other.
In a BBC4 interview (1964) with Dr Karl Koenig, the Camphill Movement, which he founded as a refugee fleeing Nazi Europe, was hailed as the greatest social experiment of the 20th century. Since the first home in Scotland 1939, the Camphill Movement continues to spread its healing aesthetic of social care for people with special needs, to over 100 Camphill communities worldwide. Central to the design of this remarkable social experiment is the transformative role of Art in holistic community building.
Join us as we celebrate the story of Karl Koenig and 80 years of Camphill through talks, films and creative encounters, leading to a day of art and community in the idyllic setting of The Mount Camphill, in May.
PROGRAMME
Talks and conversations
Richard Steel, Director, Karl König Institute for Art, Science and Social Life, Germany
Joan Sleigh, Executive Council of the General Anthroposophical Society in Switzerland, Steiner Waldorf pedagogy expert and granddaughter of Karl König
Vicky Syme, The Mount Camphill UK
Judy Bailey, formerly The Grange Camphill UK
Films on Camphill life
Artistic contributions from The Mount Camphill and The Grange Camphill
Invitations and community gathering
An Art in Community event, in partnership with the Karl König Institute and The Mount Camphill
http://www.mountcamphill.org/default.aspx?PageID=37
CORONAVIRUS GUIDANCE
In light of the Coronavirus we ask you to take precaution for yourself and others by following government guidance. If you have returned from an affected area identified by the Chief Medical Officer as high risk and you are feeling unwell, please stay at home.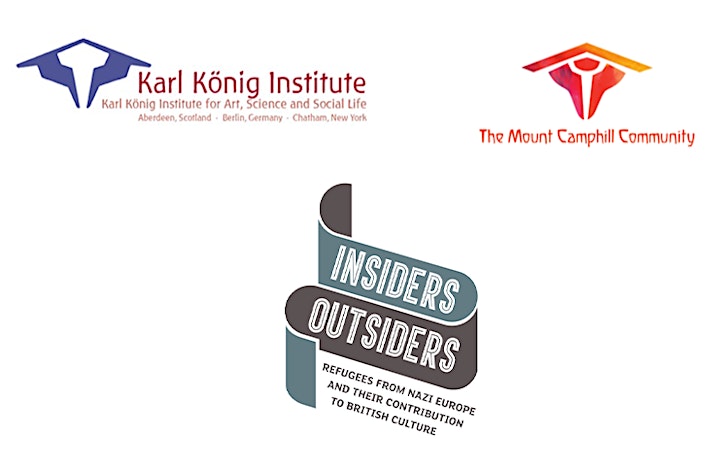 Insiders/Outsiders is a nationwide arts festival taking place from March 2019 to March 2020 to celebrate refugees from Nazi Europe and their contribution to British culture.