Description
Art Miles is a new fundraising initiative organised by the Art Fund, the national fundraising charity for art, to help raise money for museums and galleries. It is a fun, cultural walk of approximately three miles in the grounds of the participating venues for people to support their local museum or gallery by raising money.
We're running the first Art Miles events on Sunday 22 March 2015 at three London venues, just in time for spring:Chiswick House & Gardens, Dulwich Picture Gallery and William Morris Gallery.
Your Art Miles walk will take in several points of interest, including areas that are not normally open to the public, and will give you the the opportunity to test your art knowledge. You'll also receive a fabulous Art Fund tote bag upon arrival to the event as a thank you for your good deed!
Need help? If you are unable to find the information you need in our FAQs, please get in touch with us at help@artfund.org.
About the event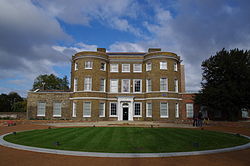 The only public museum in Britain dedicated to the leader of the Arts and Crafts movement, the museum is based in Morris' magnificient childhood home, in Walthamstow's Lloyd Park.
The gallery was awarded the Art Fund Prize for Museum of the Year in 2013.
Raise much-needed funds for the William Morris Gallery while exploring your creative side in the beautiful surroundings of Lloyd Park. For one day only the park will be transformed into an arts and crafts activity trail for people of all ages. Along the route you'll meet special guest artists and there will be one or two surprises inspired by our collections. You'll leave with your own work of art, created step-by-step along the trail. For those who like an extra challenge, why not come in costume inspired by William Morris? There will be prizes for the best dressed. Wellies highly recommended!
Tour lasts approximately two hours.
Terms and Conditions
1. You must be aged 18 or over in order to register for an Art Miles event.
2. An adult who has paid a registration fee is entitled to be accompanied by up to four children (aged 16 and under) at the Art Miles event.
3. The payment of the registration fee for your Art Miles event will be processed and administered by the National Art Collections Fund, operating as the Art Fund, a charity registered in England and Wales (209174) and Scotland (SCO38331).
4. Half of your registration fee will be retained by the Art Fund and the other half will be passed to your Art Miles venue.
5. Registration fees are non-refundable unless the event is cancelled by the venue for any reason.
6. You must not use borrowed, stolen, or forged payment methods to make your payment. Should you do so, you agree to accept full responsibility for such action and to indemnify the Art Fund in respect of all actions, claims, damages, liability, fees, costs and expenses whatsoever that arise as a result of your actions.
7. The Art Fund is responsible for promoting Art Miles and for collecting registration fees. Your Art Miles venue is responsible for organising the Art Miles event and for all other administration in connection with the event.
8. One Art Miles bag per registered adult.
9. The Art Fund is not responsible for the content of third-party websites.
10. The use of this site is subject to the Terms and Conditions on the Art Fund's website.
11. All data gathered and held by the Art Fund is managed in accordance with the Data Protection Act 1998 and in accordance with our Privacy Policy.
Organiser of ART MILES 2015 | William Morris Gallery