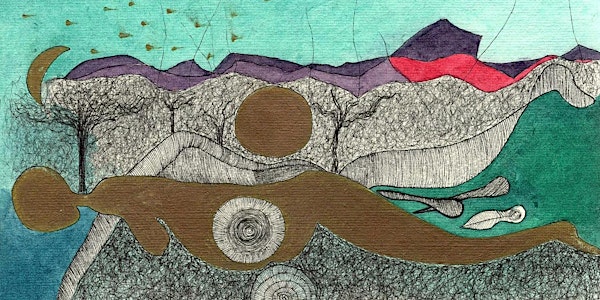 Art & Psyche Symposium 2019: The Divine Feminine: Seeding New Myths for our...
Location
Limerick School of Art & Design
Clare Street
Limerick
Ireland
Refund policy
Refunds up to 1 day before event
Description
The Divine Feminine: Seeding New Myths for our Times
Would a greater valuation of the divine feminine, in all her guises, contribute toward a healing of our 'ailing myth'? In responding to such a question we explore what it means to have a greater level of embodiment in an ensouled world. With this sensibility our three speakers and workshop leaders, all pioneers and diviners of where our old myths have led us, consider the possibility of a re-patterning and a new mythos.
Three Guest Speakers:

Mary Condren, ThD, is a lecturer at the Centre for Gender and Women's Studies in Trinity College Dublin and is author of The Serpent and the Goddess: Women, Religion and Power in Celtic Ireland (1989). Her interdisciplinary work concerns the interface between worldviews and gender, with a specific focus on worldviews that promote violence. Mary's research draws on mythology, political psychology, theology, psychoanalytic, philosophical and feminist theories. She is director of Woman Spirit Ireland, and has organised and resourced Festivals of Brigit (in Ireland and abroad) for over twenty five years.
Veronica Goodchild, PhD, has practiced as a Jungian psychotherapist for over 30 years, and is author of Eros and Chaos (2001) and Songlines of the Soul (2012). Veronica served as Core Faculty at Pacifica Graduate Institute, where she taught Jungian and Imaginal Psychology, Depth Psychology and Alchemy, The Grail Myth, Depth Psychology and the Sacred, Jungian Psychology and Quantum Physics, Dreams, Soulful Research and Clinical Case Colloquia. Veronica retired from full-time teaching in 2015, and is now Professor Emerita, continuing her research and writing.
Marian Dunlea, MSc, is a Jungian analyst and a Somatic Experiencing Trauma therapist. She is the creator of Bodydreaming™ , an innovative approach to therapy that integrates somatic perspectives with Jungian Psychology. She is Director and Trainer for BodySoul Europe, part of the Marion Woodman Foundation and is a core faculty member of the Marion Woodman Foundation. She facilitates workshops internationally and is awaiting the publication of her book BodyDreaming in the Treatment of Developmental Trauma: an Embodied Therapeutic Approach with Routledge in May 2019.
Guest artist: Sacred Song

Nóirín Ní Riain, PhD, an acclaimed spiritual singer, has introduced the Dalai Lama at official occasions in Ireland and elsewhere. A theologian, musicologist, and recording artist who was awarded the first doctorate in theology from the University of Limerick, she has written several books, including Listen with the Ear of the Heart: An Autobiography; and Theosony: Towards a Theology of Listening. Dr. Ní Riain was ordained a minister in 2017 with One Spirit Interfaith Seminary in London.
This event will be of special interest to artists, therapists and those attracted to the field of Art and Psyche. Join us in also celebrating nine years of our part-time Certificate Course in Jungian Psychology with Art Therapy (Level 8, 10 credits).
This full day symposium has been awarded 5.5 CPD points by the Psychoanalytic Psychotherapy section of the Irish Council for Psychotherapy (ICP).
Price all-inclusive, including lunch and tea/coffee/pastry break. Parking available on campus.
Any queries contact mathew.mather@lit.ie
Art Exhibition: Art and Psyche - The Divine Feminine opening on the day of the Symposium: 26 April runs till 10 May 2019 @ LIT: LSAD Foyer. A separate call-out for visual art works has gone out. If you are interested in submitting an artwork, please contact Lynda Phelan: lynda.phelan@lit.ie Those artists whose work are selected will be offered a reduced rate of €25 for the full day event. The deadline for submissions: 5 April, 5pm. Selected artists will be notified by 5pm on 8th April.
Schedule: Church Gallery, LSAD, Clare Street, Limerick
09:15 Registration
09:45 Welcome & Introduction
Opening song by Nóirin Ní Riain
10:00 Mary Condren: Brigit and 21st Century Ireland
10:45 Tea / Coffee, Pastries (included in price)
11:15 Veronica Goodchild: A Call to Pilgrimage: Dreams and Synchronicity
12:00 Marian Dunlea: Anima Mundi: An Embodied Encounter
12:45 Creative Reflection
13:15 Lunch (included in price)
14:30 Nóirin Ní Riain - the Divine Feminine in the Irish sean-nós spiritual song tradition
14:45 Workshops follow song:
(Register early on the day for your choice of ONE workshop as below.
Limited places per workshop. First come first served basis).
Mary Condren: Brigit and 21st Century Ireland
Veronica Goodchild: A Call to Pilgrimage: Dreams and Synchronicity
Marian Dunlea: Anima Mundi: An Embodied Encounter
Nóirin Ní Riain: Divine Femnine Song
16:30 Closing and song by Noírin