See how three NHS Psychiatric Intensive Care Units across London have been radically transformed with museum-quality contemporary art.
About this event
A project by Hospital Rooms
We are an arts and mental health charity that exists to transform the face of mental health care in the UK. We bring together leading contemporary artists, NHS staff and service users to ask the critical question of how inpatient mental health units should look and feel.
Art + Psychiatric Intensive Care
In our most pioneering project to date, Hospital Rooms has commissioned 18 world class and site specificartworks for 3 Psychiatric Intensive Care Units (PICU) for men. The initiative sees collaboration between 3 London NHS Trusts.
Psychiatric Intensive Care Units (PICU) provide mental health care for people whose acute distress, absconding risk and suicidal or challenging behaviour needs a secure environment beyond that which can normally be provided on an open psychiatric ward. Considered to be the most difficult and restrictive inpatient mental health setting, PICUs can be very clinical and sterile places. Through this project, Hospital Rooms have brought outstanding art and creative activity to some of the most segregated individuals in society.
The exhibition
This exhibition is the only opportunity that the public will have to encounter the artworks that have been permanently installed on the wards.
Every artist spent time with service users in the unit and led creative sessions with them to inform their work. Among the workshops, Giles Deacon created cartoons, Mark Wallinger led drawing from life, Chila Burman taught Basquiat inspired portraits and Mark Titchner made ribbon alphabets.
Each artist listened to people's experiences, drew on their talents and ideas; and created artworks that bring imagination, new perspectives and elements of the outside world into the hospital environment.
Dates and how to find us
Private view: Tuesday 2 November, 4:00pm - 8:00pm
Please RSVP by clicking 'Reserve'
Exhibition runs from Wednesday 3 November - Saturday 4 December. Please note the gallery is closed every Sunday, Monday and Tuesday.
30 Old Burlington Street
London
W1S 3AP
11:00am - 5:00pm
Free and open to all`!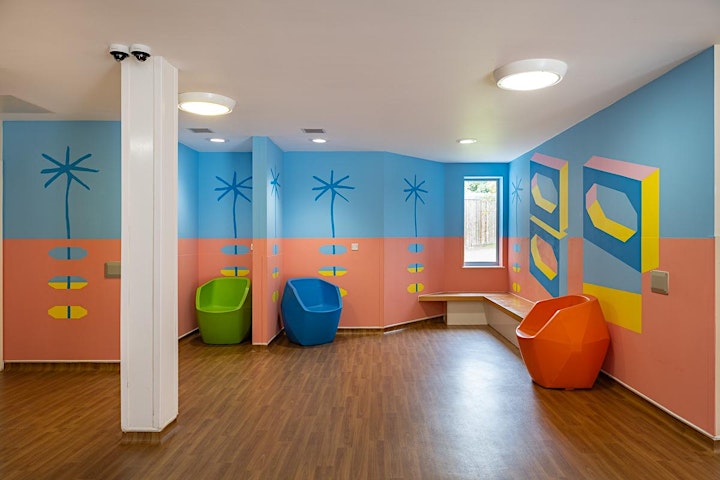 Above: Richard Mark Rawlins' installation at Titian Ward, Goodmayes Hospital
Organiser of Art + Psychiatric Intensive Care | An exhibition by Hospital Rooms