Multi-Award Winning Laura I. Art Gallery is thrilled to announce Ted Harrison` debut solo exhibition titled: "Working On The Edge".
About this event
Multi-Award Winning Laura I. Art Gallery is thrilled to announce Ted Harrison` s debut solo exhibition titled: "Working On The Edge" which will be featured and showcased on Artsy.
To launch his exhibition Laura I. Art Gallery is inviting you to join our Private View "Art, Religion Without Words" and hear all about why and what inspired Ted to give up on 40 years in broadcasting, as a BBC correspondent, Radio 4 presenter and television producer to become an artist at the age of 60 when most people have retirement in view.
Ted's ideas about art take him away from the fashionable center of contemporary art thinking. Underpinning much of his work at the exhibition are some core questions. Where does art come from, and what is its purpose ? He will be discussing how, to answer those questions, we must look beyond human society and personal identity. Art is an interaction between us as humans and the great mysteries that are beyond our individual understanding. People of faith might describe art as a dialogue between the artist and the Divine. Ted will explain how he sees much of his own work as a form of visual theology. He calls art - religion without words.
Ted has a PhD in Theology, but over the years has found language to be increasingly inadequate when exploring the profound and essential questions about life, death and the Divine. So, through his work, he is developing art as a form of visual theology which challenges both church teaching and the secular theories of the secular art world.
In the past few years of his career in the arts Ted has produced several high-profile public works: an installation under the dome of St Paul's Cathedral on the subject of child soldiers; memorials at London's Guy's and St Thomas's Hospitals to honour organ donors - Plus book illustrations, exhibitions for some of the UK's ancient cathedrals and numerous paintings and drawings - some of which are now in the contemporary art collection at the National Library of Wales.
Ted `s collection of work represents a cross-section of his many styles and subjects.
The Exhibition will be on show on Artsy between 31/05/2021 and 20/06/2021
They range from religious works to abstracts - there's even a portrait of Elvis made with sand.
He divides his life between the two places he calls home - Aberystwyth, Ceredigion, and the island of Unst, Shetland, 200km north of mainland Scotland.
The unyielding power of the elements around him on the island is a strong influence on his work. 'Several times over the years I have left the shelter of my Unst studio to discover such a strong wind blowing outside that I've been barely able to stand.
'Then the weather dramatically changes and on beautiful calm days I sometimes collect stones and sand on the beaches to incorporate into my paintings.'
The influences on his work when in Wales are different. Legends, mythology, culture and people feature more prominently. In Wales he sometimes uses local materials such as slate and water from Holy Wells.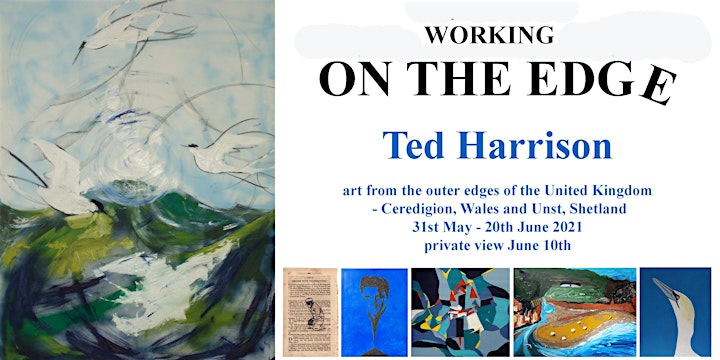 Organiser of Art: Religion Without Words
Laura I. is an award winning art gallery that combines West End chic with a quirky East End setting to break boundaries and bring cutting edge art to a wider audience. Laura I. showcases pioneering and ambitious work by founder Laura Iosifescu and other talented artists. It also aims to take its place in the community with a programme of inspiring and innovative workshop events, promoting self-expression and creativity.