Nicola Moody is a Luton based Fine Art Textile Artist, and would like to invite you to participate in learning Art and Textiles techniques.
About this event
FULL COURSE £30 - Start date: May 20th only select in this date.
PER- SESSION £7.50
ONLINE ONLY £3
Over the course of 6 weeks, you will be given the opportunity to explore weaving, felt making, papermaking, printing and embroidery. You will become aware of the work of other artist who specialise in these techniques and you will be given the opportunity to develop your own creative responses. You can create stand-alone outcomes or create work that is a culmination of all of these techniques. Working alongside a Fine art textile artist and an experienced art educator you will also be given the opportunity to discuss the development of your own ideas and develop your own creative voice and journey.
In order to get the best experience, participants are encouraged to attend all sessions.
Good to know information
- Can I join in the later weeks? It is best for guest to attend on the on start date of the project. There might be some occassions where the tutor will allow for later joiners to the classes but this is ulimately the tutors decision, and you will be expected to pay the full price of the course.
- How to find us? On your ticket will be an address to the venue. We are the bright red door opposite the NatWest bank is on Geogre Street, Luton. You can't miss all the mural art!
- On arrival? One of our Little Red team will welcome you to the building check your ticket and you can head up to the studio.
- COVID19 - In order for use to keep everyone safe we ask:
Please do not attend any classes if you are feeling Covid19 like symptoms, just let us know that you will not be attendance a class.
Please wear a mask on entry of the building and whilst you are moving around the building. These can be removed when seated.
Patrons are not permitted to bring their own refreshment into the venue at this time. Refreshments and snacks will be made available at the coffee shop.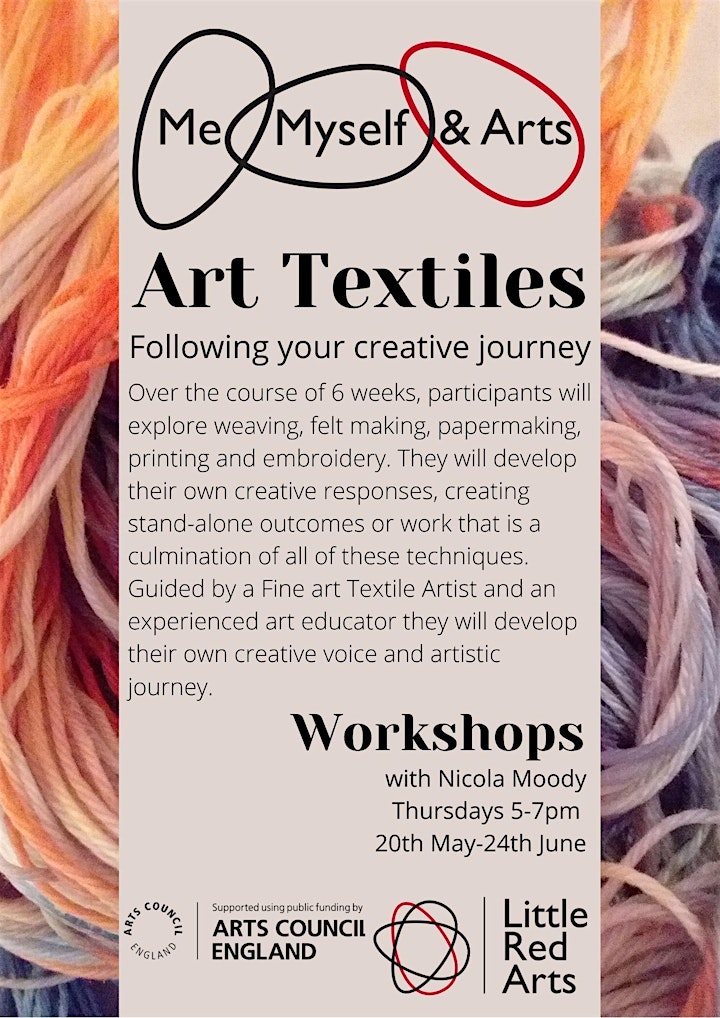 Organiser of Art Textiles: Following your creative journey - Me, Myself & Arts - Luton
Little Red is a not for profit arts and music venue based in Luton Town cente.
Set in a beautiful grade ll listed building, its funk, edgy an d bursting with creative opporitunities.
Enjoy a dink in our fully licenced cafe bar, with panaramic views of town centre we invite you to disconect for a while, elevte yourself and watch the wolrd go by.
Studios to hire and many events to join.
We look forward to welcoming you!