An art workshop reflecting on the Covid-19 experience . A chance to capture challenges, fears and gratitude through art and tell your story
About this event
With the stresses and challenges we have had recently, it has made us think differently and use resources in new ways and embrace technology. It's been hard and we all have a story to tell.
10 am - 11.45am /12pm- Art session. Please arrive for the welcome and introduction with Rana for instructions. You will be welcome to pop in and out of the session after. You can opt to have your camera off and just join us via audio.
12pm - 1pm - An opportunity to present your work to everyone
Suitable for all ages and families; Children and youth under 18 years will need to be registered and accompanied by an adult.
About the workshop: How has the pandemic disrupted your life over the last year? There has been disruption in all our lives - some fundamental freedoms that we have enjoyed have had to be stripped away for us. Going to work, shopping, hugging, education, visiting our family and friends .....we have all been affected in different ways.
Join us for this friendly online art session with Rana Ibrahim and tell your story through making your own collage. The session aims to help us collectively acknowledge the pandemic and to search for the positive stories, stories of gratitude, that have inspired us to innovate and create ways to continue to live alongside or move past the challenges we face as individuals and as communities.
Rana says 'Our experiences and worries are like bricks and they build a wall. We have spent a lot of time in our homes and this is an invisible wall that we are living with everyday. We will take time to consider experiences over the last year and begin to reflect on finding moments that have inspired us to move forward. This could have been a phone call from a friend or family or a letter through the post. We will use words and pictures to build a ladder of gratitude to help us climb over our wall of worries and concerns. What's your story?'.
The aim will be to create a collage out of pictures and words from old magazines and newspapers (or what every is available eg. chocolate wrappers and cartons) that will tell the story you want to share. [See Rana's example below]
The first two hours will be dedicated to making your collage. We will then have a 10 min break (optional) and reconvene to give an opportunity for participants to present their work if they would like to. Listening is an important part of someone's story - we hope you can join us.
There will be an opportunity to photograph your finished work to include on the Iraqi Women Art and War and Oxford Human Rights Festival social media sites.
What you need: You will need: magazines, newspaper, (old cards, sweet wrappers... anything you can use to make art work) scissors, glue, paper to stick your cut-outs on (e.g. A4), pens/coloured pens and paint if you like.
About Rana Ibrahim: Rana Ibrahim, an Iraqi archaeologist and Artist Ambassador with Outside In. She is also the founder of Iraqi Women Art and War (IWAW) project, a freelance artist and an education and outreach officer working with Iraqi women based in Oxfordshire helping them capture their war surviving oral stories through art. Rana has been doing her own artwork through COVID19 her work displayed via Tumblr.
Rana worked at History of Science Museum, the University of Oxford as a Collection Project Officer and part of a project team called Multaka Oxford the Museum and Heritage Fund award-winning 2019 the project aim is to help refugee and forced migrant communities to integrate with Museum collections primarily through Scientific Islamic objects.
She has B.A. Archaeology (Baghdad University) and M.A. in Museum Studies (Newcastle University) and is working on a paper researching the relationship between Islamic collections and its audience at the University of Birmingham as a postgraduate researcher.
Rana Ibrahim, Iraqi Community consultant in Oxford, Freelance Artist, Education and Outreach Officer, Professional Consultant in Islamic Collection and exhibition
This workshop has been inspired by Singapore Global Network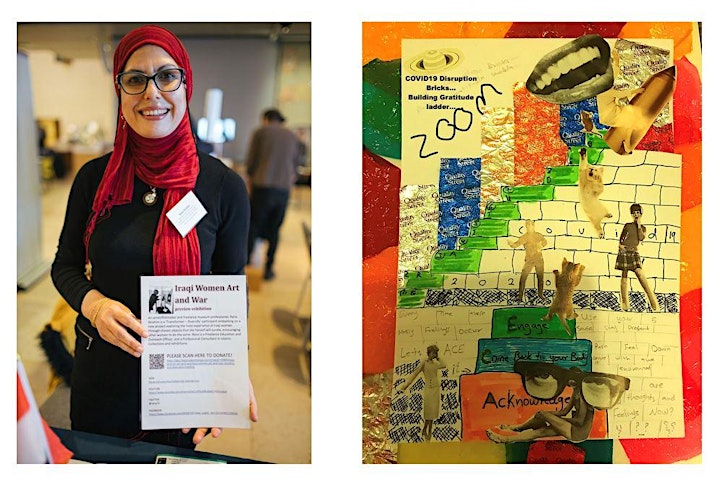 Event Notice: This event will be recorded on Zoom and published on our social media and YouTube channel after the event. If you attend you have the option of turning off your camera.
Event organiser: This event has been organised by the Oxford Human Rights Festival; Planning Committee; Centre of Development and Emergency Practice (CENDEP) at Oxford Brookes University and Rana Ibrahim.
When you sign up: When registering with Eventbrite to book tickets please read Eventbrite's T&Cs and privacy policy carefully about whether or not to subscribe to any additional Eventbrite marketing, please be aware that they are an external company and their privacy policy will be different to the one of Oxford Brookes University. If you are under 18yrs you must get a parent or guardian to register and attend with you.