art4grenfell - Raffle Ticket please click on view details to order

Wednesday, 21 February 2018 from 18:00 to 21:00 (GMT)
Event Details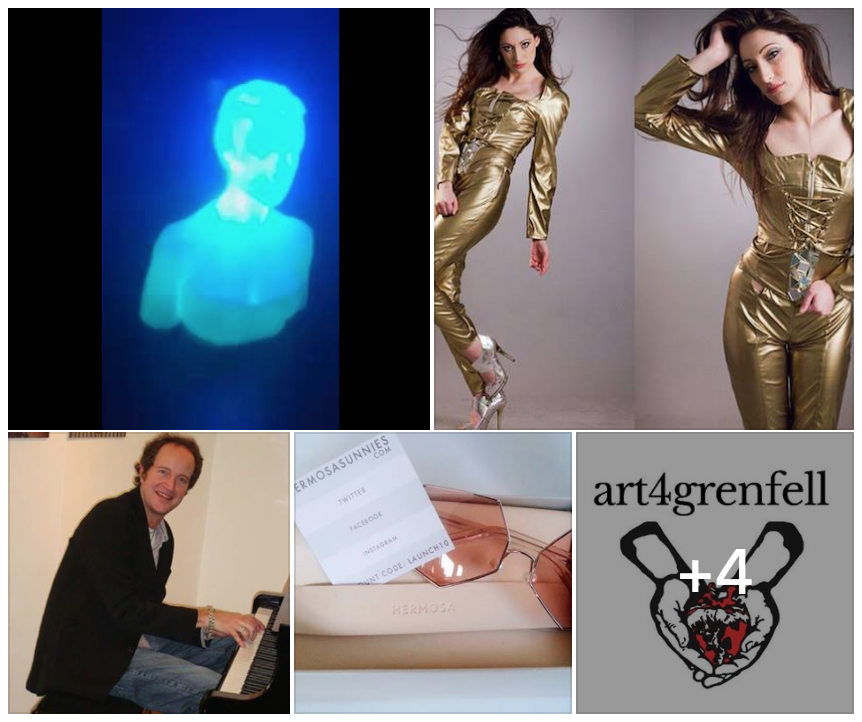 Art4Grenfell announces UK's largest City-based charity auction for Grenfell 
"The auction was a roaring success meeting and exceeding our original target which we estimated to be £20,000, thanks to everyone involved, Artists, Collectors, Bonhams, NatWest, all our sponsors and helpers and the above all brilliant exposure that the press have given us which allowed us to serve  the Grenfell Tower survivors with hard works that our team put into it
.
To give each and everyone of you wonderful people, again one more chance not to go empty handed, and to be part of our drive to show your support, we have extended the Raffle time for another couple of weeks, better still we will be adding more and more items for you to take home almost on daily basis.
Help us to continue on as Art4Grenfell is not over yet.

Art4Grenfell Raffle tickets offering you some fabulous prizes, here is what you could win while helping us organise this event.   

1- 
Pandora Melly
 has created a 
system called blokprintz it is for decorating and design, a tool that could also be used in arts and crafts projects. It is a fantastic set for the whole family to use and to get into. Then let creative spirit flow. See in the picture results of its application on fabrics.
2-Dee Izmail London golden rubber suites she is offering some parts for the auction and in the raffle worth £100 + each
3- Hermosa glasses from their signature series one of their popular and luxury sets. visit https://www.hermosasunnies.com/ for more details worth £80- 120
4-live sumi portrait by Hercules Fisherman http://herx.org
5- We have an anonymous entry a hand painted quality hand bag, it looks like made of snake skin carries a silver plaque Vasilisa branding inside, it is either the artist forgot the details or it is deliberate either way it is a wonderful piece to consider.
6- 3DScanbot including 3dscan and 3dprint bust worth £50 
7- Jason Dors-Lake Actor, musician and artist- a local residence near the Grenfell Tower offering his services (ie music and entertainment free for 60 min ) for an event or a private party worth £250 (transport and expenses not included)
8- Official TShirt with art4grenfell Designed by Massimo Crisafi and Hercules Fisherman worth £20 each
All prizes are free not including postage and packaging cost, they maybe collected at our designated collection points in Bermondsy
Your last chance to 
Buy raffle tickets while it last
http://tiny.cc/a4g

The event was a roaring success and looks like we are going to meet our original target
if you wish to furhter donate to our cause separatley you could also 
choose the link below
please see some images of the auction evening at RBS/Natwest HQ - The Atrium
auction in aid of Grenfell Tower residents
Supported By Bonhams and RBS
Colin Sheaf, Bonhams Chairman commented:
the auction was a success and looks like we are going to  exceeded our original expectation for the money we raised, thanks to the artist, all your kind donations and support.
Supported By Bonhams and RBS
"This will be an exhilarating art auction, with many acclaimed and noteworthy iconic artists from the UK and abroad kindly donating a painting (or work of art to honour the victims of this tragic loss of life in London."
The 'Art4Grenfell' group has been created to raise funds to support the homeless residents and survivors of the Grenfell fire tragedy. Organiser and founder Hercules Fisherman has brought together many esteemed London and international artists from around the world, who have been touched by this tragedy. The sole objective is to raise as much money as possible through one of the UK's largest Charity Art auctions, which will be hosted at the RBS headquarters in the City of London with Colin Sheaf, Bonhams UK Chairman, as auctioneer. The auction is open to all guests with admission by ticket only, and is being held on Wednesday 21 Feb 2018 at The Atrium, 3rd Floor, 250 Bishopsgate EC2M 2AA with the Preview and Reception from 6.00pm, followed by the Live Auction starting at 7.00pm. Admission is by pre-purchased ticket only, with all seated and standing tickets available for purchase exclusively online at www.Art4Grenfell.org
Every lot in the auction will be listed and where possible illustrated online from January until the live auction. Hercules Fisherman, Organiser of Art4Grenfell commented: "We are overwhelmed with the response and have been generously donated works by over 100 artists for the auction which ran on Wednesday 21st February. The donors include many well-known and respected names such as: Alison Hunter, Dame Zandra Rhodes, Andrew Logan, Chris Moon, Paul Freud, Boy George, Gilbert and George, Dee Izmail, Darren Coffield and Jonty Hurwitz".
The aim is to have as many eminent artists' works as possible donated and delivered to raise funds for the survivors and their families. All proceeds will be donated through the K&C Foundation, a local independent charity based in North Kensington, which works with the local community to tackle inequalities and hardships faced by many across the Borough. Following the tragic event at Grenfell Tower, the K&C Foundation set up a fundraising appeal for those affected by the Grenfell Tower tragedy.
"We are really grateful to Art4Grenfell for this initiative to raise funds for the survivors from Grenfell Tower." commented Susan Dolton, Director of K&C Foundation.
The Art4Grenfell group is calling upon artists to donate a piece of their artwork for the auction, by pledging the piece via the website www.Art4Grenfell.org or contacting Hercules Fisherman on the Art4Grenfell Facebook page. "We are proud to be associated with Art4Grenfell to collaborate with them in this effort. The K&C Foundation is a local independent charity based in North Kensington, and already has raised £6 million for the Grenfell Tower Fund through generous public donations. The campaign was set up to provide emergency and on-going support to residents and others affected directly in the local community. £4.44 million has now been paid out to help the survivors of the Grenfell Tower tragedy and to the next of kin of those who lost their lives.
Do you have questions about art4grenfell - Raffle Ticket please click on view details to order?
Contact Herx
When & Where

RBS/NatWest Atrium
250 Bishopsgate
EC2M 4AA London
United Kingdom


Wednesday, 21 February 2018 from 18:00 to 21:00 (GMT)
Add to my calendar
Organiser
Hercules Fisherman
Hercules is an Artist & technologist, thought leader, mentor, publisher, business intelligence expert, speaker, startup evangelist, and serial entrepreneur in tech & media.
He is also first artist in history to sign works with his twitter handle, An early aadaptor on internet and social media, with @herx as twitter handle.

He studied Fine Art at Croydon Arts College, printing Diploma at LCP, Technology Master at Middlesex Uni, was pupil of celebrated artist Bruce McLean.
Hercules was CTO of the award winning Fizzback, the first massively scalable customer intelligence analysis platform. The company was sold to Nice Systems for $88m in November 2010.
He is currently CXO/Co-Founder of Foodity, Lectrio, 3dscanbot and Tech City Roadshow.
He regularly organises and curates events. He was a regular contributor and performer for the Brixton Poets. Hercules has held artist residencies at DeFabrik Eindhoven , the Fridge nightclub and Paradise Wildlife Park.
He painted HRH Crown Prince Alexander II at the Royal Palace- Belgrade 2013.
His oeuvres include sculpture, painting, installations and performance art. He has exhibited internationally including Paloma7-Barcelona-Spain, Swiss cottage Gallery, OTA-Berlin, Arthouse-Dublin, Edinburgh Festival, Barbican, Riverside Studios and in private collections.
His media work and coverage includes mainstream recognition from  Channel4, Timeout, The Guardian, The Sunday times, The Evening standard, Arts review, Harpers & Queen, the Face, and  Arts Monthly. He has also made  TV and film appearances and was featured in London Kills me (1991) - Hanif Kureishi and interviewed on 01-for-London (1990) Richard Jobson. He launched Our Wonderful Culture at the Groucho Club and ran an arts club at Vic Naylor - Farringdon -  events that included Vivienne Westwood and Ed Tudor-Pole.
Our Wonderful Culture and Lovely-Jobly, featured an eclectic mix of both established artists and writers such as Gilbert & George, Richard Hamilton, Yoko Ono, Lucian Freud and Bill Bryson; alongside upcoming artists and poets. The LJ interview of Lucian Freud and Leigh Bowery became an instant hit and was syndicated in the Sunday Independent Magazine-91.