Artefact free measurement: the redefinition of the international system of...
Description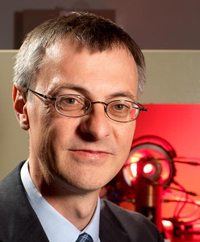 Prof. Graham Machin, BSc (Hons), DPhil, DSc, CPhys, CEng, FInstP, FInstMC
A brief introduction to the National Physical Laboratory (http://www.npl.co.uk/) will be given followed by a discussion of the evolution of measurement practices from ancient times to the present.
It is clear that the international system of units (the SI); namely the kilogram, the ampere, the kelvin, the metre, the mole, the second and the candela have served the measurement requirements of the world for many years. Since the inception of the SI a number of the individual unit definitions have evolved to meet advancing measurement needs. However in November 2018 the General Congress of Weights and Measures (CGPM) met in Paris ushering in a fundamental change to the SI. The current semi-classical and partially artefact based unit definitions gave way to new definitions based on a set of fundamental constants with defined values. The objective of the redefinition was to ensure that the SI remains enduringly fit for purpose into the 21st Century and beyond. The world measurement community is now in the implementation phase of the redefined SI which will be completed on World Metrology Day 20 May 2019.
This talk will introduce the SI, explain the changes that are being introduced and their impact on measurement. Emphasis will be given to the changes affecting the kelvin and how the redefinition will open up the possibility of no-drift always-right sensors through the development of practical primary temperature measurement in the 2020s. The talk will be illustrated with real examples and artefacts.
1800 – 1815 Introduction to Manufacturing Metrology at Nottingham – Professor Richard Leach
1815 – 1915 Artefact free measurement: the redefinition of the international system of units – Professor Graham Machin
1915 – 1930 A glass of wine
1930 – 2000 Tour of Advanced Manufacturing Building Metrology Labs
For more information, please click here to visit the event website.


NPL Fellow; Head, Temperature Standards
President Institute of Measurement and Control
Engineering, Materials & Electrical Science Department
National Physical Laboratory
Hampton Rd | Teddington | Middlesex | UK | TW11 0LW
Tel: +44 20 8943 6742 Mobile: 07718 193 725
Web: www.npl.co.uk
Web: http://www.npl.co.uk/temperature-humidity/