Description
* SAVE £5 using the code 'TECHEAST5' *
TechEast at Colbea – in partnership with Colchester Borough Council
"AI has the potential to help entrepreneurs be more productive and do things more efficiently."
At least according to a recent article in The Times. If that's true, then implementing AI is surely a no-brainer for every business and business owner. But how? And what even is AI?
Do we all use AI every day?
Google Maps
Auto-correct
Spam Email Filters
Autopilot for Air Travel
Social Media
The assistants in our pockets – Siri, Alexa, Cortana, etc.
'Recommended for you' – From your next favourite TV programmes to your new kettle
All these and much, much more are powered by Artificial Intelligence or 'Machine Learning', find out more in our latest blog or, for a true introduction into the world of AI, book your place on Artificial Intelligence and Machine Learning 'for Dummies' to learn from the experts how to use 'the machines' to make your business more efficient.
Artificial Intelligence and Machine Learning 'For Dummies'
28th March 2018 8.00AM-9.30AM
- Expert speakers Dom Davis, Co-Founder & CTO of Tech Marionette, and Tim Robinson, COO of
TechEast
-
What is the difference between AI and Machine Learning?

How can Big Data benefit Small Business?

What are the benefits of AI & machine learning for Start-ups & SMEs
Book

now

ONLY £30

inc

VAT & Breakfast.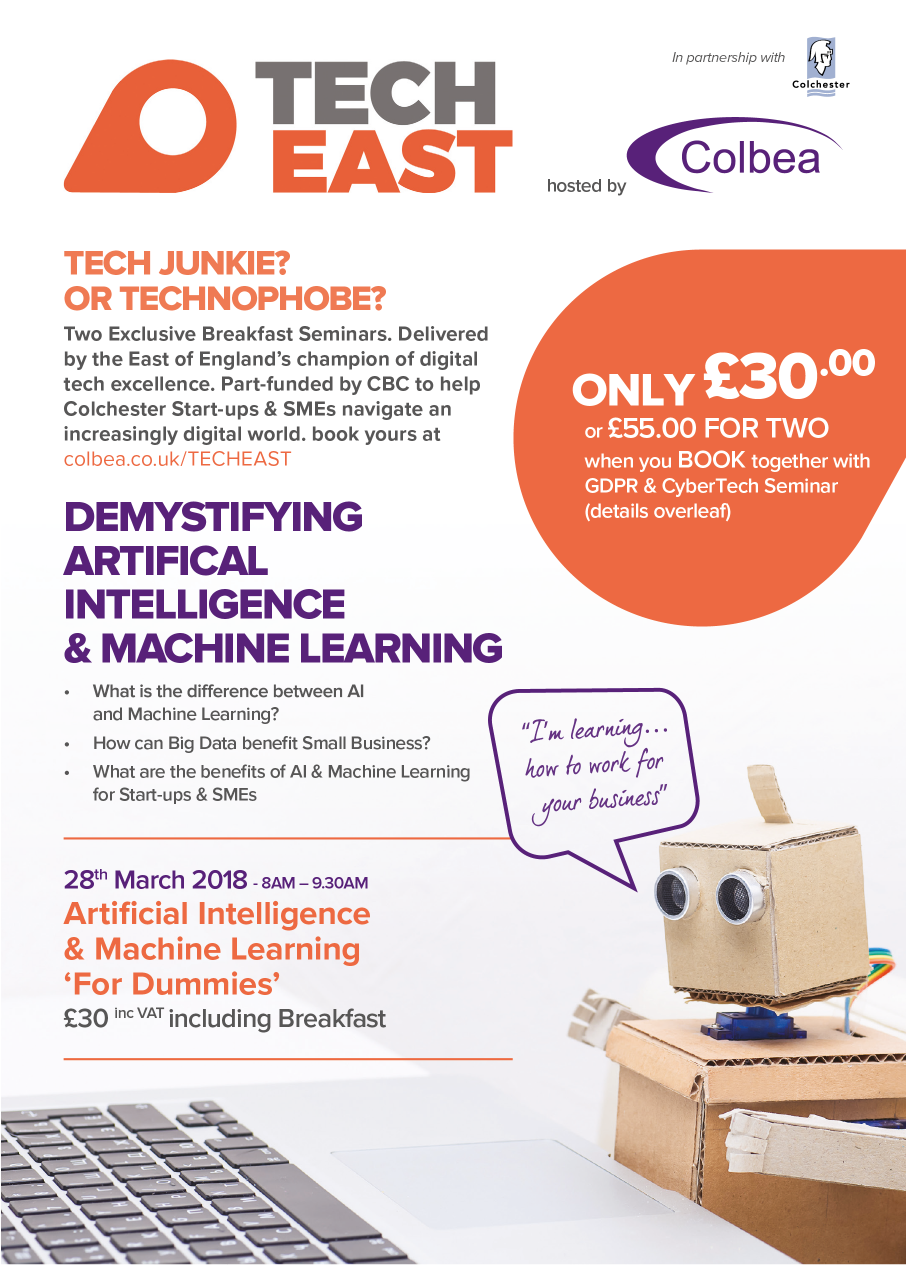 ---


---
TECH JUNKIE? OR TECHNOPHOBE?
Two Exclusive Breakfast Seminars on the hottest tech topics affecting the business world in 2018, on your doorstep in Colchester.
Hosted by Colbea. Delivered by TechEast, the East of England's leading digital tech authority. Part-funded by CBC to help Colchester Start-ups & SMEs navigate an increasingly digital world.


Colchester Borough Council has provided funding the ensure that a cutting-edge digital training remains affordable for the Borough's start-ups and SMEs - click here to find out more about the town's 2017-2022 Digital Strategy. Thanks to this CBC funding, 'TechEast at Colbea' seminars costs you just £30* including VAT, and even a delicious breakfast provided by Jigslaw Catering.
TechEast Represents the Tech Sector & Digital Economy in the East of England. They are Thought Leaders, engaging with Government & Decision-Makers on Key Policy Areas, and have worked with;
UK Government on Tech Sector views on Industrial Strategy
BEIS – Department for Business, Energy, and Industrial Strategy – on the Innovation Audit for the East of England

LEP – New Anglia Local Enterprise Partnership – on Skills & Talent Agenda, inc. leading on the Digital Skills Plan for the East of England, working closely in partnership with employers and the education sector
"
TechEast
is the collective voice of the digital tech sector in the East of England."