A virtual event focusing on the role that artificial intelligence plays in the future of cancer care.
About this event
Registration for this event is now closed. Please click here to be directed to the live stream.
We will also be streaming the event with live subtitles, please click here to watch that stream.
The future of cancer care is data-driven and artificial intelligence-enabled. AI is helping create a new blueprint, built to better understand cancer, and aid the discovery of tailored treatment.
We invite you to join Professor Tim Underwood, Professor of Gastrointestinal Surgery and Head of Cancer Sciences and Professor Gopal Ramchurn, Professor of Artificial Intelligence as we explore the latest developments in artificial intelligence and how to effectively translate technology into cancer care and real patient results.
This event will be hosted by Southampton alumna and the BBC's technology journalist Zoe Kleinman, and will include a Q&A session where you will have the opportunity to ask your own questions.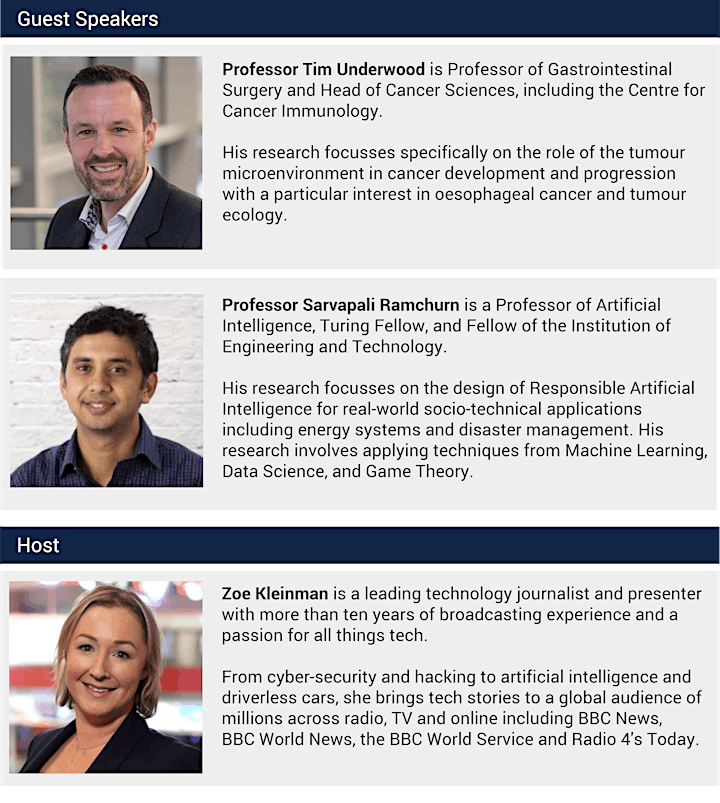 Centre for Cancer Immunology
In 2018 the University opened the UK's first centre dedicated to cancer immunology research. Connected to leading institutions worldwide, this cutting-edge research hub enables our interdisciplinary teams to develop new clinical trials, explore diverse areas of investigation from 'bench to bedside', developing lifesaving treatments for patients, whose care remains at the heart of all we do.
The Centre was funded by philanthropic donations and fundraising continues to drive forward our research. With your support, we can save more lives from cancer.
Thank you for providing your data to the University of Southampton's Development and Alumni Relations Team. We are committed to protecting your data and privacy. We collect, store and use your data to develop engaging events, services and activities, that enrich your current or future experiences with us. You can read more about what we do with your data in our privacy notice.
By providing us with your email address, we will use it to contact you in regards to this event and events of a similar subject. If you would like to receive communication for future similar events, please tick the correct box on the registration form. If you are already a subscriber to one or more of our emails, this will remain unchanged.
Organiser of Artificial Intelligence and the future of Cancer