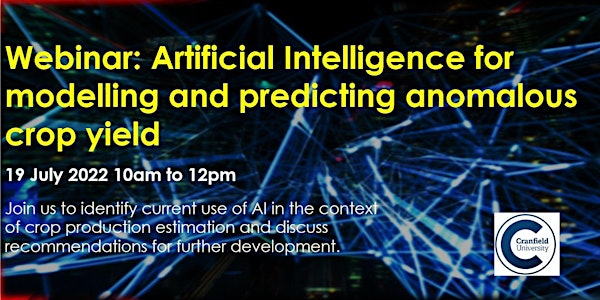 Artificial Intelligence for modelling and predicting anomalous crop yield
Join us to identify current use of AI in the context of crop production estimation and discuss recommendations for further development.
About this event
Crop yield prediction is a complex problem and is influenced by many parameters such as soil and its conditions, radiation, weather and management practices. Sensitivity to these conditions varies between cultivars, crops, regions and between development stages of the crop. Additionally, crop production is highly sensitive to extreme weather events (e.g., hot/cold spells, floods, and drought) over the growing season by directly affecting crops at specific developmental stages, or by disrupting the timing of field applications and reducing the efficiency of farm inputs. With the increase in the spatial and temporal data resolution such as satellite earth observation, ground sensors datasets and climate model outputs, machine learning models present a flexible approach to complex relationships between various variables influencing crop production.
Accurate prediction of anomalous crop yields is of major importance and can help agri-businesses, crop insurers and farmers to facilitate decision making, respond effectively to local/regional and global crop production shocks and food price spikes, and develop adaptation strategies to reduce the potential impact of extreme weather events.
The objectives of this scoping workshop are therefore to identify:
current needs in monitoring and predicting crop yield variability, as well as existing challenges;
current use of AI and machine learning in operational crop production estimation;
specific research questions and client requirements for future joint research and proposals;
pathways to enable the translation of existing research at Cranfield in the areas of AI and satellite earth observation, soil and climate research into practical solutions for industry.
Why attend this workshop?
The workshop is an opportunity to:
Network with researchers and industry with interest in monitoring and predicting crop yield variability
Discuss individual challenges and how we can work together to deliver solutions.
Find out about Cranfield's research in Water, Environment and Agrifood
Obtain information on how Cranfield University can address your research needs, supported by diverse funding pathways.
Receive a summary of the key conclusions and recommendations from group discussions held during the meeting
Who should attend?
This event is an exciting opportunity for companies and organisations in crop production, use and commercialization including primary production, retailers, trade organisations, commodity traders and crop insurance companies.